MAINZ, Germany — German leader Angela Merkel and her mainstream political colleagues woke to a headache Monday after taking a drubbing in regional elections from a recently-formed right-wing, anti-immigration party.
Alternative fuer Deutschland — which means Alternative for Germany and is commonly known as AfD — was formed in 2013 and previously held no seats in three state legislatures that held elections Sunday.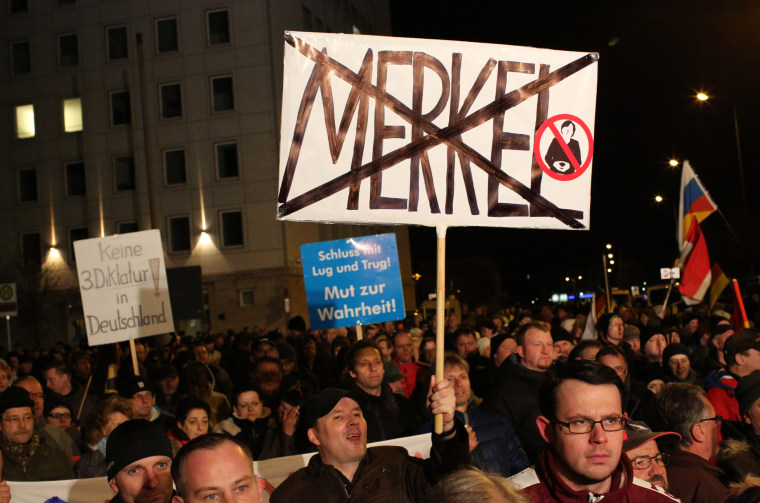 The AfD was able to enter all three parliaments, however, after rocketing to double-digit percentages across the board in Sunday's vote. The three states have a combined population of some 17 million, around a fifth of Germany's total populace.
The party posted its strongest results in the central-eastern state of Saxony-Anhalt, where unemployment stands at more than 10 percent. AfD gained 24 percent of the vote there, the second largest in that legislature.
The results were akin to "a small earthquake" not just for Merkel but also for other established parties who "have all lost voters to the AfD," according to Tillmann Mayer, a professor for political sciences at Germany's University of Bonn.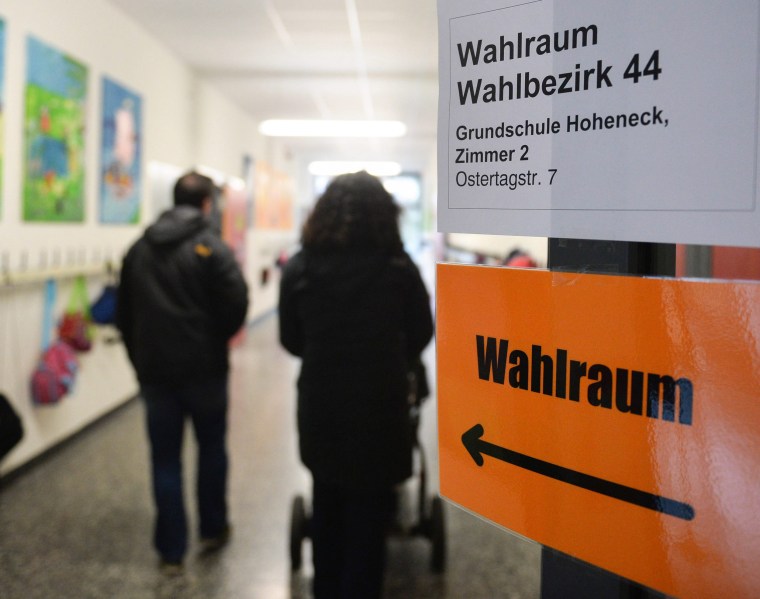 Experts say economic distress is just one reason behind AfD's surge, pinning much of the move to migration issues.
According to Matthias Kortmann, a political scientist at Munich University, voters in eastern Germany are more likely to vote according to "current public sentiments" rather than stick with one political party.
One such area where public sentiment has shifted is immigration, as Europe grapples with a massive influx of refugees and migrants.
More than 1 million migrants and refugees entered Germany in 2015 — more than any other country — and Chancellor Merkel has faced increasing pressure to reduce the number of arrivals.
The AfD's ability to turn this unease into votes showed that "the seed of fear is sprouting," wrote Peter Frey, editor in chief of German public broadcaster ZDF, on Monday.
However, this fear is not always easy to explain. Regions with fewer migrants "have, paradoxically, more reservations towards refugees," according to Munich University's Kortmann.
The AfD initially positioned itself as an opponent of the European Union of which Germany is the key player. At the height of the refugee crisis, however, the party shifted toward a tough anti-immigration, anti-establishment stance. That hit a nerve among voters dissatisfied with Merkel's so-called "open-door" immigration policy.
More recently, its politicians have been sharpening their tone at campaign rallies — especially in the east —hoping to capitalize on a darkening mood across the country.
Party leader Frauke Petry triggered outrage in February by suggesting that German police should have the right to shoot at illegal migrants at the border "if necessary."
Petry told the Neue Osnabruecker Zeitung newspaper that "Germany has a responsibility, the survival of its own people."
The 40-year old mother of four also suggested Germans should have an average of three children to fight rising numbers of immigrants.
Following a spree of sex assaults and thefts on New Year's Eve in Cologne — which officials blamed mostly on men of North African origin — the AfD has sought to play on the increased fear of foreigner-related crimes.
One of the party's posts reads: "More security for our wives and daughters."
The AfD also has delved into controversy beyond the issue of migration, with one branch in the central state of Thuringia calling for the mandatory registration of all gay and lesbian people.
Related: Photos of Cologne Sex Assault Suspects Lead to Arrests
German Chancellor Merkel attempted to hit back during a recent interview with the Bild am Sonntag newspaper.
The AfD was "not bringing together society and not offering the appropriate solutions for the problems, but it is stirring up prejudice and polarizing," Merkel told the newspaper.
Despite Merkel's attempts to steady the ship, Germany's political establishment is facing eroding trust from the electorate. That is particularly true for the federal government's coalition, which consists of Merkel's conservative CDU party and the socialist SPD.
Related: Cologne Sex Attacks 'Good for Us,' Right-Wing Protesters Say
"The political establishment in this country is in such a dire state that voters have to look for an alternative," Joerg Meuthen, AfD leader in the southern state of Baden-Wuerttemberg, said at rally in February, according to Reuters.
Writing in response to the elections Sunday, The Economist appeared to agree.
"Taken as a whole, the elections suggest that the party-political culture as it existed during much of German post-war history is coming to an end," it said.
German Vice Chancellor Sigmar Gabriel said the election results posed a challenge to "Germany's democratic center."
Antipathy towards the political establishment "is not new" in Germany, according to Matthias Korthmann at the Geschwister Scholl Institute of Political Science, but protests such as rallies by the anti-Islam PEGIDA movement "have removed certain taboos," he said.
For disillusioned voters, "the AfD is an outlet to fight back, it is clearly a protest party," said Mayer at the University of Bonn.
Many analysts in Germany say the weekend's elections were a worrying litmus test for the German chancellor's migrant policies ahead of next year's federal elections in October 2017.
If Europe's migrant crisis continues to dominate headlines, AfD could also benefit on a federal level and could enter the national parliament.
"The weekend results do not prove to be an imminent danger for Merkel," Korthmann said. "But it puts her under more pressure to find a solution for the refugee crisis in Europe."