ACCRA, Ghana — Flooding in Ghana's capital swept stored fuel into a nearby fire, setting off a huge explosion at a gas station that killed 150 people and set alight neighboring buildings, authorities said Thursday.
The blast took place as dozens of people sought shelter at the gas station and in nearby shops in central Accra to escape the torrential rains. The disaster raised anew concerns over the city's inadequate infrastructure.
TV footage showed corpses being piled into the back of a pickup truck and other charred bodies trapped amid the debris. Floodwaters around the site hampered rescue and recovery efforts.
Officials at the nearby 37 Military Hospital said its morgue had reached capacity.
President John Dramani Mahama visited the scene on Thursday, calling the death toll "catastrophic" and offering condolences to families of the victims.
"Steps will be taken to ensure that disastrous floods and their attendant deaths do not occur again," he said.
Mahama later called for three days of national mourning and announced that the government would allocate about $12 million for relief operations and to repair damaged infrastructure, The Associated Press reported.
Michael Plange, who lives a few blocks away, said many people had taken shelter under a shed at the station from the rain and were hit by the explosion.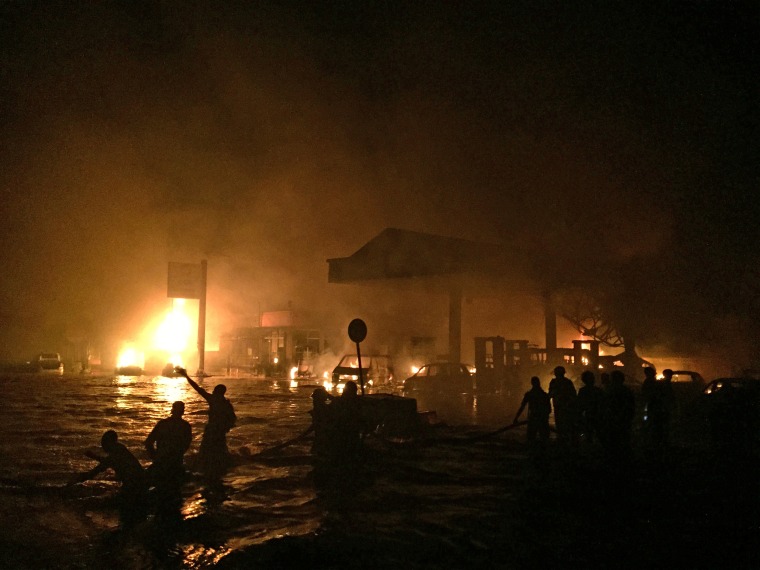 Kingsley Osei Bonsu said other witnesses at the scene first heard a loud bang, followed by screams from those trapped in the area. The ensuing fire burned cars sitting in the water.
"By the time I got there, firefighters — together with members of the public — were trying to rescue survivors and douse the fire," Bonsu, who took photos of the devastation, told NBC News. "There were drowned and charred corpses everywhere."
The flooding "caused the diesel and petrol to flow away from the gas station and a fire from a nearby house led to the explosion," said Billy Anaglate, spokesman for Ghana's national fire service.
In addition to the dead at the gas station, local media reported that many drowned in various parts of the city following two days of torrential rains. The combined death toll from the explosion and flooding is expected to rise. Anaglate said precise figures were not available at midday Thursday.