The photograph shows a truck stop on the outskirts of Karachi, Pakistan's largest and most violent city. There are no seats in the dhaba, as these roadside restaurants are called — only wooden beds called charpoys.
Two young and unveiled women stand out from the crowd of men in the picture. One is clad in jeans and sandals, the other in a salwar kameez, the local pantsuit. They sip tea, order chicken and withstand the stares of the men around them.
These two have a point to make so this is no mere selfie — they are trying to reclaim Pakistan's public spaces. The challenge at a truck stop is part of an effort on social media called #GirlsAtDhabas spearheaded by a handful of Pakistani women.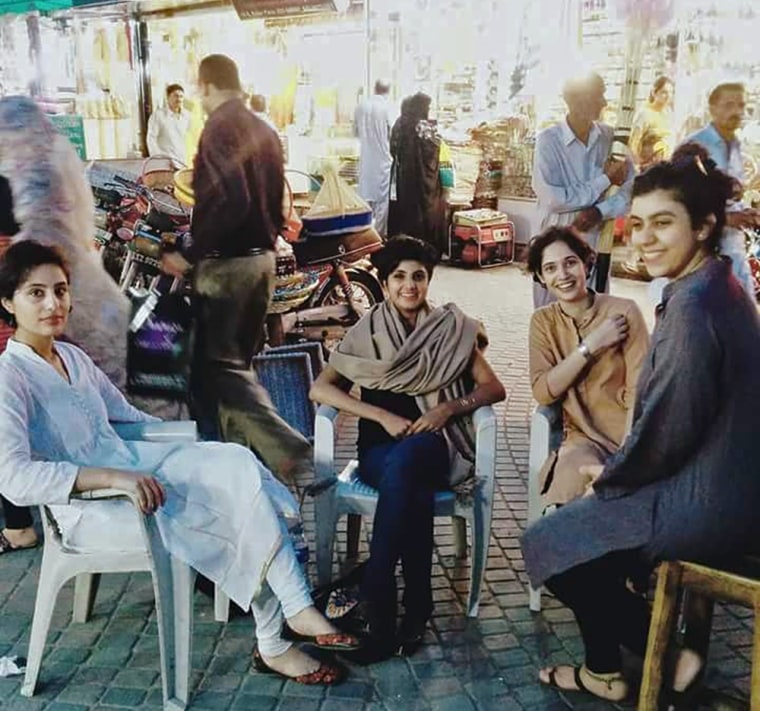 This is a country dominated by men where women aren't seen riding motorcycles or even bicycles, don't get jobs driving public transport, and avoid walking on the beach without a male relative. Women and girls are even discouraged from playing street cricket — South Asia's favorite pastime.
Dhabas are this country's equivalent of a neighborhood bar — male-dominated cafes minus the alcohol, which is banned in the Islamic republic. The movement, which started earlier this year, aims for women not just to eat at dhabas, but also play cricket and even climb trees: activities only men traditionally engage in.
"It started with just us venturing out in the city among ourselves," Natasha Ansari told NBC News. The 25-year-old, an alumnus of exclusive all-women's Mount Holyoke College in South Hadley, Massachusetts, is one of the movement's founders.
Then "random tags" of #girlsatdhabas started gaining traction on social media, so the group set up a Tumblr page to see if other women would contribute. A Facebook page followed soon after. The posts sparked a national and international conversation about women's freedom to move around as they please.
Started by an economist, a social science graduate student and an art undergrad, #GirlsAtDhabas' members cannot be typecast. Some are openly independent and wear Western clothes and hairstyles. Others are accompanied by male friends and relatives when they reclaim the public spaces. Some are wearing hijabs, the Muslim headdress.
However, the women of #GirlsatDhabas, and spin off #GirlsPlayingStreetCricket, are all posting pictures from male-dominated urban spaces.
"Most of us could narrate instances of childhood where we were either told by the boys playing street cricket that we can't play with them or discouraged or not allowed by parents," said co-founder Sadia Khatri, 24, another Holyoke graduate. "Cricket on the streets is something girls aren't supposed to do so it seemed like a natural next step to take, after going to dhabas. We hope this next evolves to other traditionally male-dominated domains."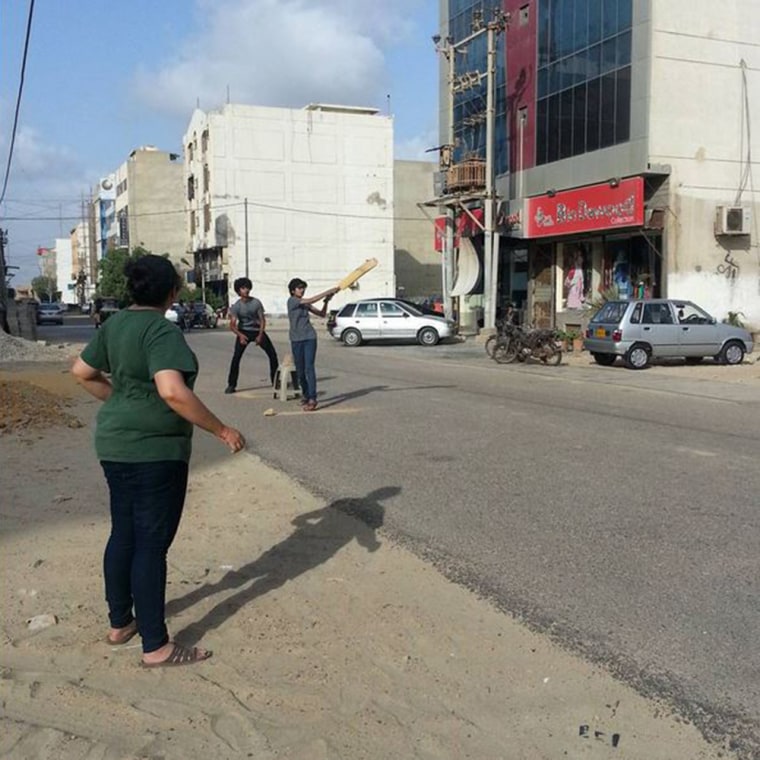 The participants acknowledge that they represent the tip of the iceberg.
"We are a very, very tiny community that is privileged in many ways ... and we can't pretend otherwise," administrators note on their Tumblr page.
Still, Pakistan's women need all the help they can get when it comes to reclaiming public spaces, and their rights in general. The Gender Gap Index of the Global Gender Gap Report of 2014 by the Geneva-based World Economic Forum, ranked Pakistan second-to-last in gender equality globally in access to health care, education and work.
Violence against women is also pervasive. According to the 2015 report of the Human Rights Commission of Pakistan, which monitors newspapers for cases of violence against women, "597 women and girls were gang-raped, 828 raped and 36 stripped in public in the country last year."
Not everyone is taking the movement in stride. The women of #GirlsAtDhabas say they have been cautioned by their families for safety concerns.
"Not necessary, not relevant, and just drama," said Qamar Mumtaz, a security guard in Islamabad, who works at an office building where women are employed. "Women are meant for families, for the house. This is shameful."
Related: Lady Killers: Meet the Women Fighting the Taliban in Pakistan
But the "girls" are undeterred.
What started as "a personal cause, a way to create pockets of oxygen in a city and a society where women are being constantly suffocated" has grown, according to the movement's co-founder Sara Nisar.
The 22-year-old Karachi University visual arts student added: "Everything is political, especially when it exists in a public space, or a space others interact with."