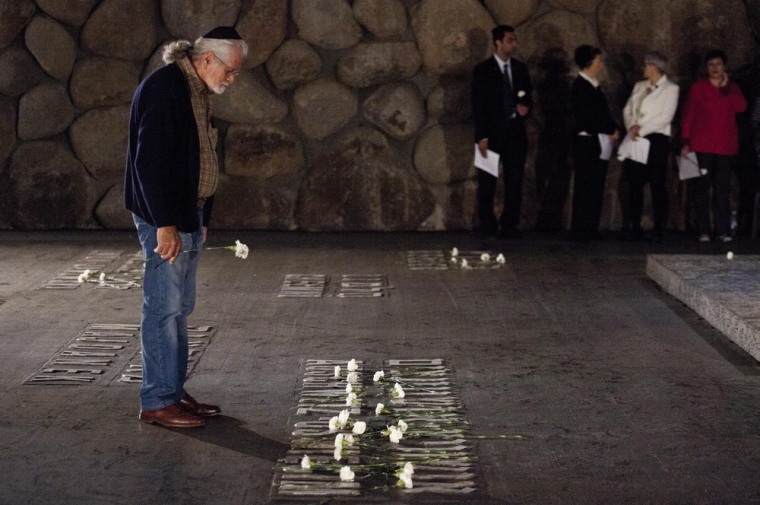 TEL AVIV, Israel - Israel honored the 6 million Jews killed in World War II during the annual Holocaust Memorial Day commemoration on Monday, with people standing to attention as sirens rang out across the country. 
One organization is dedicated to helping those who survived Germany's killing machine, many of whom live alone and in poverty.
"We hear every year that survivors don't have enough food," said Jay Shultz, 37, the founder of Adopt-A-Safta, which means "adopt-a-grandmother" in Hebrew.
"They can't pay their electricity bills and their number-one complaint is simple loneliness," said Shultz.
Indeed, many Holocaust survivors have no living relatives, and, according to a 2012 report by the Foundation for the Benefit of Holocaust Victims in Israel, one-in-four live below the poverty line.
Shultz was inspired to start Adopt-A-Safta after he found out that he had a great aunt living in Haifa, northern Israel, soon after arriving in Israel seven years ago.  The not-for-profit pairs young professional Israelis with lonely Holocaust survivors.  
"(She) was a Holocaust survivor like my grandparents," said Shultz, who is also the head of an organization the helps Jews who move to Israel to stay in the country. "She was very lonely with no family here."
He called his aunt, Csilla Dunkelmen, and they adopted each other.  They usually didn't do anything very special – a short talk on the telephone, a coffee date, a walk in the park or a visit to a movie theater.
"This new relationship gave me so much more than it gave her," Shultz said.  "Knowing I had some family connection here, someone to call and hear me out was phenomenal."
The organization, which has introduced around 300 volunteers with the same number of survivors, is in a race against time – 35 Holocaust survivors pass away every day, according to the Foundation for the Benefit of Holocaust Victims. Dunkelmen, the inspiration for the organization, died two years ago.
So Shultz aims to continue connecting as many volunteers with survivors as possible, for as long as possible.
"This connection gives survivors family that they didn't have before, it gives them a lifeline to the world," Shultz said.
Related:
Kerry lays wreath at Holocaust memorial, talks Mideast peace