French riot police fired tear gas at activists protesting as part of global climate demonstrations Sunday, on the eve of the COP21 climate summit in Paris.
About 200 protesters, some wearing masks, fought with police on a street leading to the Place de la Republique, which has become a gathering place for Parisians since the terror attacks on Nov. 13.
More than 2,100 events worldwide were planned for the Global Climate March, which organizers say is one of the largest climate change protests in history. An organizer of the rallies, the Avaaz group, said that early estimates indicate 570,000 people marched in 175 countries.
But demonstrators in France were warned not to gather amid the state of emergency enacted after the Paris attacks. French police told NBC News that some 4,500 people formed a human chain around midday.
Video on social media showed armored police dispersing the crowd and canisters of tear gas being deployed.
Interior Minister Bernard Cazeneuve said 174 people were jailed for possible charges. Using the state of emergency rules, police put an additional 24 activists under house arrest ahead of the summit saying they were suspected of planning violent protests.
Photos: Paris Climate Protests Turn Violent at Site of Memorials
President Francois Hollande said "everything will be done" to keep violent protesters away from the conference.
Hollande said the violence was "scandalous," because the "disruptive elements" had nothing to do with activism and because it erupted at Place de la Republique, which has become a memorial site for the victims of the Paris attacks.
Paris police chief Michel Cadot told reporters that some demonstrators hurled glass bottles and memorial candles at police.
Prime Minister Manuel Valls said in a tweet that violence at the Place de la Republique was disrespectful to the memory of the victims.
Some protesters were undeterred by the criticism though, chanting, "a state of emergency is a police state."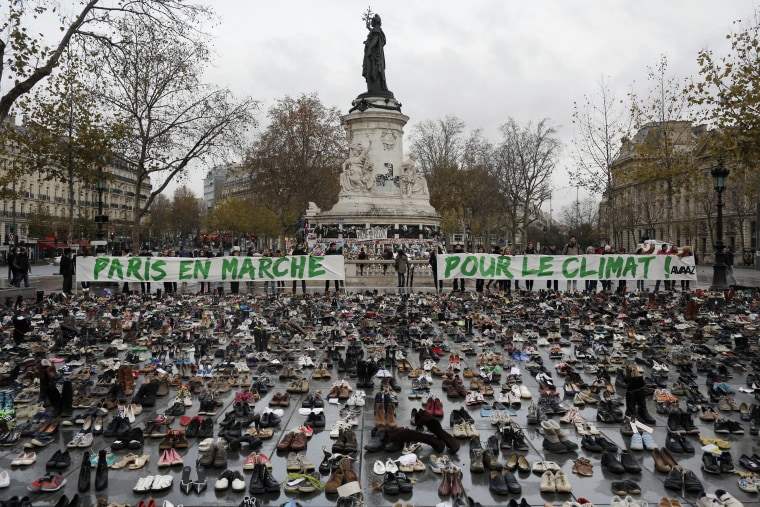 Thousands of shoes — including a pair from the pope — were arranged at the Place de la Republique to represent activists who could not participate due to the ban on large gatherings. Organizers said they had collected more than 11,000 pairs of shoes.
Elsewhere, the rallies appeared to be peaceful. More than 50 major marches were planned around the globe, with some events held on Friday and Saturday.
In Australia, organizer Reece Proudfoot said 130,000 people participated in rallies, according to Sydney Morning Herald. Sydney's mayor tweeted that 45,000 people attended the city's march, making it the largest in the city's history. Protesters held placards reading: "There is no Planet B," and "Say no to burning national forests for electricity."
In London, protesters who marched from Hyde Park to the Whitehall government district were joined by actress Emma Thompson, designer Vivienne Westwood and Labour Party leader Jeremy Corbyn.
"This is our planet and we are in deep, grave danger," Thompson told Sky television.
In Germany, about 4,000 marched from Berlin's train station to the Brandenburg Gate, where they urged world leaders to set lofty goals at the climate conference.
U.S. president Barack Obama and his Chinese counterpart, Xi Jinping, will be among more than 140 world leaders in Paris for the COP21 summit.
Security for the talks has been stepped up in the wake of the Paris terror attacks. Negotiators from 196 countries are hoping to hammer out a long-term deal to curb global warming during the conference, which will take place between Nov. 30 and Dec 11.