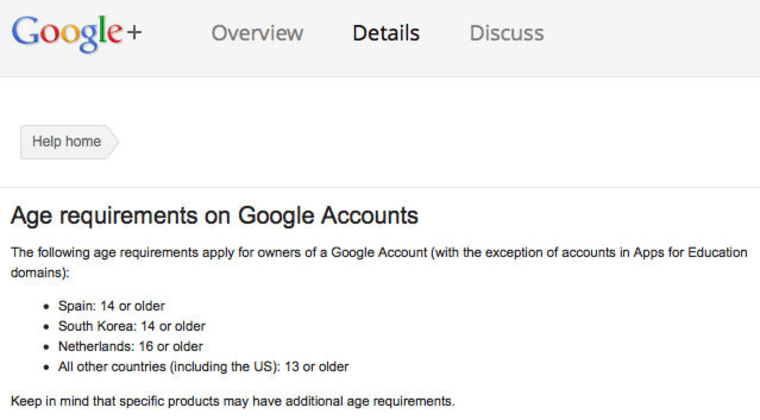 Teens ages 13 and up in the U.S. can now join Google's social network, Google+, although the search giant said it is adding safety measures for younger users. What it didn't say is that it adds to Google's efforts to get more users on Google+, including an announcement earlier this week it will allow users to have alternate names.
"With Google+, we want to help teens build meaningful connections online," wrote Bradley Horowitz, vice-president of Product, G+, on his G+ page. "We also want to provide features that foster safety alongside self-expression. Today we're doing both, for everyone who's old enough for a Google Account (13+ in most countries)."
Previously in the U.S., Google+ had restricted membership to those 18 and older, although as Facebook users know all too well, despite that social network's 13-and-older age restriction and efforts to monitor it, it's easily violated. And often with a wink and a nod from parents.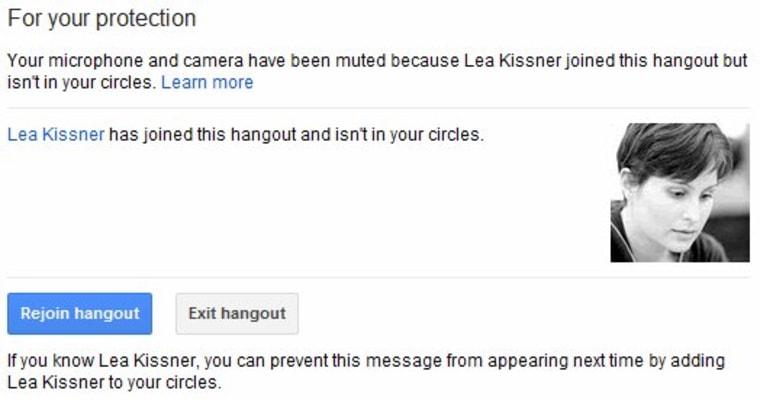 Google has set up a new "Google+ Safety Center" that describes some of the things Google+ will do for those ages 13 to 17 when they sign up for a G+ account (if they sign up using their true age). The measures include "in-product guidance and more conservative defaults" when using G+'s features:
For Sharing and Circles, "sometimes the message you're about to send deserves a big audience, but isn't quite right for the whole world," Google says. "When you add 'Public' or 'Extended Circles' to your post, we'll give you a quick heads up that this could be a pretty big deal. You can then decide if you really want to tell everyone about what you ate for lunch."
For video Hangouts, "sometimes someone joins a conversation that you don't want to chat with ... So when someone outside your circles joins a Hangout, we'll pull you out and ask if you want to continue," Google says. "This gives you a safe and easy way to leave the conversation without having to interact with the new attendee first. At the same time, this still gives you the ability to stay if the new person is someone you want to chat with, but you haven't added to circles yet."
For Profiles, the default settings "are meant to make you think before you share broadly. Although some fields, like name and photo are public for you, just like they are for adults, most information is limited to people in your circles. Note that you can always change these settings at any time."
For Posts and Conversations, when there are "people out there that you don't really want to connect with (like your weird Uncle Sal). Google+ has recently added new settings for you to help you control how people can contact you." The settings are: "Who can notify me?" which "lets you decide who can send a notification to you (either via email or the notification widget at the top of your screen)" and "Who can comment on my public posts?" The latter "lets you decide who you want commenting on posts you've sent to 'Public' or 'Extended Circles,' " Google says.
Furthermore, "for both of these settings, we've made the default to be the people in your circles (for adults 18+, the default is 'Anyone'). This means that, unless you change your settings, you won't see comments from people outside your circles on your public posts, and those people also can't contact you via Google+ (except for a 'Joe added your to his circles' notification)."
In the U.S., the Children's Online Privacy Protection Act (COPPA) requires commercial websites to get parental permission before collecting the personal information of any user under the age of 13. As msnbc.com's Helen A.S. Popkin wrote, "Facebook and other popular social networks avoid COPPA's costly, cumbersome restrictions by simply restricting user age."
Google+, which debuted last summer, says it has 90 million users compared to Facebook's 800 million.
Said Horowitz: "Between strong user protections and teen-focused content, it's our hope that young adults will feel at home (and have some fun) on Google+. And of course, we do have at least one thing in common with our newest users: we're both busy growing up."
Related stories:
Check out Technolog, Gadgetbox, Digital Life and In-Game on Facebook, and on Twitter, follow Suzanne Choney.