If you're an avid but impatient cook like me, you probably browse multiple recipes online, and then mash 'em up when you're in the kitchen. Consulting multiple recipes is almost always beneficial, but it can be annoying. Google's new Recipe View helps in that department.
It's exactly what you think it is: A search tab that restricts results to recipes. Type any dish or ingredient, then tap the "Recipes" tab on the lefthand side. Once you're in, there are more controls. You can limit the ingredients you want to use, the cook time, even the calorie count of the dish itself.
It's live now, so I gave it a quick test, starting with escargot. I wanted to see variations on the basic butter-garlic-and-wine escargot recipe you find in so many French restaurants, so I got rid of some extraneous ingredients such as mushrooms and veal, and combed through the results. What I got to see — quickly — was that there are nice subtle variations done with breadcrumbs or basil or lemon juice, sometimes even with cayenne pepper.
I tried it again with a staple that's often riffed upon, good old macaroni and cheese. What's interesting is that even before you look at any recipes, you can plainly see the common ingredients in most mac 'n' cheese recipes: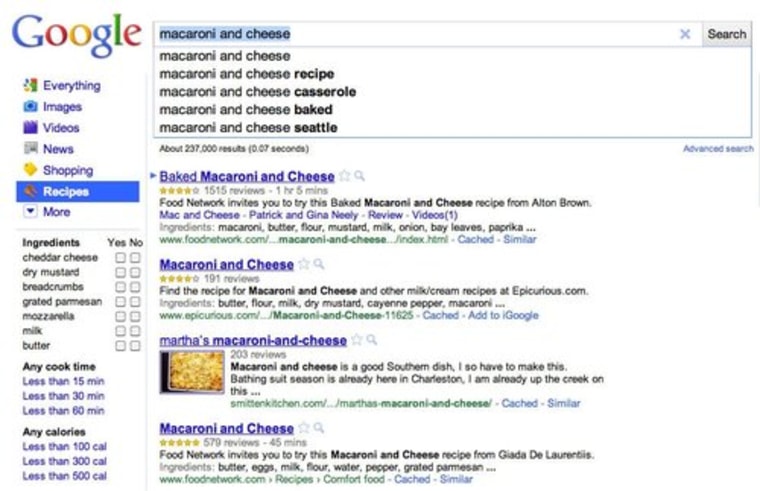 Speaking of ingredients, it also makes sense to type in the names of stuff you have sitting in your fridge ("chicken breast horseradish spinach") and see what the Recipe View suggests for you to make for dinner. (Oh ho! "Baked Chicken With Green Spinach-Horseradish Sauce!")
Since it's like any other search, it may be a little tricky to find unexpected, radical alternatives to standard recipes — and it clearly favors sites you may already have bookmarked, such as Epicurious, Food Network and AllRecipes — but Google Recipe View is definitely a handy tool that I welcome into my kitchen.
Here's Google's promo video of it, from the Google Recipe View introductory post. It's presented by one of Google's executive chefs, Scott Giambastiani, so if you're bored and want to witness some superior knife skills, you should watch it:
Catch up with Wilson on Twitter at @wjrothman, or join our conversation at theTechnolog Facebook page.