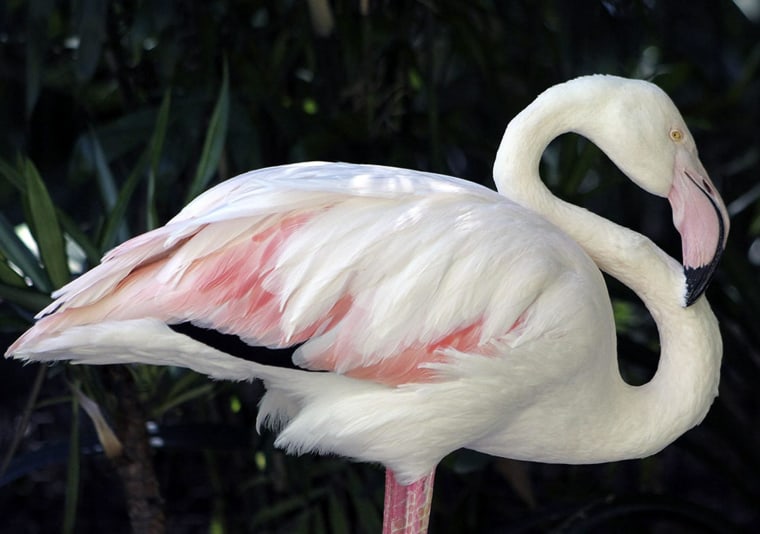 It was born at the end of the Great Depression and survived World War II - and an attack by youths - but "Greater," the world's oldest known flamingo, died at a zoo in Australia Friday aged 83.
"The difficult decision was made to humanely put the flamingo to sleep this morning as its quality of life had significantly deteriorated due to complications associated with old age," Adelaide Zoo said on its blog. "Greater is best known for being the world's oldest flamingo and the last Greater Flamingo to have resided in Australia."
Greater, whose sex is unknown, arrived at the zoo in 1933, although records are unclear about whether it came from Cairo or Hamburg Zoo according to the Australian Associated Press.
"When Greater's physical health started to deteriorate last year, our veterinary team began a course of anti-inflammatory pain medication to ensure Greater's comfort," the zoo's chief executive Elaine Bensted told The Australian newspaper. "Greater responded well to treatment and remarkably survived the cold winter."
When the flamingo took a turn for the worse this week, it was decided to humanely put it to sleep, she added. It had already beaten the odds to make a complete recovery after a 2008 attack by youths.
A memorial to Greater, who was almost blind, may be erected near the heritage-listed flamingo pond.
As there is a moratorium on the importation of the birds into Australia, a Chilean flamingo called "Chilly" is the only remaining in the country.