ATHENS, Greece – Desperate Greeks expressed fears for their future Friday as more than $1.1 billion was withdrawn from banks in a single day, pushing the country closer towards a default.
Uncertainty grew after a meeting between the country's government and European creditors ended Thursday in acrimony.
Failure to clinch a deal by June 30 would see Greece default on a $1.8 billion loan payment to the International Monetary Fund, bankrupting the country and potentially driving it out of the Euro currency zone.
Talks resume Monday, but crisis-weary citizens already fear the worst – and that has prompted concerns of a potentially disastrous run on already-crippled banks.
"The situation is completely hopeless and it's getting worse day by day," said Evi Huraklia, 63. "We are all worried about our children. We've lived our lives but for the young people this is a catastrophe."
She told NBC News: "The Greek people are happy people, by nature positive. But right now they are a psychological wreck. It's not just the economic catastrophe we are dealing with it's the psychology of the people that have been driven to despair. We've become sick."
Including the $1.1 billion withdrawn from ATMs on Thursday, savers have pulled $4.5 billion from Greek banks since last weekend, banking sources told Reuters. That represents about 2.2 percent of household and corporate deposits held by Greek banks at the end of April.
Greek Prime Minister Alexis Tsipras expressed optimism that a deal would be reached, saying another emergency meeting on Monday was "a positive development on the road toward a deal."
"At this moment in time everyone must help … it's not the fault of the Greek people for all the debt, it's the fault of the government, it's the fault of capitalism," said retiree Anna Baltzopoulou, 67.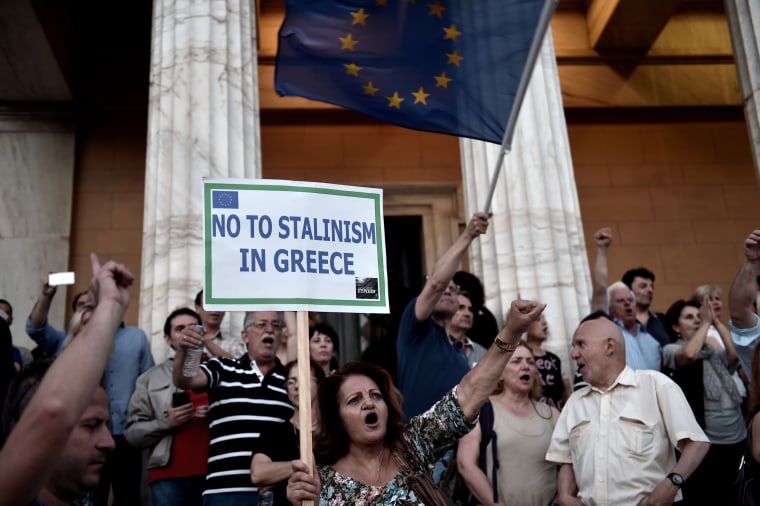 She cried as she described how she and her husband support themselves and their unemployed son from a monthly pension of $800.
"We feel betrayed. You know what it means to be a betrayed people? We feel betrayed by our government and the Europeans as well - by the political system."
Unemployed Alexander's Tsoumparis, 21, was forced to drop out of college because he couldn't pay for housing.
He said he was thinking of leaving Greece because there is no opportunity for him, and that he feels "hopeless."
"I'll go anywhere," he said. "At least I'll have a job. I don't care how much you pay me. At least I'll have a job."
Lawmakers echoed some of that frustration Friday. Haris Theoharis, member of parliament for the opposition Potami party, said the Greece face a choice "between a bad situation and a disastrous one."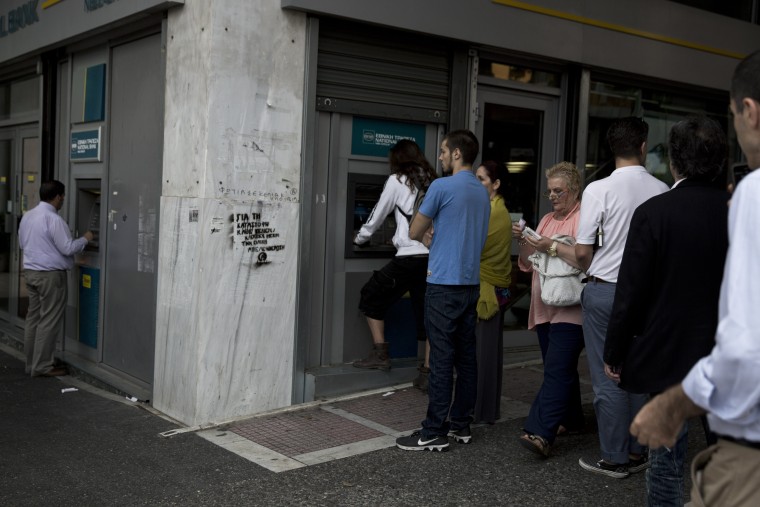 So far, there have been no signs of panic on the streets of Athens. But if withdrawals continue faster than emergency cash assistance from the European Central Bank arrives, it could force the government to limit ATM transactions, as Cyprus did in 2013.
Although fed up with years of austerity, the majority of Greeks want to stay in the Euro currency zone. "The silent majority has spoken: we are staying in Europe," the conservative Greek daily Eleftheros Typos said in a commentary.