ATHENS, Greece — Alexis Tsipras' left-wing Syriza party battered opponents in a snap general election as Greeks gave the 41-year-old leader a second chance to deal with the country's staggering debt and carry out major reforms aimed at modernizing its government and economy.
Defying opinion polls, Tsipras comfortably beat the conservative New Democracy party to retain a coalition partnership with the small right-wing Independent Greeks, and was due to formally be handed the mandate to form a government later Monday.
"Under difficult conditions, the Greek people have given us a clear order to get rid of everything that kept us stuck in the past," Tsipras told supporters in central Athens. "It's a great victory, a clear victory, and a victory of the people."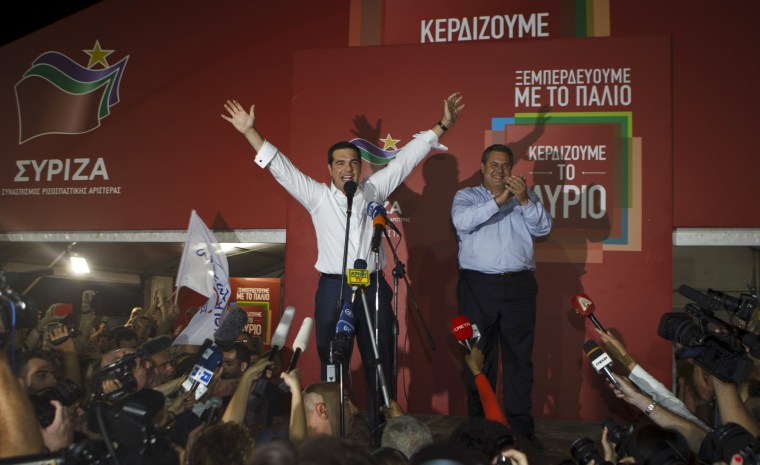 Tsipras' Syriza had 35.5 percent, with more than 99.5 percent of votes counted early Monday, while the center-right New Democracy trailed with 28.1 percent.
In a sign of widespread discontent, however, more than four in 10 Greeks stayed away from Sunday's poll, and 7 percent of votes went to the third-place Golden Dawn. The Nazi-inspired party, whose leadership is on trial for allegedly running a violent criminal group, dropped marginally in its number of ballots, but had a slightly higher percentage of the overall vote due to the low turnout.
The vote was held as Greece struggles to cope with Europe's refugee crisis, and Golden Dawn performed strongly on the eastern island of Kos — which has seen massive refugee arrivals from Turkey — almost doubling its percentage there to 10 percent.
Related: Greek Lawmakers Back Bailout After Marathon Debate
The country also faces further harsh austerity reforms as part of a massive, third international bailout that Tsipras was forced to adopt to keep the country in Europe's joint currency.
Just seven months into his term, Tsipras lost his majority in parliament after far-left rebels in his party opposed tough new conditions demanded by Eurozone countries for the 86 billion euro rescue package: Hikes in sales and business taxes, changes to public administration and labor laws opposed by unions, and further pension cuts to address the country's dramatically aging population.
The rebels, who formed a breakaway party, failed to get elected to parliament.