ATHENS, Greece — Greek lawmakers approved their country's draft third bailout on Friday after a nearly 24-hour marathon parliamentary procedure culminated in a vote that saw the government coalition suffer significant dissent.
The government needed the bill to pass in time for Finance Minister Euclid Tsakalotos to head to Brussels to meet his eurozone counterparts, who will decide Friday afternoon whether to approve the draft agreement.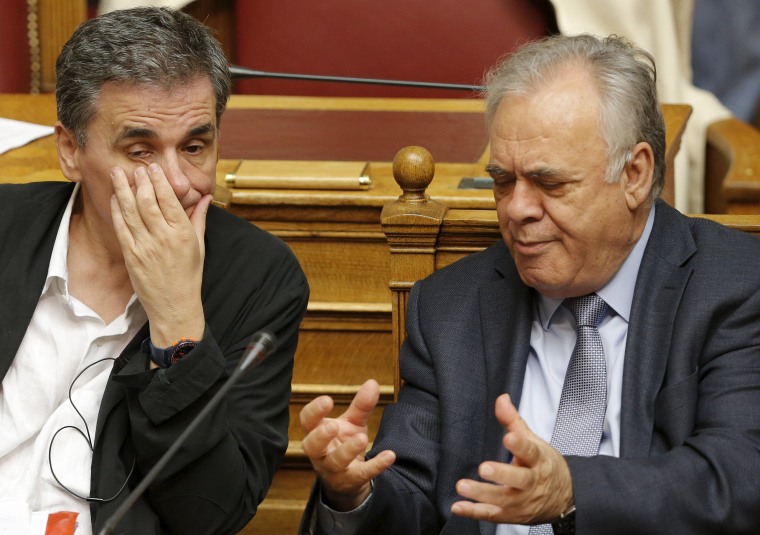 The rescue package would give Greece about 85 billion euros ($93 billion) in loans over three years in exchange for harsh spending cuts and tax hikes. Unable to borrow on the international markets, another bailout is all that stands between Greece and a disorderly default on its debts that could see it forced out of Europe's joint currency.
Related: Greek Bailout Is No Cure for Sick Economy
The bill passed with 222 votes in favor, 64 against, 11 abstentions and three absent in the 300-member parliament.
Although approved by a comfortable majority, the vote was a blow to Prime Minister Alexis Tsipras, who saw more than 40 of his 149 radical left Syriza party lawmakers vote against him. He has come under intense criticism from party hardliners for capitulating to the creditors' demands for budget cuts — austerity measures he had promised to oppose when he won elections in January.
The bill includes reforms increasing personal, company and shipping taxes, reducing some pensions, abolishing tax breaks for some groups considered vulnerable and implementing deep spending cuts, including to the armed forces.
The mounting discord within Syriza is threatening to split the party and could lead to early elections.
State television said Tsipras was expected to call a vote of confidence in his government, but that was not confirmed.