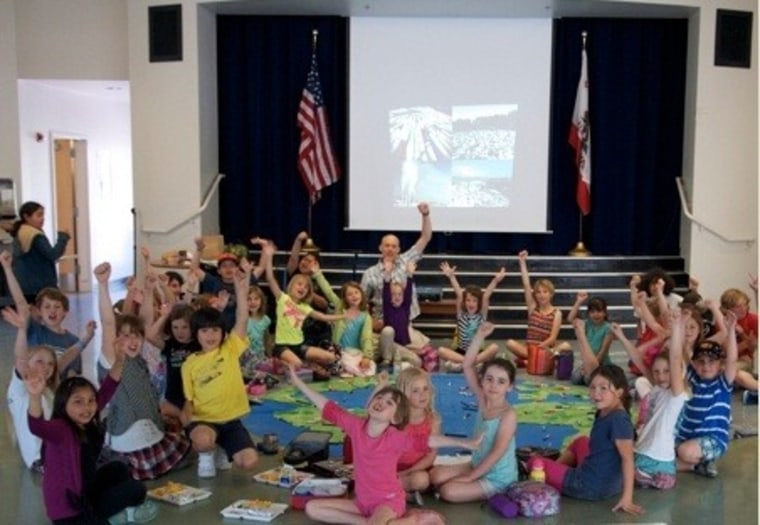 They may be small in stature, but kids at a California elementary school have gotten more than 55,000 people to sign an online petition asking Crayola to "take back" and recycle used plastic markers.
Don't get these 1st to 5th graders wrong -- they say they love Crayola products and are just looking to educate the company on how to lead industry and inspire others.
"We're asking Crayola to make sure these markers don't end up in our landfills, incinerators and oceans," the children said in their petition at Change.org.
Just a week old, the "Crayola, Make Your Mark!" petition came about when the "Green Team" at the Sun Valley School in San Rafael, Calif., started looking for a new project.
"The idea evolved from conversations with kids about plastic waste and they immediately identified with how many Crayola plastic markers they had thrown away," Land Wilson, the adult volunteer who facilitates the efforts, told msnbc.com. "Forty students eagerly stepped up and wanted to do something about the problem."
"We simply want Crayola to establish an easy take back program that kids can partake in  -- i.e. prepaid return envelopes with their products or dropoff locations at retail outlets and schools," he added.
Wilson said his own two children are huge Crayola marker fans. "Over the past 8 years, we have gone through approximately 500," he figured. 
Crayola acknowledged the good intentions but said that, for now at least, there's no practical way to take back and recycle entire markers.
"We value and encourage children to share their ideas and appreciate the suggestion that the students of Sun Valley brought to our attention," Crayola spokeswoman Stacy Gabrielle told msnbc.com. "At this time, we do not have the facilities or a process that will enable us to offer a take back program."
In describing Crayola's environmental initiatives, Gabrielle did note that the caps on each marker can be recycled at centers that take polypropylene, one of the least recyclable plastics.
Wilson said the children hoped Crayola would expand an internal program it has to recycle markers flawed on the production line.
Gabrielle did not address that directly, saying only that Crayola is not able "to take back and make new markers from used ones and provide consumers with a high quality marker that meets our rigorous safety standards for children."
So is an all-out boycott next? Don't hold your breath.
"We don't want to boycott because we love Crayola," Wilson said. "The environmental problems children hear about daily is long and they need a champion. What better champion than a company that they already know and love."
At Change.org, deputy campaign director Mike Jones said the petition has definitely caught on with users. "We've seen more than 15,000 petitions started on Change.org over the past month," he told msnbc.com, "and this campaign definitely ranks near the top this month in terms of how quickly it grew."
More content from msnbc.com and NBC News: