BOGOTA, Colombia — The peaks of the Andes broke through the mist and clouds as a Blackhawk helicopter carried the Colombian national police toward a remote, rugged area often patrolled by insurgent guerrillas.
The mission: Visit a colorful poppy field on a steep mountainside about 300 miles south of Bogota — the place where much of the white heroin flooding American cities along the Eastern Seaboard originates.
As the chopper approached the landing zone on a grassy mountaintop, Colombian police in military-style uniforms waved it into position. Peasant farmers, some with faces covered, watched suspiciously.
Colombian police and officials from the U.S. Drug Enforcement Administration, along with a crew from NBC News that they had invited along, climbed out of the helicopter and made their way down a rough, muddy trail, huffing and puffing in thin air.
Around the corner was a stunning sight — a four-acre field of multi-colored poppies awaiting processing early next year, enough to make about a kilogram of heroin bound for the United States.
"This is ground zero for heroin production in Colombia," said Jay Bergman, the DEA's Andean regional director.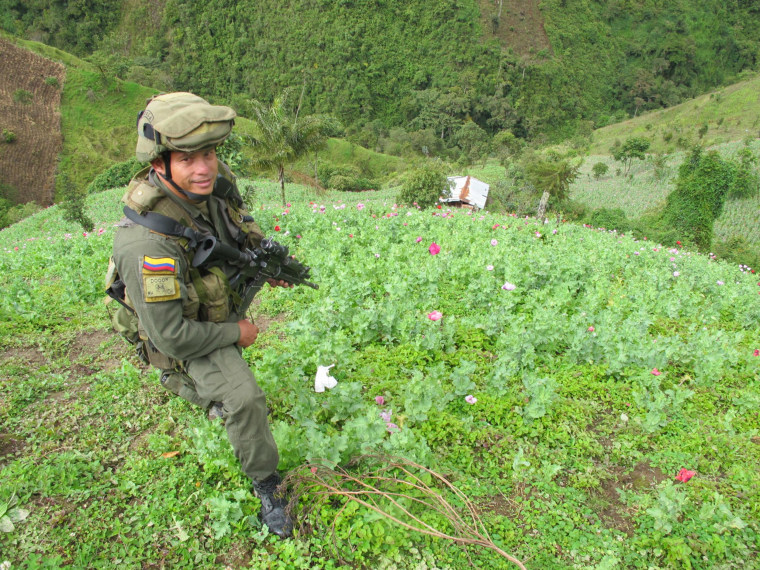 The poppies are grown in terraced fields on mountainsides and are often hidden in such remote areas that they are extremely hard to find.
"If there's anything to protect these plots more than anything else, it's geography," Bergman said.
Once the poppy plants mature, the bulbs are scored, or sliced, carefully to extract the milky substance known as "latex." It is collected plant by plant in a laborious process, and taken to a clandestine homemade lab for processing into heroin.
Federal authorities say Colombian heroin is smuggled into the United States either through Central America or Mexico, or by air and maritime routes in the Caribbean Sea and the Atlantic.
The Maryland connection
The NBC News crew was accompanied by three police chiefs and a sheriff from Maryland — a state with a long history of heroin abuse that has been hit even harder by the recent heroin surge plaguing the Atlantic coast and much of the United States.
The Maryland law enforcement officials wanted to see with their own eyes the starting point for most of the heroin on their streets. To them, the poppy field represents an ominous threat.
"Those beautiful flowers of Colombia absolutely wreak havoc on Maryland's Eastern Shore," said Sheriff Michael Lewis, of Wicomico County. "They've destroyed and decimated families all up and down the East Coast."
While the heroin used in most of the United States is processed in Mexico, the historical source for heroin along the U.S. East Coast has been Colombia.
In and around Baltimore, heroin is so prevalent now that purity levels for the illegal drug have skyrocketed and prices have fallen by more than half.
"Those beautiful flowers of Colombia absolutely wreak havoc ... They've destroyed and decimated families all up and down the East Coast."
"Fifteen years ago, purity levels were between 3 and 5 percent, with 5 percent on the high side," said Gary Tuggle, assistant special agent in charge of the DEA's Baltimore district office. "(Now) we're seeing purity levels about 80 percent, and that's scary."
The price for a kilogram of heroin, he said, has dropped from about $160,000 to $65,000 during the same time period, and the average street dosage costs $10 to $15.
In Baltimore, NBC News saw numerous street-corner drug deals being conducted, one of them in the parking lot of a drug rehabilitation center.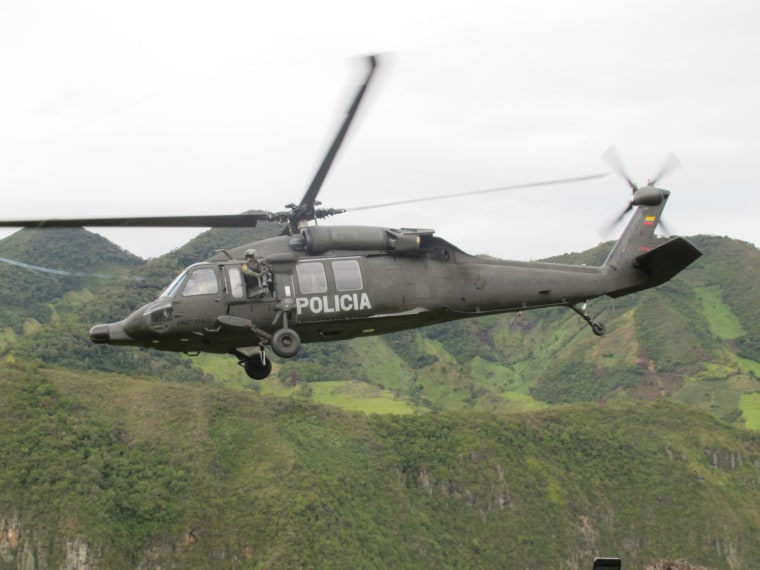 Tuggle said a crew of heroin dealers often involves four people — a lookout to watch for police, a runner to get the drugs, a "touter" to serve them and a money person to collect from the customer.
A two-hour drive away, in Salisbury, Maryland, Sheriff Michael Lewis said that in the last three to four years, "we (have seen) an increase of probably 500 to 600 percent of heroin addiction in our country."
Almost all of that heroin, Lewis said, is of Colombian origin.
An increase in supply
The Colombian authorities and U.S. drug agents work together to try to disrupt the heroin distribution networks.
According to DEA statistics, the Colombian national police and the Colombian military destroyed 1,270 acres of poppy fields in 2013. So far this year, they have destroyed almost 2,000 acres.
"They are heroes," said Bergman, the DEA director. "They should have a Macy's Day parade for the Colombian national police and the things they do for the United States."
"Every time we lock up four or five (heroin dealers) there are another 40 or 50 to take their place."
But agents admitted there are still Colombian fields hidden so well they will never be found. Another threat to the United States: Mexican heroin production is believed to be expanding rapidly, with smugglers bringing record amounts of the illegal drug across the U.S. southwest border in trucks, cars and backpacks.
A new complication, agents said, is that criminal Mexican chemists are now creating a style of heroin similar to that produced in Colombia, making it harder for agents and police to pinpoint the source of the heroin on their streets.
The Maryland authorities who traveled to the Colombian poppy fields said they see no sign of any slowdown in U.S. heroin trafficking.
"Every time we lock up four or five (heroin dealers) there are another 40 or 50 to take their place," said Lewis. "It's epidemic proportions right now. We can't even get a grasp."