A militant who fought for the Taliban in Afghanistan and has been held without charge at Guantanamo Bay for 13 years was largely the victim of mistaken identity, according to U.S. defense officials.
Mustafa Abd-al-Qawi Abd-al-Aziz al-Shamiri was captured in 2002 and believed to be an al Qaeda facilitator or courier, and trainer, the Department of Defense said in a document submitted Tuesday as part of a periodic review of his detention.
"We now judge that these activities were carried out by other known extremists" with similar names or aliases, the profile of the Yemeni detainee dated Sept. 25 added.
"[He] has expressed no plans for the future apart from a desire to get married"
"Fragmentary reporting" did link the 37-year-old to fighting in Bosnia in 1995. He also told interrogators that he fought in the civil war in his homeland in 1996 and in Afghanistan with the Taliban from 2000 to 2001, according to the document.
But while al-Shamiri "probably took explosives training at a camp in Afghanistan" and may have stayed at a safehouse with operatives who planned al Qaeda's October 2000 bombing of the USS Cole, there was no evidence he was part of the operation, according to his Defense Department profile.
A document submitted by al-Shamiri's "personal representatives" for a hearing held on Tuesday said that he was "not a continuing significant threat to the United States of America."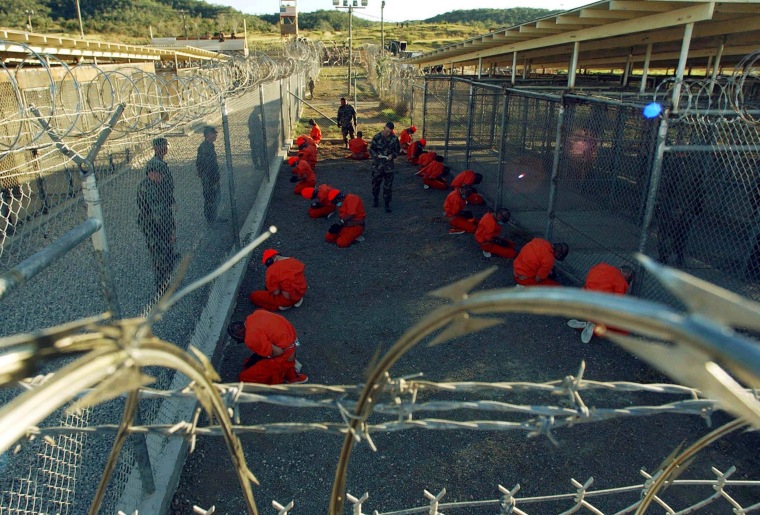 The detainee felt "remorse for choosing the wrong path early in life," according to that statement. "During his time in detention, he has attended English and art classes, in addition to acquiring carpentry and cooking skills."
During a recent feast, "Mustafa generously took the time to prepare over 30 plates of pastries for his fellow detainees," according to document filed by his representatives, who were not identified. "When I asked him why he would make pastries for his fellow detainees, he said it's because it makes him feel like he can give back and share with people."
Related: Guantanamo Bay Detainee to Be Released Back to U.K.
It added: "He wants to make a life for himself. He is aware that Yemen is not an option and he is willing to go to any country that will accept him."
The Defense Department's detainee profile from September suggested that al-Shamiri was "supportive of fighting to protect other Muslims, but not of global jihad."
That document said he hoped to return to Yemen to work at his family's shop. Al-Shamiri "has expressed no plans for the future apart from a desire to get married."
The Guardian reported the first 17 minutes of al-Shamiri's hearing were broadcast via video link to journalists in Arlington, Virginia, on Tuesday. They were required to leave before classified information was discussed.
The detention center at Guantanamo Bay in Cuba was set up in the wake of the Sept. 11, 2001, attacks on the United States to house people who posed an extreme threat to the United States.
The site now holds around 107 people, a number that has been inching downward as part of the administration's plan to shrink the population as much as possible before transferring a cohort to a facility in the U.S. Obama said he expected the population could fall below 100 by early next year.