A Romanian court sentenced hacker "Guccifer," who broke into the emails of former U.S. president George W. Bush's family, entertainment figures and the head of the Romanian secret service, to four years in jail on Friday.
Marcel Lazar Lehel, a cab driver by trade and known by his aliases "Guccifer" and "Small Fume," was arrested in January in Bucharest and could spend a total of seven years behind bars as he also carries a previous three-year suspended sentence.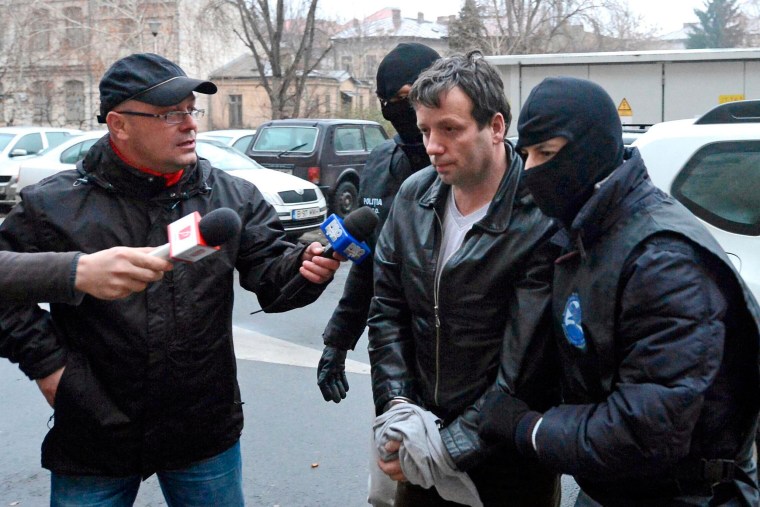 Guccifer shot to fame in 2013 after he hacked into the Bush family emails and posted artwork by the former president, including self-portraits in the bathtub. The same year, the hacker distributed emotional emails sent to former U.S. secretary of state Colin Powell from European Parliament member Corina Cretu, a Romanian, prompting Powell to deny that they had an affair.
Guccifer also broke into a private Yahoo email account of Romania's secret service chief George Maior, which his agency said had been used before for academic correspondence.
"The aggrieved parties Corina Cretu and George Cristian Maior did not turn into civil claimants ... The defendant is obliged to pay 11,000 lei ($3,400)in legal fees to the state," the Bucharest court said on its website.
It did not publish any details on his actions and said the sentence could be appealed.
An official at the Romanian general prosecutor's office, who has knowledge of the case but who did not want to be named, told Reuters the office had no knowledge of any extradition request for Guccifer from the United States.
No mention of the hacker's activities in the United States was made in court, the official added.
Guccifer claimed a wide range of victims and provided documents to support those claims to a U.S. website, The Smoking Gun.
- Reuters