It was a (red) star-studded affair, the December 2015 dinner celebrating the 10th birthday of Russian TV network RT. At a luxe Moscow hotel, President Vladimir Putin and a host of Russian luminaries toasted a state-backed news channel that U.S. intelligence calls a Kremlin mouthpiece.
And next to Putin at the head table, in the seat of honor, was an American. Retired Lt. Gen. Michael Flynn, who would later become Donald Trump's national security adviser, was already advising Trump's presidential campaign when he was paid $45,000 to speak at the gala.
"It is not coincidence that Flynn was placed next to President Putin," said Michael McFaul, U.S. ambassador in Moscow from 2012 to 2014 and now an NBC News analyst. "Flynn was considered a close Trump adviser. Why else would they want him there?"
Flynn's Moscow jaunt, like his oddly timed phone chats with the Russian ambassador, has been well reported. But who else came to dinner on Dec. 10, 2015? An NBC News review of video and photos from the RT gala shows a healthy serving of ex-spies, cronies and oligarchs, with a side of friendly journalists and another American.
Flynn was one of 10 people at the head table, including the Kremlin's top leadership. Three of the Russians, including Putin, were under U.S. sanctions at the time for their role in Russia's annexation of Crimea.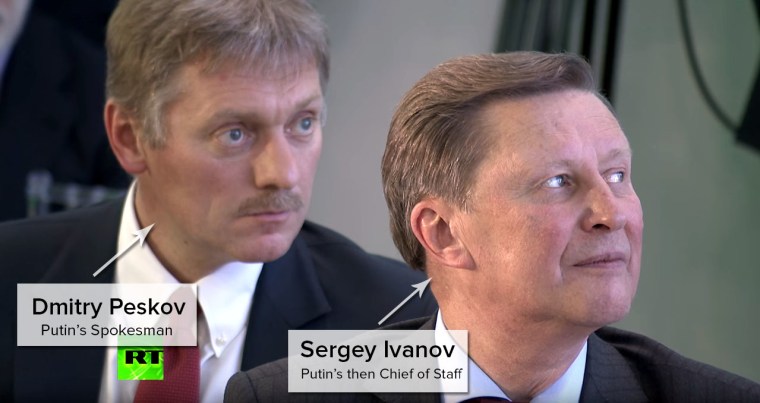 Sergey Ivanov, then Putin's chief of staff, sat directly across the table from Flynn. A former KGB general who at one point ran KGB operations in Africa, he has also served as Russian defense minister and deputy prime minister. Ivanov had been under U.S. and European sanctions for a year and a half by the date of the dinner.
Next to Ivanov was Dmitry Peskov, nominally Putin's spokesman, but more importantly his de facto national security adviser, say U.S. officials. Like almost everyone at the head table that night, he speaks perfect English.
Flanking Putin on his right, two seats from Flynn, sat Alexey Gromov, Putin's deputy chief of staff. U.S. intelligence considers Gromov to be Putin's head propagandist. According to the January 6 Intelligence Community report on Russian interference in the U.S. election, "Gromov oversees political coverage on TV, and he has periodic meetings with media managers where he shares classified information and discusses their coverage plans."
He's also been accused by U.S. intelligence of "ordering media attacks on opposition figures." He has worked directly for the Russian president, first in the Press Office, then as press attache and, since 2008, as deputy chief of staff. He too was on U.S. and European sanctions the day of the dinner.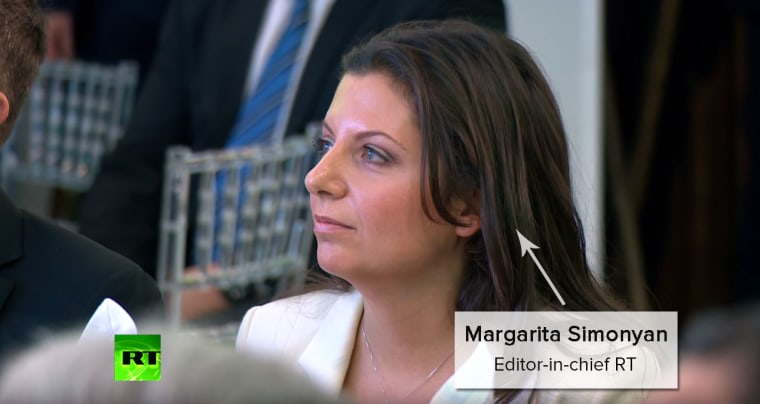 After Putin got up to make his speech, his place at Flynn's side was taken by Margarita Simonyan, RT's editor-in-chief. She is also editor-in-chief of Rossiya Segodnya, a state-owned and operated Russian news agency created by Putin. A personal friend of Putin, she worked in one of his presidential campaigns before being chosen by Gromov to head RT. The U.S. intelligence assessment of RT paints Simonyan as the lead person, along with Gromov, engaging in "information warfare" against U.S. policies. She is described as "closely tied to, controlled by the Kremlin."
In his dinner speech, Putin praised RT for its objectivity, disclaiming any influence on its coverage.
Next to Simonyan was the night's biggest global cultural celebrity, acclaimed director Emir Kusturica, who has twice won the Palme d'Or at the Cannes Film Festival. Born a Muslim in Bosnia, he converted to Orthodox Christianity and is a Putin booster. Putin awarded him the Russian Order of Friendship in 2016. Of Putin, Kusturica once said, "If I was English, I would be very much against him. I was an American, I would even fight with him. But if I was Russian, I would vote for him."
Kusturica's wife, seated next to him, was the only spouse at the head table.
Also at the head table were three western politicians. Willy Wimmer, a former member of the German Bundestag who is often critical of U.S. foreign policy; Cyril Svoboda, former deputy prime minister, minister of foreign affairs, and interior minister of the Czech Republic, and two-time U.S. Green Party presidential candidate Jill Stein, the only American besides Flynn at the head table.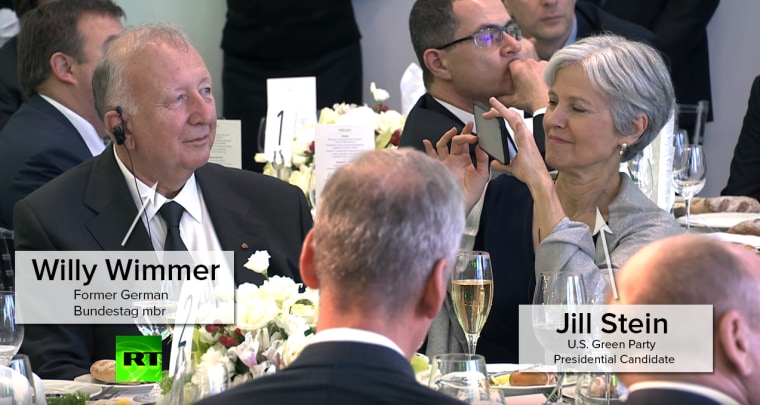 Stein's 2016 campaign was heavily promoted by RT. She hasn't spoken much about the RT dinner, but in an interview with NBC News last fall, she deflected questions about her appearance, instead chastising the U.S. media for not paying attention to her campaign while RT gave it a lot more attention.
"And my own connection to RT, you know ironically, it takes a Russian television station to actually be open to independent candidates in this country and that is a shame. A shameful commentary on our own media," she told NBC's Alex Seitz-Wald.
(Stein did well enough to help Russia achieve its aims. Her vote totals in the crucial states of Pennsylvania, Wisconsin and Michigan were all greater than Clinton's margin of defeat, and arguably denied Clinton an Electoral College victory.)
Beyond the head table, Russia's oligarchs filled many of the seats.
Seated at a corner table was Mikhail Prokhorov, the owner of the Brooklyn Nets who ran against Putin as the designated liberal candidate in 2012 (and whose offices were raided by Russian security last April). Prokhorov is now on the outs with Putin. Next to him was Viktor Vekselberg, whose billions are in oil and aluminum and who is a business partner of Trump's Commerce Secretary Wilbur Ross and the owner of the world's largest collection of Faberge eggs.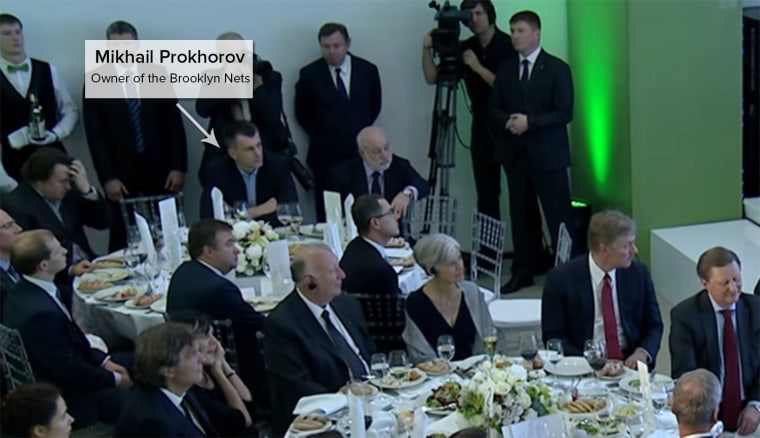 At the table behind Putin's was Mikhail Gorbachev, the last Communist Party ruler of the Soviet Union, along with Artur Chilingarov, polar explorer and federal senator. Nearby, there was Arkady Mamontov, a famous TV host who said that a massive meteor strike that injured nearly 1,500 people in 2013 was God's vengeance on Russia's gay rights movement.
There was Tina Kandelaki, a socialite and award-winning TV host who's appeared on the covers of the Russian versions of Playboy, InStyle, and Maxim — and ran an international marketing operation for the AK-47, calling it an instrument of peace.
Unable to attend in person was WikiLeaks founder Julian Assange, who formerly hosted his own show on RT. Instead, he appeared via satellite as host of one of the 10th anniversary event's seminars, where he lamented the end of privacy.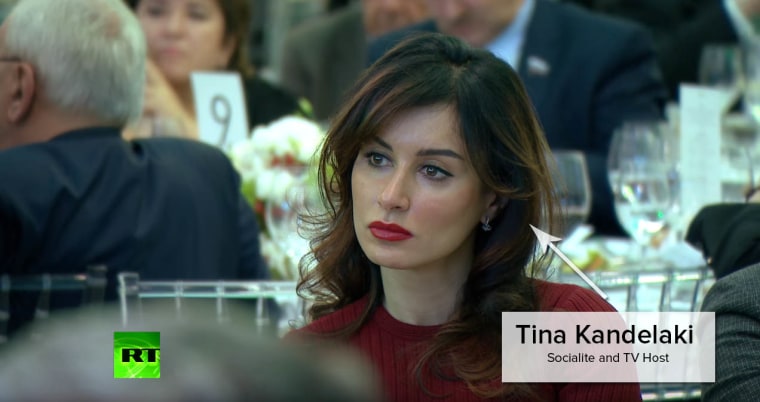 'A Great Learning Opportunity'
Flynn had already been a frequent guest on RT in the months prior to the dinner.
In an interview with Dana Priest of the Washington Post in August 2016, Flynn talked about why he accepted such a starring role. He said he didn't ask for it, that the Russians sat him next to Putin.
"I was one of the guests there. ... Some interesting characters. I found it a great learning opportunity. One of the things I learned was that Putin has no respect for the United States leadership. Not for the United States, but the leadership."
When Putin finished his speech that night, Flynn was among the first to leap to his feet and offer a standing ovation.
In the year following the dinner, RT was part of the Putin government's overt attempt to influence the U.S. election, according to the U.S. Intelligence Community. In the January 2017 report on Russian interference, the IC discussed the network's role at length.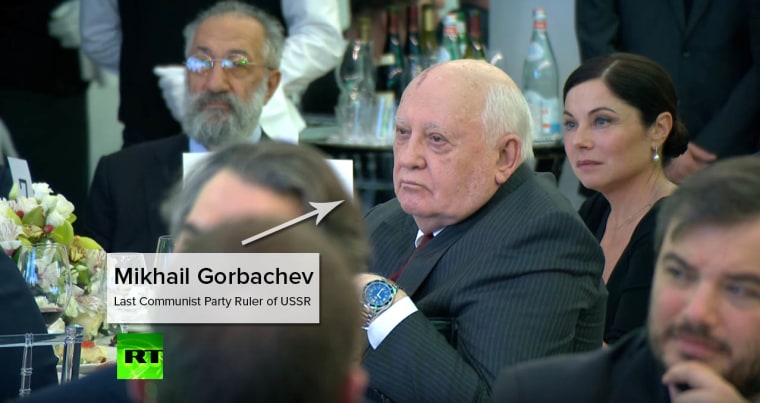 "RT's criticism of the U.S. election," said the report, "was the latest facet of its broader and longer-standing anti-U.S. messaging likely aimed at undermining viewers' trust in U.S. democratic procedures and undercutting U.S. criticism of Russia's political system. RT Editor-in-Chief Margarita Simonyan recently declared that the United States itself lacks democracy and that it has 'no moral right to teach the rest of the world.'"
Jill Stein declined an NBC News request for comment.