VIERNHEIM, Germany — Police shot and killed a masked gunman who took hostages in a German movie theater complex Thursday, officials said.
The drama unfolded at the Kinopolis movie complex on a sunny afternoon in the southwestern town of Viernheim.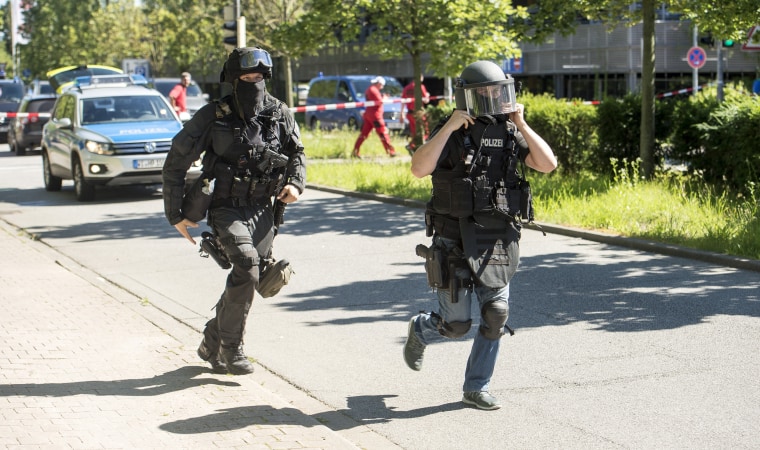 Guri Blakaj, 21, works as a cashier at the cinema and told NBC News he initially thought the gunman was a customer in costume.
"I asked him if he wanted money and he only said we should do what he says," Blakaj explained, describing how he and his colleagues were instructed to close the front doors and lay on the floor.
"We laid on the floor and I pushed the silent alarm," Blakaj said. The gunman — who the cashier described as "confused" and carrying something resembling a rifle — then told Blakaj to go upstairs.
While in the elevator on his way up, Blakaj said he heard shots.
Police special forces quickly responded to the scene, with footage from outside the theater showed heavily armed officers strapping on bulletproof vests and running towards the building as sirens blared.
Local Interior Minister Peter Beuth later told a parliamentary debate that initial reports suggested a gunman had fired several shots and taken hostages before being shot dead by police.
There were no other injuries and the hostages are all safe, police later confirmed to NBC News.
Police have not identified the suspect or a potential motive behind the incident.
Viernheim, a town of about 32,000, is about 45 miles south of Frankfurt.
Streets around the movie theater were blocked off and a police helicopter hovered in the air after the incident ended. Armed police special forces remained in position around local buildings.
The cinema had several movies listed to show throughout the afternoon, including Hollywood productions like "Alice in Wonderland" and "Angry Birds."