Six humanitarian workers were killed Wednesday morning and two others declared missing after gunmen opened fire on their convoy in Afghanistan, an official said.
The International Committee of the Red Cross (ICRC) members were delivering livestock feed in three clearly-marked vehicles when they were stopped near the town of Shibergan in the country's northern Jawzjan province, spokesman Thomas Class said.
"We're absolutely shocked and devastated," he told NBC News by phone.
All those killed were Afghan nationals, three drivers and five field officers. The attack happened around 10 a.m. local time (12:30 a.m. ET) and Glass said he did not know the identity or affiliation of the gunmen.
"We condemn in the strongest possible terms what appears to be a deliberate attack on our staff," ICRC President Peter Maurer said in a statement. "This is a huge tragedy. We're in shock."
He added: "These staff members were simply doing their duty, selflessly trying to help and support the local community. Our thoughts are with the families and loved ones of our colleagues killed and those unaccounted for."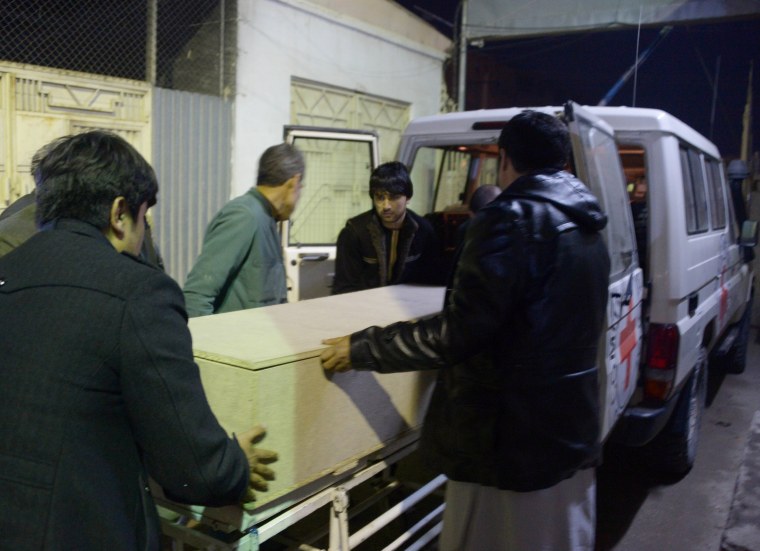 ICRC Afghanistan chief Monica Zanarelli called the incident "a despicable act" and said that "nothing can justify the murder of our colleagues and dear friends."
She called the attack "incomprehensible" and said the organization was focused on finding the two missing colleagues.
The ICRC suspended its operations in the country as it investigates the killing.
Dominik Stillhart, the ICRC's director of operations worldwide, told Reuters Television in Geneva: "As we speak our operations are on hold indeed, because we need to understand what exactly happened before we can hopefully resume our operations."
The ICRC has been in Afghanistan for some 30 years, providing aid from during Soviet-Afghan War in the 1980s, through several civil wars in the 1990s and into to the U.S.-led invasion in 2001 and its current aftermath.