Islamist extremists armed with AK-47 rifles and grenades stormed a hotel packed with foreigners Friday in the former French colony of Mali, killing 20 people and briefly taking scores more hostage.
One American was killed in the attack, a State Department official said.
Nineteen civilians and one member of the Malian security services were killed during the siege, United Nations spokesman Olivier Salgado told NBC News. Two attackers were also killed, the spokesman said.
But as Malian special forces and police searched the 190 rooms and suites at the Radisson Blu hotel for more bodies, officials warned the death toll could rise.
By 6 p.m. local time (1 p.m. ET), the bloody siege in the capital of Bamako appeared to be over, a hotel receptionist manning the front desk told NBC News.
The government of Mali later declared a 10-day state of emergency and a three-day mourning period for those killed, according to Mali state television.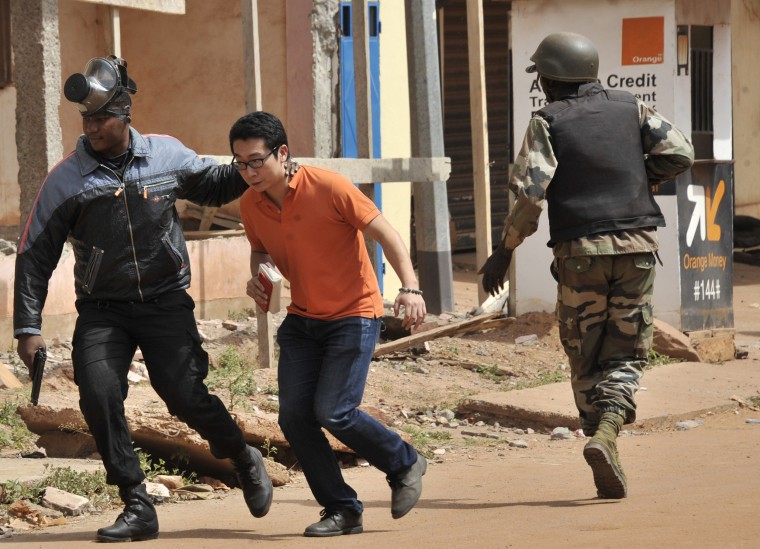 About a dozen Americans were among those rescued, State Department spokesman John Kirby said. It was unclear how many Americans were at the sprawling pink and cream colored hotel when the attack occurred, Kirby said.
The American killed in the attack was Anita Ashok Datar, a senior manager at Palladium Group who spent her career promoting international development and health, her family said.
Related: American Killed in Mali Attack Dedicated Self to Others, Family Says
An al Qaeda-affiliated terrorist group claimed credit for the attack, Reuters reported. NBC News could not immediately confirm that.
The mayhem in Mali came just days after the Iyad Ag Ghaly, the leader of the al Qaeda linked militant group Ansar Dine, called for attacks on France and its interests in the African country.
The deadly drama began around 7 a.m. local time when invaders shouting "Allahu Akbar," or "God is great" in Arabic, burst inside the hotel and opened fire on the guards and quickly took dozens of captives, Mali army commander Modibo Nama Traore told The Associated Press.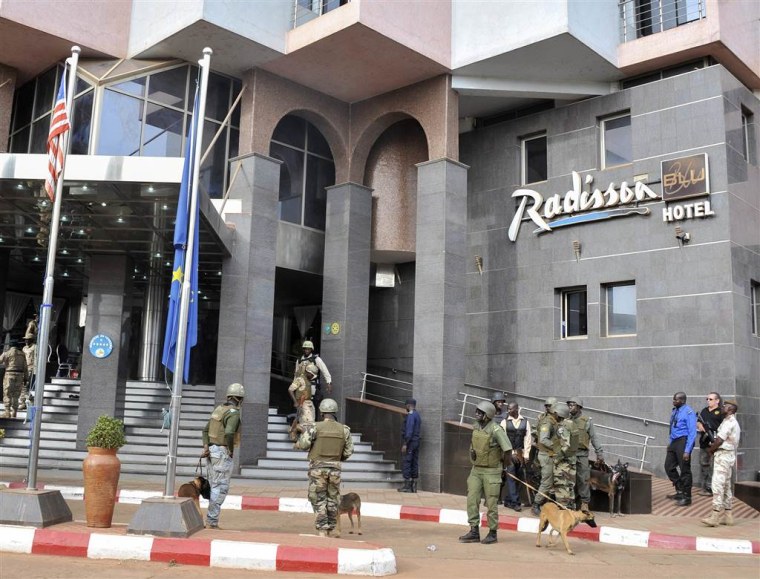 "The United States condemns in the strongest terms today's terrorist attack on the many Malian and international guests and employees of the Radisson Blu Hotel in Bamako," the White House said in a statement. "We can confirm that the attack has ended, and we continue to coordinate with U.S officials on the ground to verify the location of all American citizens in Mali."
The raid on the Radisson Blu, which is popular with foreigners and frequently used by airline crews, came a week after terrorists killed 130 people in Paris.
In response to Friday's terror, France announced the immediate dispatch of 50 elite counter-terrorism police to the country. "Once again, terrorists want to make their barbaric presence felt everywhere, where they can kill, where they can massacre. So we should once again show our solidarity with our ally, Mali," said French President Francois Hollande.
In the chaos, many of the guests managed to escape, but scores more fell into their clutches, the AP reported.
"The hotel is locked down and there is no possibility to go out or come in," a spokesman for Carlson Rezidor, owners of the hotel, told NBC News at the time.
Monique Kouame Affoue Ekonde, an Ivorian, recounted how she and six other people — including a Turkish woman — were escorted out by security forces as the gunmen rushed "toward the fifth or sixth floor."
Four Belgian citizens were rescued from the hotel, two others were reported dead, officials said.
Air France reported a dozen crew members staying at the hotel had been escorted to safety. Four Germans were also freed and two Canadians who were at the hotel are also safe, according to the AP.
Meanwhile, a Chinese guest with the family name Chen told China's state-run Xinhua news agency that a number of his countrymen had been trapped inside the hotel. At least seven Chinese tourists were among the hostages, the agency said.
The Indian government has said 20 of their citizens were in the hotel when it was attacked. Turkish Airlines said seven of its workers were also staying in the hotel, but five had been freed by security forces. The fate of the remaining two was not known.
Shortly after the shooting started, a U.S. Special Forces soldier in town for a UN peacekeeping conference rushed to help Malian troops move the escapees to safety, officials said.
U.S. officials had been keeping tabs on Mali. In August, the embassy issued a security message informing American citizens "of a heightened security risk to westerners in southern Mali, including the area outside Bamako city."
The State Department told U.S. Embassy staff and all American citizens to shelter in place as the attack unfolded.
Mali has been battling Islamic terrorism for years. Islamist fighters with ties of al Qaeda occupied the northern part of the country for most of 2012 before they were driven out by a French-led military operation last year.
Last March, an Islamist group claimed responsibility for killing five diners at a restaurant in Bamako that is also popular with foreigners.
President Barack Obama, speaking in Kuala Lumpur Saturday local time, said, "we will stand with Mali as they work to rid their country of terrorists and strengthen their democracy."
"Like the heinous attacks we saw in Paris, and attacks we see all too often elsewhere, this is another awful reminder that the scourge of terrorism threatens so many of our nations," Obama said. "This barbarity only stiffens our resolve to meet this challenge," he said.