GWADAR, Pakistan — A 30-by-45-foot Chinese flag draping the port authority building here projects an unmistakable message: Pakistan and China are now self-declared "iron brothers" and "all-weather friends."
Underpinning this relationship are some $46 billion in Chinese investments and loans to build energy and infrastructure projects that will be part of the so-called China-Pakistan Economic Corridor.
According to officials, new roads will help open up routes for goods from China's landlocked and underdeveloped Xinjiang province, through Pakistan, into the Arabian Sea and then onto the Middle East and Europe.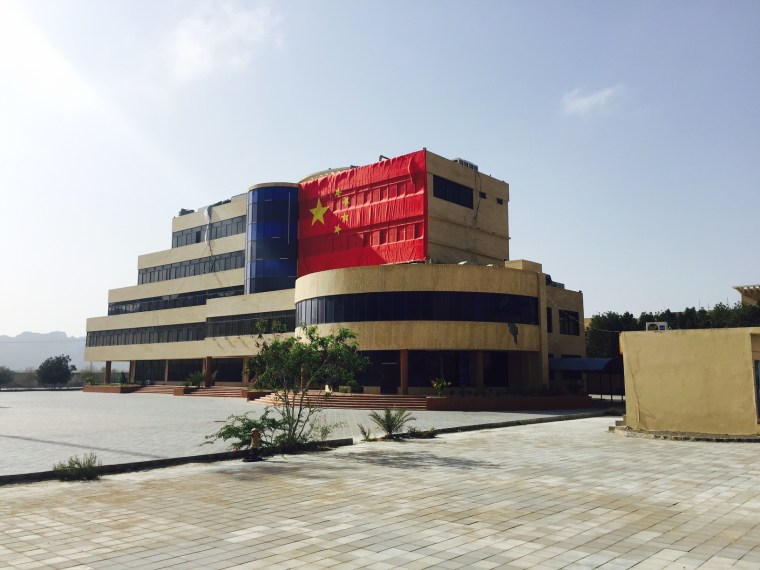 Under the 10-year was plan announced in 2015 by President Xi Jinping as a part of Beijing's "One Belt, One Road and New Silk Route," China will also get a free trade zone and ownership of Gwadar Port.
The massive project is about more than simple trade — its backers hope that once finished, it will bolster Pakistan's economy and potentially give China's navy access to the Indian Ocean. The plan would also strengthen both countries' positions versus India, Pakistan's arch-enemy and China's strategic rival, and hedge against U.S. influence in the region.
Situated on a barren, hammerhead-shaped peninsula in the south of insurgency-ridden Balochistan — and just northeast of the strategically important Straits of Hormuz — Pakistan's generals and China's politicians predict the development of Gwadar will be a game-changer.
Gwadar "is poised to become one of the most important and modern cities of the Middle East, West Asia and the South Asia" as a "gateway port for Pakistan and ... a world–class maritime hub," according to a Chinese handout at a networking seminar held in Gwadar recently.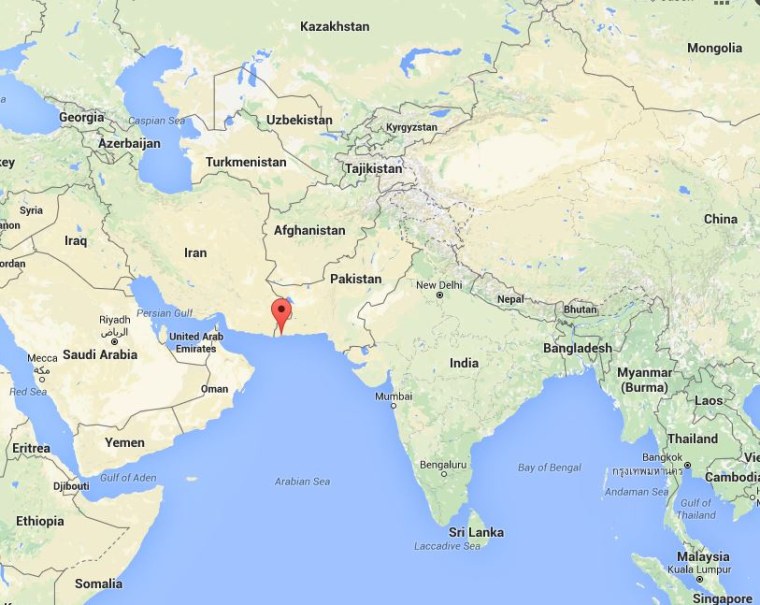 So the few dozen Chinese engineers holed up in the Pearl Continental — the only five-star hotel in the vicinity — could be poised to help reset the balance of power in the region.
But creating this "great monument of Pakistan-China friendship," as the local authority calls it, won't be simple or straightforward. Building the corridor of roads, railways and pipelines from northwest China to Pakistan's Arabian Sea coast will be a huge challenge in a country where Islamist militants and separatist gunmen are a constant menace.
At the moment, Gwadar is a fishing city of 120,000 that's closer to the Iranian coast than it is to any major Pakistani city. It has little gas and no water, few buildings more than one story in height.
"How can we expect to build such a big project with such a security problem?"
Locals aren't all sure that the plans crafted by Pakistan's generals and China's politicians will help improve their lives.
In the city's old fishing harbor, angry fishermen huddle every evening under a concrete shed strewn with nets. They smoke hashish and debate what Islamabad and Beijing are thinking, and what cost they will have to bear in this barren peninsula.
"Will they let us keep our land? Will they build us a new harbor once they build a highway here, like they plan to? What will happen to our generations-old tradition of living where you fish?" asked Mehran Mehdi, the head of the local fishermen's group.
"Our boats are rotting and are wallets are empty and our water pipes are dry," he said as he smoked a smuggled Iranian cigarette and toddlers played with stray dogs in Gwadar's East Bay behind him. "Development is good, China is our great friend, this CPEC thing sounds amazing, but don't forget that this is our land, first."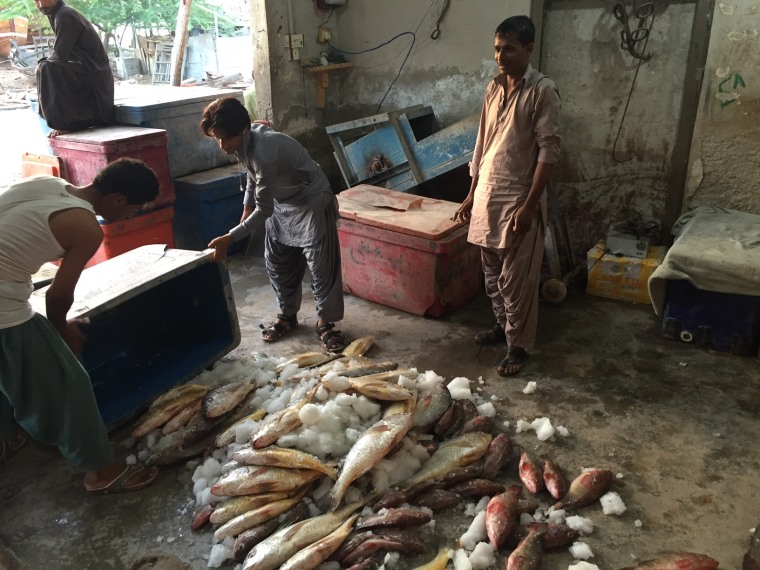 Lt. General Amer Riaz, the powerful military commander who watches over Balochistan, is tasked with ensuring that Gwadar, CPEC and Pakistan's Chinese benefactors survive security threats. He tried to assuage these concerns.
"There is going to be no deprivation of the locals," he said. "Folks here have the first right to everything. We must ensure that there is transparency and justice in this very critical and expensive project."
Still, security is a nagging issue.
For decades, separatist groups have waged an on-again, off-again violent campaign in Balochistan, where Gwadar is located, saying the state has failed to develop the impoverished region and instead plundered its natural resources.
The CPEC's western branch passes north through the province, where ethnic Baloch rebels are opposed to the project and chafing under a military crackdown. It also skirts the Afghan-Pakistan border where Islamist militant groups, including the Pakistan Taliban and al Qaeda, have long been based. And it takes in Peshawar, scene of some of the worst insurgent attacks of recent years.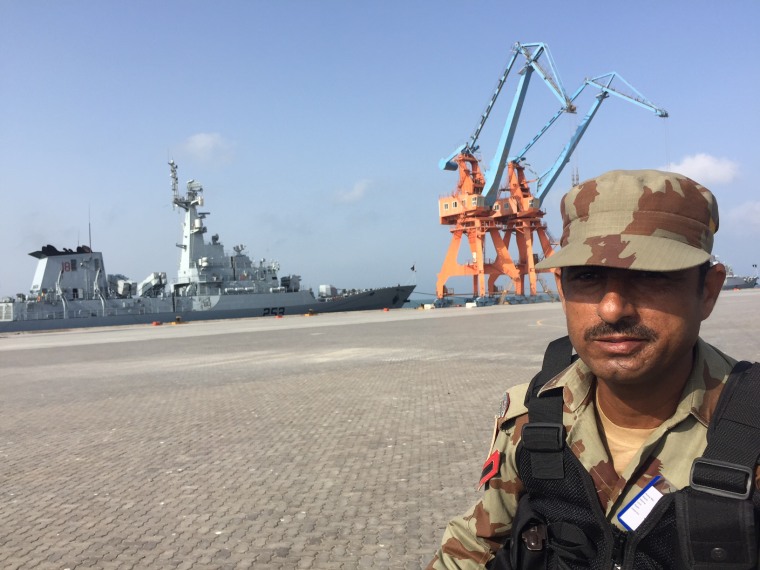 So Pakistan is throwing men and weapons at the project.
The main responsibility for securing the corridor, vital to Pakistan's long-term prosperity, lies with a new army division established in the last few months and numbering an estimated 20,000 troops.
Outside the port authority's office, Pakistan army soldiers with Chinese-made Type-56 submachine guns and U.S.-made Harris radios protect Chinese engineers who arrive daily at the single runway airport.
Pakistani businessmen — many of them land developers from the country's business capital of Karachi some 700 miles to the east — on the lookout for the next big opportunity in Gwadar worry that their country won't be able to deliver on its side of the bargain.
"The army will do what it does, which is to protect the Chinese," said Aftab Ali, a land developer with interests in Dubai and Abu Dhabi as he chomped on cigars and spring rolls in the Pearl Continental's marble lobby.
"The Chinese will do what they do, which is to make a killing and some great infrastructure. But the government can't even put up a website about CPEC or manage to get more than three flights a week here," said Ali, who was with his 20-something son to teach him the family business. "It's us businessmen who will ultimately make this place, but the government is already getting in the way by not doing much."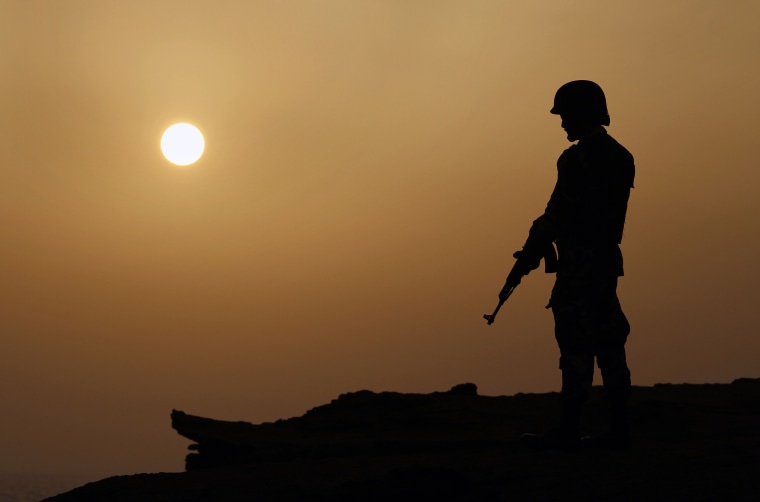 And there are still questions about how much the project will help Pakistan's economy. Pakistan's Planning Ministry does not yet have specific estimates on how many jobs the CPEC will create in the country, although officials believe it could generate hundreds of billions of dollars over the long term.
Companies from China's violence-prone far western region of Xinjiang signed deals worth about $2 billion with Pakistan earlier this month during a visit to Pakistan by Xinjiang's top official, who sought to cement ties with an important security partner.
So hope and fear surround the huge project.
Liu, a Chinese engineer working a short drive from the Pearl Continental in the West Bay that is to become a constellation of residential projects and resorts, also said he was hopeful but worried both about timelines and security.
"Look at these men," he said pointing to around 15 security personnel deployed to guard some 30 local construction workers and the Chinese contractors.
"They are all OK," said Liu, who did not want to share his last name. "The army keeps me safe, the police keeps the locals safe, but how can we expect to build such a big project with such a security problem? And if I finish this school by June, like I'm supposed to, will the children who study here be safe?"