The death toll from Haiti's devastating 7.2-magnitude earthquake has climbed to 1,941, the country's civil protection agency said Tuesday.
More than 9,900 people were injured in the earthquake, which struck Saturday morning.
The quake, which was felt in Cuba and Jamaica and was followed by a string of aftershocks, struck around 8 miles south-southeast of Petit Trou de Nippes at a depth of 6 miles, according to the U.S. Geological Survey.
The humanitarian organization UNICEF estimated Tuesday that 1.2 million Haitians have been affected, including 540,000 children, and that more than 84,000 houses have been damaged or destroyed.
Adding to the misery and complicating response efforts, Haiti was lashed by torrential rain and heavy wind from Tropical Storm Grace on Monday and Tuesday.
"Countless Haitian families who have lost everything due to the earthquake are now living literally with their feet in the water due to the flooding," Bruno Maes, UNICEF's representative in Haiti, who is in the hard-hit area of Les Cayes, said in a statement.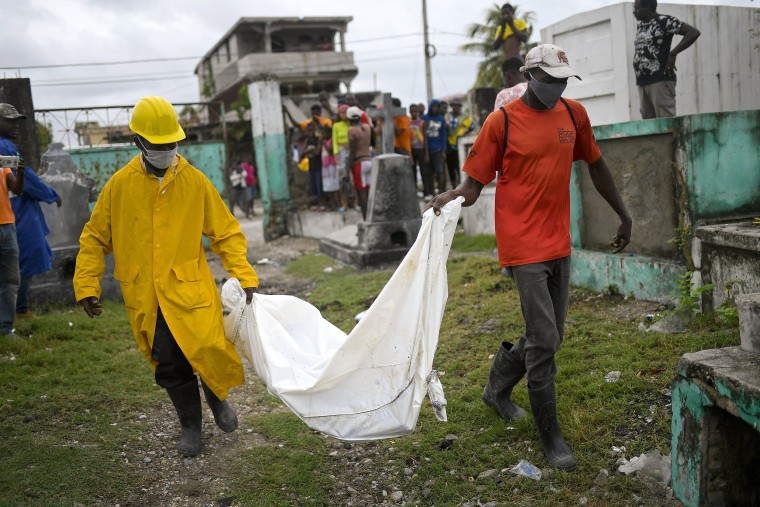 Haiti is considered the poorest country in the Western Hemisphere. Before the earthquake, it was struggling with gang violence, the assassination of its president, Jovenel Moïse, and the Covid-19 pandemic.
The U.S. and the United Nations have pledged help and support.
The U.S. Coast Guard has been flying critically injured patients to Port-au-Prince for higher levels of care and providing other aid. More than 60 urban search-and-rescue team members from the U.S. have arrived, and the U.S. military has sent helicopters, officials said.
Hospitals and health care facilities in the area lack supplies and are short on staff, the U.S. Agency for International Development said.
Adding to the challenge, humanitarian organizations have reported that the main highway from Port-au-Prince was impassible because of organized crime-related security concerns, USAID said.
The aid group Save the Children said people are living on the street without protection from the weather, and children are going hungry and being warned not to go into buildings for fear they could collapse.
"I see children crying on the street, people asking us for food, but we are low on food ourselves as well," Carl-Henry Petit-Frère, field manager for the group, said in a statement. "The organizations that are here are doing what they can, but we need more supplies. Food, clean water and shelter are needed most, and we need them fast."
Near a pancaked building, the body of a 3-year-old girl was left covered by a bedsheet. Volunteer firefighters left the body in the rain because police have to be present before a body can be taken away.
"The mother and father are in the hospital, but all three kids died," neighbor Joseph Boyer, 53, told The Associated Press.