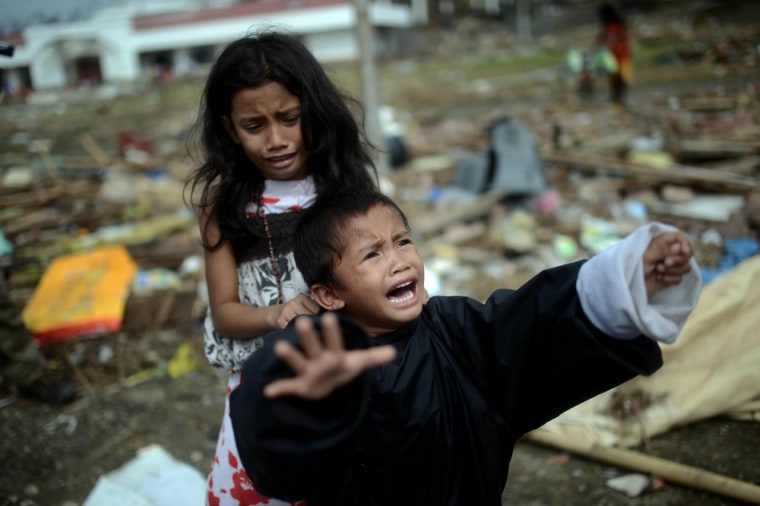 With many rescue workers in the Philippines focused on burying bodies, distributing aid and helping the injured, others have turned their attention to the many children they say are suffering deep emotional damage in the wake of the typhoon.
One million children are estimated to be homeless following the disaster. Some bear physical wounds; many suffer hidden ones.
"I think they seem physically OK, but emotionally I do not think so," said elementary school teacher May Zaballa, who teaches in the town of Tolosa, 15 miles south of the ravaged Tacloban.
Children at Zaballa's school were moved to the building from their homes nearby before the storm hit. They are staying at the school while their parents rebuild or repair their houses.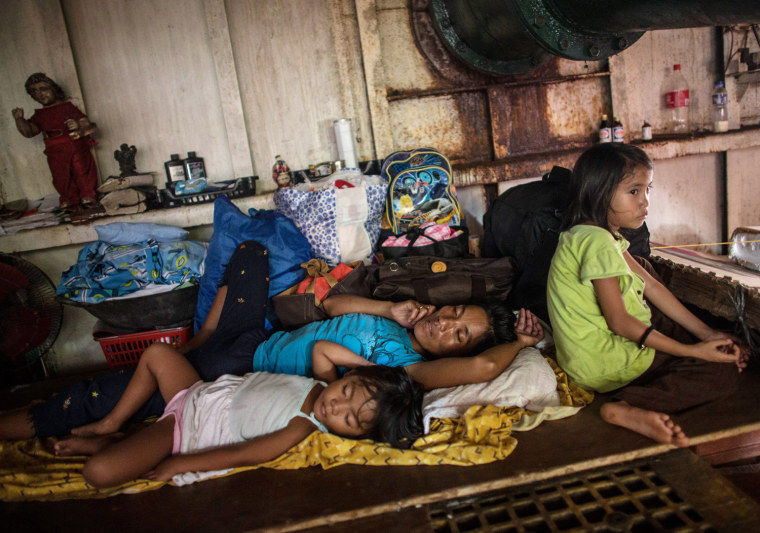 "Some children here will wake up and cry at night and start shouting, so I think that they have experienced trauma," Zaballa said.
"They were upstairs when the storm came and all the glass in the windows smashed, so just imagine their fright."
One of these schoolchildren is 11-year-old John Permejo. He told NBC News his brother, 12-year-old Christian, was lucky to escape after a blackboard narrowly missed him while they were sheltering in a classroom when the storm hit.
"We are lucky to be alive," he said.
While much attention is being focused on the increasing medical crisis in the Philippines, Zaballa said more needed to be done to treat the emotional scars of children.
"I believe these children need stress debriefing but we have not heard of any agency coming here for stress debriefing," she said. "The kids are somewhat innocent, they do not really know what is happening. Maybe their stress will come out [on the surface] later?"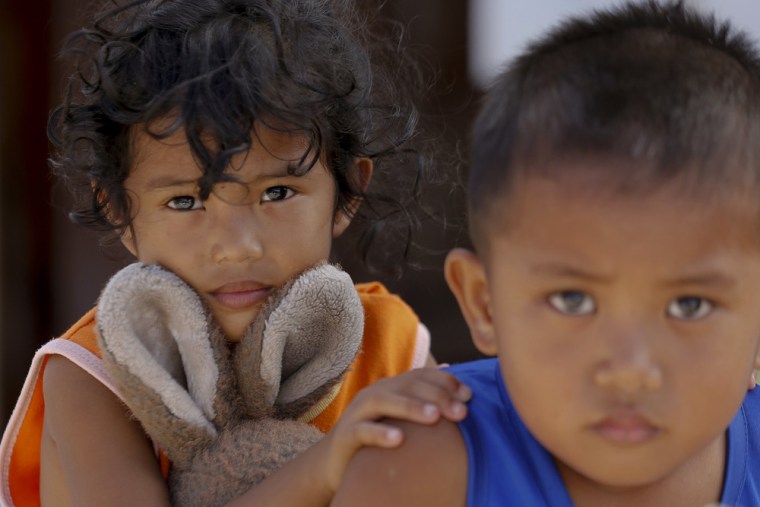 But a few miles north of Tolosa, in the town of Tanauan, rescue workers were making some effort to ease these emotional stresses.
Dee Stahil is a Rescuenet worker in Tanauan who plays with displaced children using teddy bears, stickers and bottles of bubbles.
"The children often fall through the cracks," she said. "So we go around and see what the emotional, immediate needs of the children are, and [try to bring] some joy and something for them which takes them away from the disaster for a few minutes.
"Even if it is just a hug, playing with them, or blowing bubbles, it can lighten up their world for a few moments and take them somewhere else."
More than a week and a half after Haiyan — one of the most powerful storms ever to make landfall — smashed into the Philippines, workers were still burying the dead in mass graves and starting to clear what remained of ruined cities such as Tacloban.
"These children have been through a very traumatic experience," Dr. Julie Hall, the World Health Organization's representative to the Philippines, said. "In a matter of hours they have lost everything that they knew to be part of their lives.
"Some of them may well have lost their parents; many of them will have lost friends or relatives."
Aside from tackling the huge health issues faced by these children, Hall said it was crucial to set up safe play areas for their mental well-being.
"The sooner children get back into school, the better it is for them," she said. "They will have a safe place to be, but they will be back to something that is a little indication of the normal life they had before.
"And children want to learn, they want to play, they want to be with each other. So creating these spaces, in the beginning to play, and then over time to be education spaces as well, is very important."
Related: