ASHDOD, Israel — The sun had already fallen over Gaza when the skyline lit up in bursts of fiery orange and red as Israel intensified its bombing and expanded its ground operation.
Israeli forces on Friday began what Prime Minister Benjamin Netanyahu said was the second phase of an operation to stamp out Hamas and return the more than 230 hostages taken on Oct. 7. And for the following roughly 30 hours, the entire enclave of more than 2 million people was plunged into darkness with electricity and almost all communication services abruptly cut off.
Chaos erupted as bombs chewed through asphalt and concrete, making streets impassable. First responders could not be called, with a member of NBC News' crew in Gaza describing intense shelling "by artillery and by air" over the weekend as people carried their "dead and injured in the most basic methods ... on trollies and in tuk-tuks."
"Even ambulances don't dare go out," they said, noting that they had sent that message after managing to "get connectivity for a minute with a lot of difficulty."
Follow live updates from NBC News here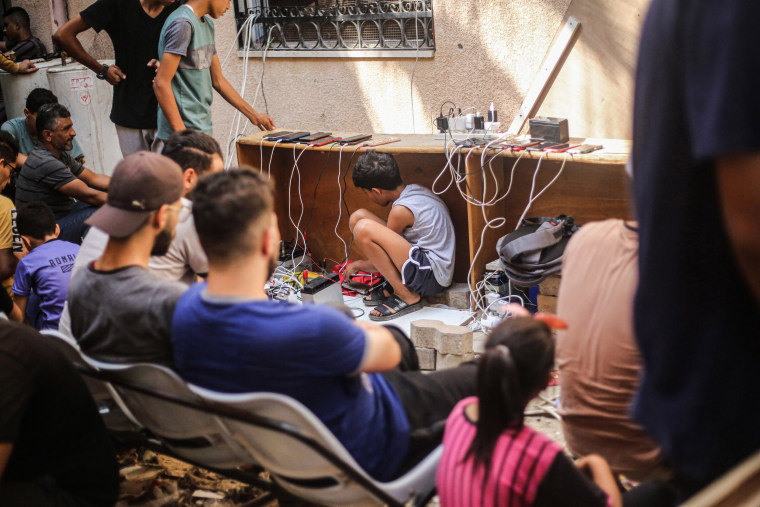 "I wanted to let you know that all internet, electricity and everything has been cut off," they said. "The situation we're in is difficult, so difficult and very dangerous."
Concerned families split up along the strip had no way of knowing if loved ones were dead or alive. And as many in Gaza learned they had no way of reaching the rest of the world, the same realization dawned on those from the outside looking in. Social media sites lit up as people across the globe lost touch with relatives, friends and colleagues in Gaza, with panic mounting over what might happen if connection was completely severed.
The Israel Defense Forces said it had struck over 600 "terror targets" in Gaza over the past few days, including weapons depots and antitank missile launching positions. On Monday, a spokesman for Israel's military said it will "continue and intensify" its ground operation in the enclave.
Nebal Farsakh, a spokesperson for the Palestine Red Crescent Society, told NBC News on Monday that she was struggling to maintain communication with her colleagues at Al-Quds hospital in Gaza City, which she said was facing the threat of intense bombardment from Israel forces. 
"All people in Gaza are still facing difficulties reaching out to each other," she said. 
'It was like hell, like doomsday' 
After losing connectivity for more than a day, Ayman Eddama, 50, a secondary school teacher who has remained in northern Gaza, said he was worried about the dead.
"We were terrified of the amount of killings they would be able to do," he said in a voice note Sunday morning. "There was no mode of communication at all," he said.
"During that 30 hours of power cut it was like hell, like doomsday," he said in a later voice note Monday after having lost connectivity for much of Sunday. "The earth was shaking like a real earthquake," he said.
Along with his wife, six children and other relatives, he is among those who have stayed in northern Gaza despite Israel's orders for residents to move south. He said they don't have enough money to flee their home in Jabalia, a city north of Gaza City that has faced heavy shelling in Israel's bombardment.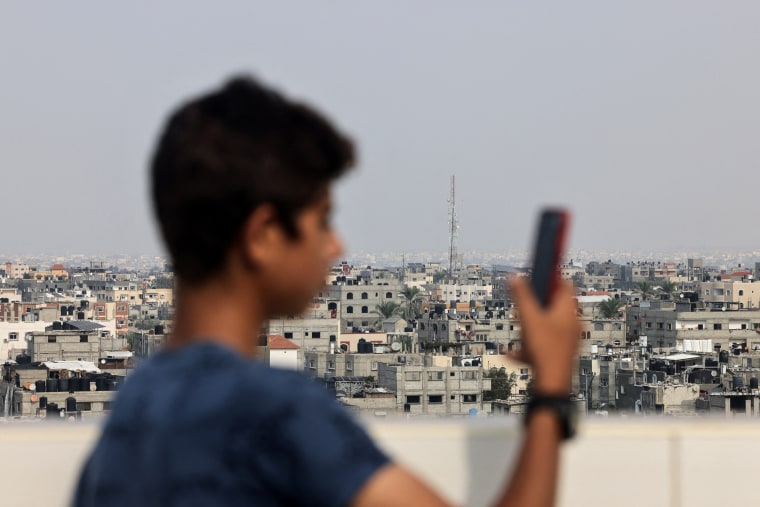 He and other residents across Gaza were almost entirely cut off from internet and communication services for more than 30 hours before they slowly began to be restored by Sunday morning, telecommunications provider Paltel said.
'Catastrophic' scenes 
The devastation that unfolded during the apparent near-total communications blackout was "catastrophic, with scenes of destruction spread everywhere," the NBC News crew journalist said. They said that after returning to Gaza City after more than 10 days away, they could no longer recognize the streets.
The journalist said that they had covered many conflicts in Gaza, but that communication had never been severed before.
"It is a frightening thing to be cut off from contact with the outside world, to have media materials but not be able to send them to the outside world, which cannot communicate with you," they said.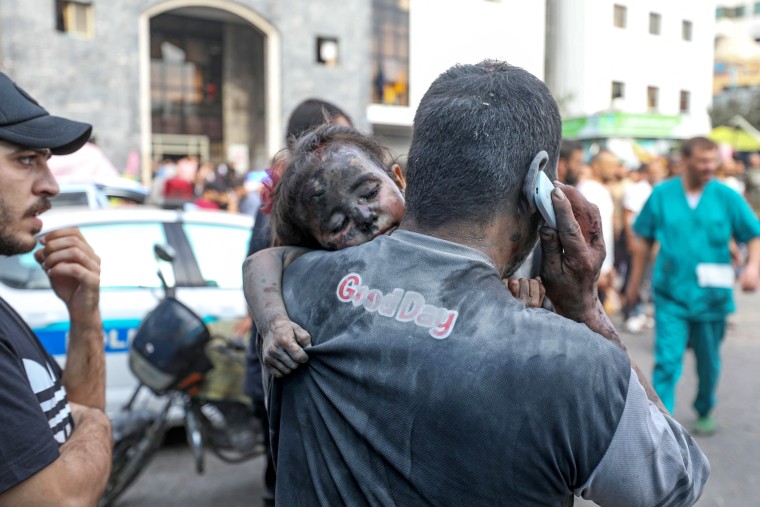 As the death toll continued to mount in Gaza, Eddama, the teacher, said in a previous interview that he wanted to remind people in the U.S., Israel and "the whole world" that "we are humans like you. We are all against the bloodshed."
He implored the international community to step in and help bring an end to an "unequal war." 
"We want to live," he said. "We don't want to die."
Chantal Da Silva reported from Ashdod, and Yasmine Salam from New York.