TEL AVIV — A spokesperson for the military wing of Hamas has said militants will kill one civilian hostage every time Israel targets civilians in their homes in Gaza "without warning."
In an audio statement released Monday, Abu Obeida, a spokesman for the Qassam Brigades, said intense strikes had occurred in civilian areas in Gaza, a densely populated coastal enclave that has been blockaded in the years since Hamas took power there.
Shortly after Obeida's statement, Israeli Prime Minister Benjamin Netanyahu warned that images of "devastation and destruction" from militant strongholds were "just the beginning."
"We announce that every targeting of our people who are safe in their homes without warning, we will regretfully meet with the execution of our enemy's civilian hostages," Obeida said. He said the executions would be broadcast "in audio and video."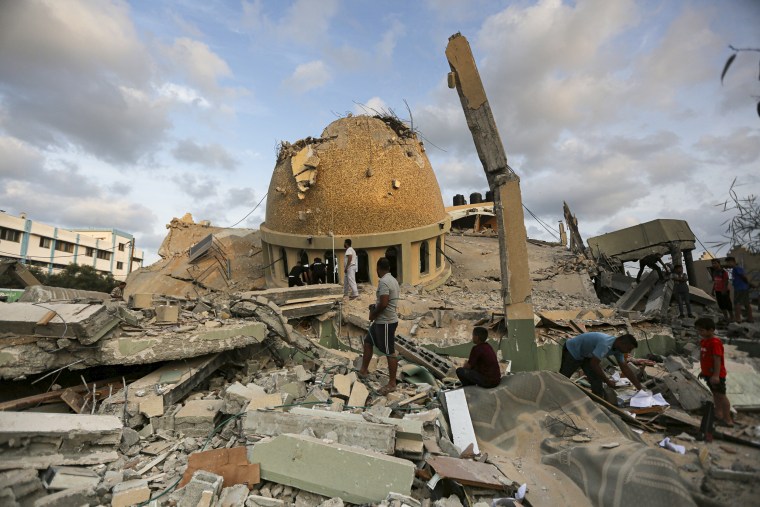 Obeida said the message was a "warning" after Israel declared a "full siege" of Gaza and pounded the area with airstrikes after Hamas launched its surprise attack Saturday, shocking Israelis and many around the world.
More than 1,000 people died after Hamas militants broke through the border fence that separates Israel from the blockaded Gaza Strip and began killing and kidnapping Israelis. At least 700 people were killed in Israel, according to the military, and more than 570 people were killed in Gaza and the West Bank, the Palestinian Health Ministry said.
Around 100 people have been kidnapped.
Netanyahu did not appear to address the Obeida's comments directly but said Hamas would come to regret launching its surprise attack.
"This bitter enemy wanted war, and he will get war," Netanyahu said.
Israel Defense Minister Yoav Gallant earlier said a "full siege" of the Gaza Strip was being launched. 
"I ordered a full siege on the Gaza Strip. No power, no food, no gas; everything is closed. We are fighting human animals, and we act accordingly," said Gallant, a former Israel Defense Forces commander. 
United Nations Secretary-General António Guterres said he was "deeply distressed" by the development.
Speaking with journalists after a meeting with senior leaders, he condemned the shelling of hospitals and shelters in the Gaza Strip and called for the U.N. to be able to deliver humanitarian aid.  
He warned that Israel's military operations "must be conducted in strict accordance with international humanitarian law."
Guterres also condemned Hamas' capture of hostages, both civilians and military members. 
"It's time to end this vicious circle of bloodshed, hatred and polarization," he said.