TEL AVIV, Israel — Gaza Strip militant groups announced a ceasefire Tuesday after a deadly flare-up in violence with Israel raised fears of an all-out war.
"Egyptian efforts have been able to stabilize the ceasefire," Gaza's militant groups said in a statement, referring to ongoing efforts by Egypt to broker a truce.
Israeli officials did not confirm the announcement.
Earlier, Israeli military targeted carried "wide-scale strike on military targets throughout the Gaza Strip" and Palestinians kept up their most intense rocket fire on Israel since the 2014 Gaza war.
The recent escalation appeared to have been triggered by a botched Israeli commando raid into Gaza that killed seven Palestinians and an Israeli civilian. It had looked set to derail international efforts to broker a long-term truce and head off another major conflict in the impoverished and blockaded enclave where some 70 percent of Gaza's population are refugees or descendants of refugees, and a similar proportion depends on humanitarian aid.
The recent uptick in violence followed months of fires caused by hundreds of incendiary kites and explosive balloons sent from Gaza, as well as often violent protests by Palestinians along the fence with Israel. Israeli officials have struggled to deal with blazes set by incendiary devices that have burned thousands of acres of nature reserves and farm lands.
The Israeli raid into Gaza Sunday left seven militants dead, including a local Hamas commander. An Israeli army officer was also killed during the incursion by Israeli special forces.
Palestinian militants have launched 460 rockets or mortar bombs across the border after carrying out a surprise guided-missile attack Monday on an Israeli bus that wounded a soldier, the Israeli military said.
Hamas — which has controlled Gaza since 2007 and is considered a terrorist organization by Israel and the U.S. — and other armed factions fired rockets at the Israeli city of Ashkelon, some eight miles from the Gaza border, as well as at other border communities.
A 40-year-old man was killed when a rocket hit a residential building in Ashkelon, according to Magen David Adom, Israel's national emergency service.
The Israeli Defense Force said that as of 6 p.m. (11 a.m. ET), more than 160 targets in Gaza had been hit, among them Hamas government buildings and its television station.
Overnight, the Israeli Defense Forces claimed responsibility for an airstrike that destroyed the Hamas-run Al-Aqsa TV station in Gaza. The IDF later released video footage of the attack calling it "a strategic Hamas terror target."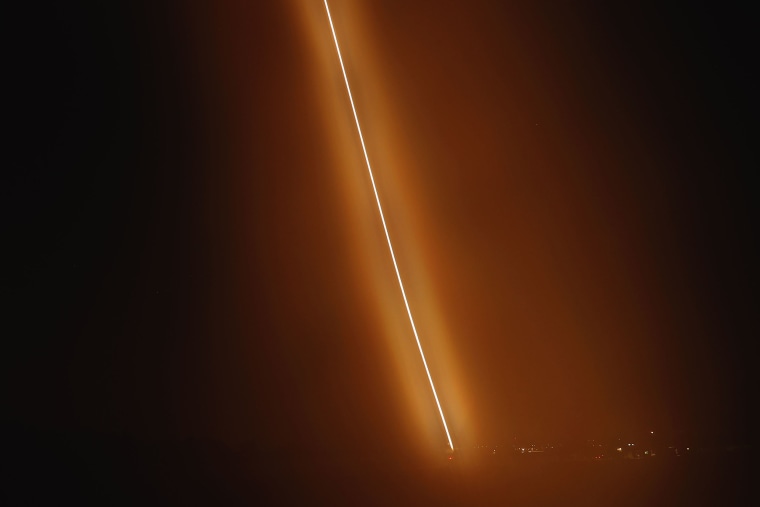 A broader coalition of militant groups warned Monday that in the event of "excessive" Israeli aggression they would "increase the extent and depth and intensity of bombing sites."
Israeli Prime Minister Benjamin Netanyahu convened a security cabinet meeting Tuesday to discuss the situation after cutting short his visit to Paris to return for emergency talks.
Meanwhile, the U.S. Middle East envoy Jason Greenblatt weighed in on the clashes saying the U.S. stands with Israel as it defends itself from Hamas violence.
"The world is fed up with Hamas violence and the violence of other actors in Gaza," he said in a tweet.
Israel has fought three wars in Gaza in the last decade, and fears are growing that a new conflict is on the way.
Yossi Mekelberg, a professor of international relations at Regent's University and senior consulting fellow at Chatham House think tank in London, said the conditions on the ground were ripe for escalation.
"The ongoing blockade of Gaza, the role of Hamas in Gaza, the right-wing government in Israel — there are conditions there that are volatile," he said, adding that in this case the trigger was Israel's special forces operation Sunday.
Mekelberg said Hamas and Israel had reacted with excessive force most likely to show they were entering truce negotiations from a position of strength. He added both sides' displays of strength also served to appease factions within their own constituencies who were not happy about truce talks.
As for whether the violence would continue, Mekelberg said it would depend on unpredictable factors such as numbers of casualties and what targets were hit.
He said the international community should intervene but criticized Greenblatt's tweets blaming Hamas. "At this point the most important thing is to put every effort to stop the vicious cycle of violence," he said.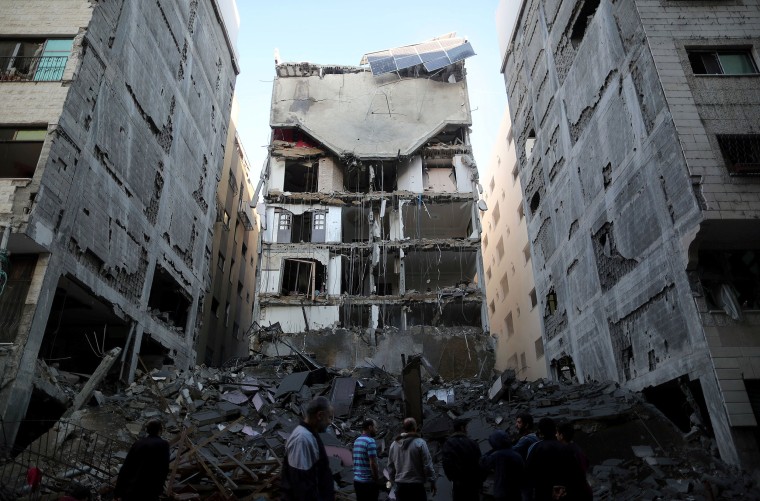 This week's fighting came days after a $15 million Qatari cash infusion was paid out to impoverished civil servants in Gaza, offering Hamas a potential domestic reprieve though Israel said the money would not go to the dominant Islamist group.
Residents on either side of the border said they heard gunfire as they tried to sleep or socialize Sunday night as the Israeli raid spun out of control.
Ma'amoun Shawaf, a 23-year-old owner of a coffee shop in Khan Younis, described how people in the neighborhood urged residents to leave when the violence struck. They started shouting "Israeli forces, go back, go back!" he said.
Shawaf added that he rushed to where the shooting had started and saw bodies on the floor. "At that moment, I understood that something big is happening," he said. "And I started telling my friends that the war will start tonight."
On the other side of the border in Israel in Nirim, a kibbutz, Adele Raemer said she could not sleep for the sounds of explosions and gunfire.
"We are used to riding this roller coaster," said the 63-year-old ESL teacher and a Bronx native.
"Nobody likes the roller coaster, but we are on it. And the thing is — you never know when you are going to get on it and you never know when this ride is over."
Lawahez Jabari reported from Tel Aviv. Saphora Smith and Yuliya Talmazan reported from London.