MUNICH — Six people and an unborn baby were gunned down at a Jehovah's Witness Kingdom hall in the German city of Hamburg, police said Friday.
The four men and two women who died were German nationals between 33 and 60 years of age. It is unclear if the baby's mother, who was seven months pregnant, was also killed.
Authorities said eight others, including a Ukrainian and a Ugandan citizen were injured, four of them seriously.
Calling it the "worst crime in Hamburg's recent history," the city's interior minister Andy Grote thanked police for their swift response and said they "likely disrupted the attack."
"The culprit moved to the first floor when police arrived and killed himself," he added.
Police said there was no evidence to suggest the incident was a terrorist attack.
Matthias Tresp, the head of operations for Hamburg Police, said officers did not at first realize they had found the body of the shooter in the building. "We only knew there was one lifeless male on the floor with a weapon next to him," he said, adding that police did not use their own firearms.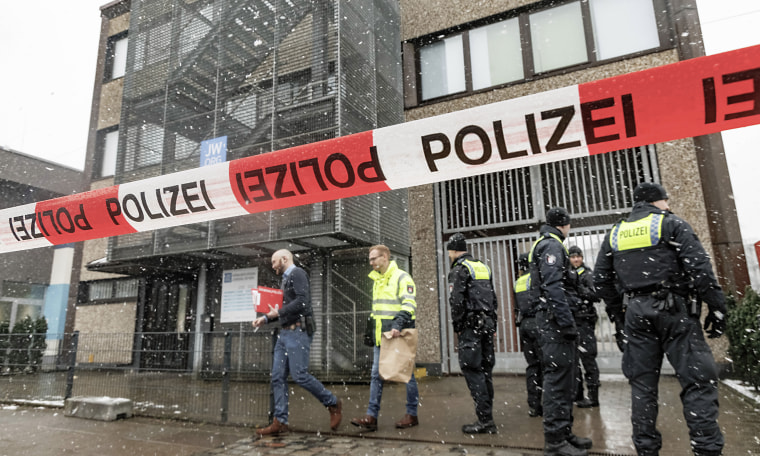 German Chancellor Olaf Scholz tweeted Friday morning that it was "a brutal act of violence."
"My thoughts are with them and their families. And with the security forces, who have had a difficult deployment behind them," said Scholz, a former mayor of Hamburg.
A U.S. State Department spokesperson said the "United States government strongly condemns the senseless act of violence that occurred at a Jehovah's Witnesses hall in Hamburg, Germany."
"No one should have to fear for their safety while attending a place of worship," the spokesperson said. "Such acts of violence have no place in any society."
Armed officers arrived just four minutes after receiving 47 emergency calls at 9.14 p.m. (3.14 p.m. ET) Thursday, some from people within the building.
Police said these officers' swift response in entering and securing the building prevented more deaths at the organized meeting of 36 people, in the Gross Borstel district in the north of the country's second-biggest city.
"These forces arrived at the scene very quickly and because of their special training, especially when it comes to terrorist attacks and people running amok, they recognized the situation and realized they could not possibly wait to enter the building," Tresp told the press conference.
Thomas Radszuweit, the head of protection for the state of Hamburg, named the gunman as 35-year-old Philipp K, who was a former member of the local Jehovah's Witness congregation but left 18 months ago and may have harbored "ill feelings." Criminal suspects' full names are normally not released in Germany due to privacy laws.
He added that authorities have "no clear idea regarding his motivations" and investigations were ongoing.
Hamburg Police President Ralf Martin Meyer said that the suspect may have been "enraged" by the congregation.
He said that police visited the suspect at his Hamburg apartment in 2014 after receiving an anonymous tip that he was suffering from undiagnosed and untreated mental health problems.
Officers had found that his gun — the same Koch gun used in Thursday's attack — was legally owned via a sports shooting license most recently renewed in 2022 and stored securely in a safe, as per local laws. The only breach of the rules was a single ammunition magazine placed on top of the safe, when it should have been locked away.
"He got a warning and apologized for it, and put the bullets straight away into the safe. The officers didn't have any further options to do anything else," Meyer said.
"They could not take the weapon away nor ask for a mental assessment as there was no legal foundation, as there was only one anonymous letter."
The suspect's apartment was searched at 12:30 a.m. Friday (6 p.m. ET), according to Thomas Radszuweit, a senior security official for Hamburg. The suspect had no previous convictions.
At the scene of the shooting, the gunman had nine empty ammunition magazines and 20 full ones in his backpack, each holding 15 rounds.
David Semonian, a spokesman for Jehovah's Witnesses based in the U.S., said the church's members "worldwide grieve for the victims of this traumatic event."
"The congregation elders in the local area are providing pastoral care for those affected by the event," he wrote.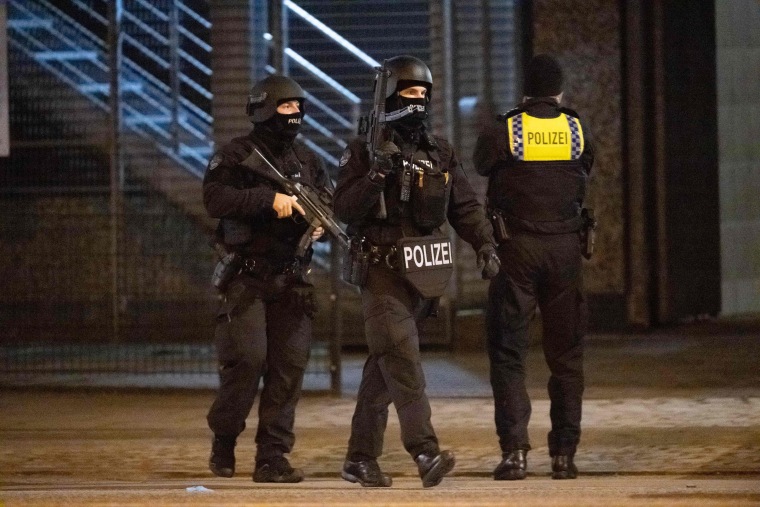 Authorities described a chaotic scene in which officers at first didn't realize the gunman had fled to the first floor and was lying lifeless next to the murder weapon.
Before he entered the building, the gunman fired 10 times at a woman who was sitting in a stationary car, but she managed to drive away unharmed.
Tresp said that a police call handler had spoken to someone in the building who was then shot.
Hamburg is Germany's second-largest city and its wider metropolitan region is home to more than 5 million people, according to the Council of Europe.
Jehovah's Witnesses are a Christian denomination founded in the United States in 1872. They claim more than 8 million members worldwide.
Later, in a separate incident in the city of Karlsruhe, police said a large number officers had mobilized due to a hostage situation. They added that they had cordoned off the area because the danger level was unclear.
Carlo Angerer reported from Munich, Patrick Smith from London, and Doha Madani from New York.