PESHAWAR, Pakistan — The founder of the Haqqani network, the group behind some of the bloodiest attacks against U.S. and NATO troops and civilians in Afghanistan, has died after a long illness, according to the Afghan Taliban.
Jalaluddin Haqqani created the militant organization bearing his name in the 1970s and relinquished leadership to his son some years ago. The Haqqanis are an integral part of the Afghan Taliban.
In a statement announcing his death, the Afghan Taliban called Haqqani a "prominent jihadi figure, religious scholar, exemplary warrior and pioneer of celebrated jihads."
It said he died after a long illness and had been bedridden for several years. There were previous widespread reports of his death in 2015.
The elder Haqqani wasn't always an enemy of the U.S.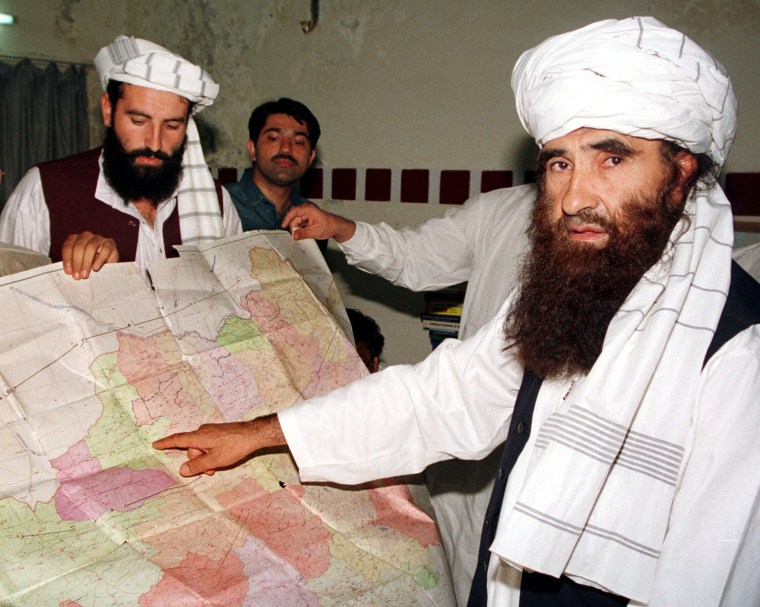 In the 1980s he was among the Afghan mujahedeen, or holy warriors, who were backed by Washington to fight the Soviet Union after it invaded Afghanistan.
Haqqani was also a close friend of al Qaeda leader Osama Bin Laden's; the Associated Press said he was 72, while Reuters put his age at 71.
The Haqqani network was also behind a spate of high-profile abductions, including holding Army Sgt. Bowe Bergdahl captive after deserting his post in 2009.
Caitlan Coleman, an American who was pregnant when she and her Canadian husband, Joshua Boyle, were kidnapped by militants in Afghanistan in late 2012, were held by the Haqqanis for five years. The family was freed last year.
Haqqani's military prowess brought him attention from both the United States and Pakistan when Washington backed an uprising against the communist government in Kabul and its Russian allies during the 1980s. He received both money and weapons from the U.S.
Haqqani was once praised by U.S. Rep. Charlie Wilson, D-Texas, as "goodness personified."
After taking power in Afghanistan in September 1996, the Taliban embraced Haqqani for his military skills, according to a declassified 1998 cable from the U.S. Embassy. That cable also said Haqqani "is close buddies with many Arab and Pakistani Islamists."
In August 1998, U.S. cruise missiles targeted Haqqani's base in a failed attempt to kill bin Laden.
Declassified U.S. cables called Haqqani a "moderate socialist" who did not embrace the Taliban's strict rules that denied girls education, the AP reported.
Due to the Haqqanis' wealth and deep links to local tribes, one Western diplomat once called them "the Kennedys of the Taliban movement."
His group became notorious for complex, well-organized attacks on both Afghan and U.S. military.
More than 2,400 American personnel and tens of thousands of local residents have died in Afghanistan's near 17-year war.
Jalaluddin Haqqani's son, Sirajuddin, currently is in charge of the Haqqani network and also serves as deputy leader of the Afghan Taliban. He has a $5 million bounty on his head.
Mushtaq Yusufzai reported from Peshawar, and Alexander Smith from London.