A Japanese man's Harley-Davidson motorcycle that washed up on the shores of western Canada more than a year after it was swept away by the devastating tsunami will be preserved in a Harley museum in the U.S.
The 2004 FXSTB Softail Night Train motorcycle will be permanently housed in the Harley-Davidson Museum in Milwaukee, Wis., as a memorial to the victims of the March 2011 earthquake and tsunami, which swamped several coastal towns in northeastern Japan and left more than 15,000 people dead.
"It is truly amazing that my Harley-Davidson motorcycle was recovered in Canada after drifting for more than a year," said the bike's owner, Ikuo Yokoyama, in a press release issued Friday by Deeley Harley-Davidson, the Canadian distributor of Harleys. "I would like to take this opportunity to express my heartfelt appreciation to Peter Mark, the finder of my motorcycle. Due to circumstances caused by the disaster, I have been so far unable to visit him in Canada to convey my gratitude."
Mark found the motorcycle, still bearing its Japanese license plate, while driving his ATV on an isolated beach on Graham Island on the west coast of British Columbia on April 18. The bike, along with several other items, was inside a rusted cargo van container that apparently drifted more than 4,000 miles across the Pacific Ocean.
"You just never know what you're going to stumble upon when you go for a drive, and lo and behold you just come across something that's out of this world," Mark told CBC at the time.
The motorcycle was eventually traced to the 29-year-old Yokoyama.
The tsunami destroyed Yokoyama's home in Miyagi prefecture and also claimed the lives of three family members, according to Japanese media reports. Yokoyama currently lives in temporary housing in Miyagi prefecture.
He said the motorcycle was being kept in a storage container behind his house when the tsunami struck.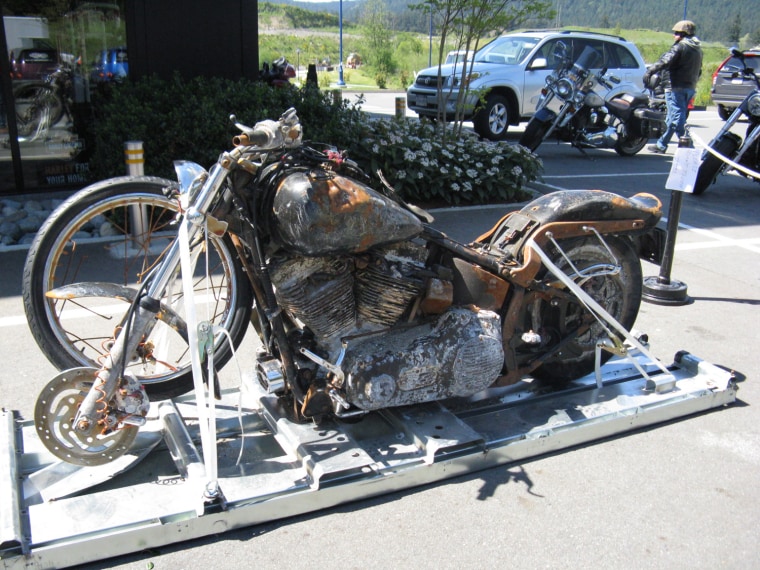 Harley-Davidson offered to return the rust-encrusted bike to him and to restore it to running condition but Yokoyama respectfully declined, the company said.
"Since the motorcycle was recovered, I have discussed with many people about what to do with it. I would be delighted if it could be preserved in its current condition and exhibited to the many visitors to the Harley Davidson Museum as a memorial to a tragedy that claimed thousands of lives," Yokoyama was quoted as saying in Friday's press release.
Harley-Davidson has offered to fly him to visit the museum and meet Marks, the Canadian who retrieved the bike. Yokoyama said he would like to do so "when things have calmed down."
"My heart really goes out to Ikuo Yokoyama and all the survivors of the Tohoku earthquake and tsunami for everything that was taken from them. I cannot even begin to comprehend the loss of family, friends, and community," Mark was quoted by Harley-Davidson as saying. "I think it is fitting that the Harley, which was swept across the Pacific Ocean by the tsunami, will end up in the Harley-Davidson Museum as a memorial to that tragic event. It has an interesting and powerful story to convey preserved in its current state."
The motorcycle has since been transferred to a Harley dealership in Vancouver. Plans for its transportation to the Harley museum are being developed.
More content from msnbc.com and NBC News: