Toots Thielemans, the jazz harmonica virtuoso perhaps best known to general audiences for his iconic theme music for "Sesame Street," died Monday at age 94, his management company confirmed.
Thielemans died in his sleep in a Belgian hospital where he'd been hospitalized since last month after a fall, The Associated Press reported. He retired from performing in March 2014, saying he found it too tiring to stand during a concert.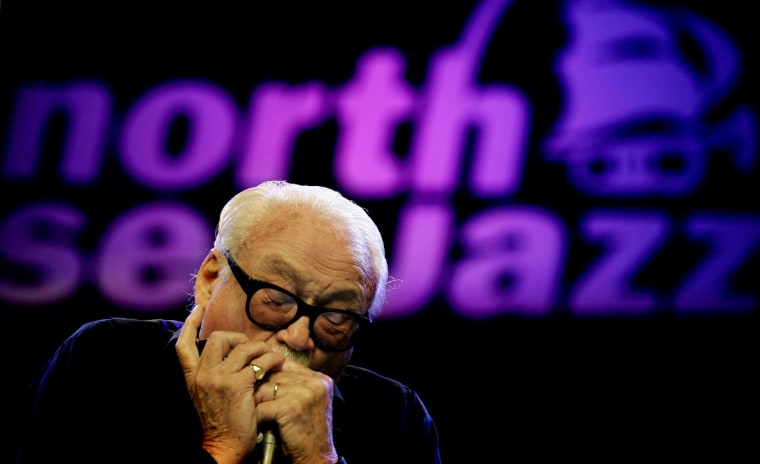 Jean-Baptiste Frédéric Isidor Thielemans, also known as Baron Thielemans of Belgium, survived the Nazi occupation of his native country to launch a career as a jazz guitarist and harmonicist in the 1940s.
By 1949, at age 27, he was touring Europe with the legendary Benny Goodman Sextet, and by 1952, he'd moved to the United States to play with Charlie Parker's All-Stars, a rotating cast of musical giants that also included Miles Davis, John Lewis (later of the groundbreaking Modern Jazz Quartet), Max Roach and many others.
Thielemans (pronounced TEEL-mons) shortly thereafter joined pianist George Shearing's combo and played in side projects with everybody who was anybody in jazz.
He was broad-ranging in his music, appearing not only with traditional masters like Goodman, Parker, Shearing, Dinah Washington, Ella Fitzgerald and Oscar Peterson, but also with electric jazz artists like Pat Metheny, Jaco Pastorius and Joe Pass. In 1995, Quincy Jones called him "one of the greatest musicians of our time."
Thielemans' biggest hit as the leader of his own band was "Bluesette," written in 1962, on which he also played guitar and whistled the main theme simultaneously. It's now considered a standard of the jazz repertory.
But the tune for which most Americans probably know him best was "Sunny Days," the wah-wah-ing harmonica theme for "Sesame Street," which has been ingrained into the minds of millions of children.
With its bluesy main line, played just a fraction of a beat behind the main rhythm, the theme is just as much a jazz classic as it as children's ditty.
The National Endowment for the Arts named Thielemans an NEA Jazz Master in 2009. Among his scores of other awards are appointment as a chevalier of the Ordre des Arts et des Lettres, France's highest cultural honor, and the life baronetcy he was bestowed in 2001 by King Albert II of Belgium.
In a statement, the Royal Palace said Belgium's royal family was "deeply moved by the passing away of Toots Thielemans, one of the greatest jazzmen. Condolences to his family and friends."