Nigeria declared a big military win over Boko Haram this week with the capture of Alagarno, a town it claimed was the "spiritual power base" of the militant group.
But does this claim represent a significant military victory — or plain spin?
Several experts told NBC News they had either not heard of Alagarno, a town in the country's northeast, or denied it was not an important stronghold for the ISIS-affiliated group.
"Our gallant troops finally entered Alagarno ... during which time several [Boko Haram militants] were killed along the route," Nigerian Maj. Gen. Leo Irabor said in a briefing Tuesday. "This operation demystified the [Boko Haram] spiritual power base in Alagarno."
Since it came to power last year, Nigeria's government has claimed big advances against Boko Haram, the Sunni Islamist militant group that has killed thousands of people and terrorized the country's northeast since 2009.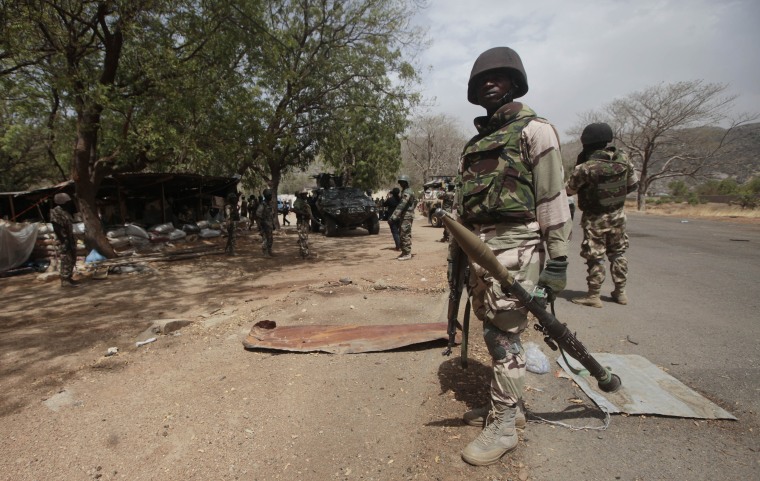 Although the killings appear to have slowed in recent months, continued suicide bombings cast doubt over the government's assertion that the militants are on the verge of defeat.
Such claims are difficult to verify, with few Western journalists and diplomats venturing into the battleground.
"I am skeptical," said John Campbell, former U.S. ambassador to Nigeria. "The lack of credibility of the security forces over the past five years makes me inherently mistrustful of anything they say."
Related: ISIS Owns Headlines, but Nigeria's Boko Haram Kills More Than Ever
Campbell, who served as ambassador from 2004 to 2007 and is now a senior fellow at the Council on Foreign Relations (CFR) in New York, said this is not the only claim that should be taken with a grain of salt.
"I am also skeptical about the huge numbers of kidnap victims allegedly liberated by the security services," he told NBC News, referring to the government's claim it has returned hundreds of the estimated 2,000 people — mainly women and girls — abducted during the Boko Haram insurgency.
"It's terribly, terribly hard to verify any of this information [and] to have a clear picture," Campbell added.
Asked about the significance of Alagarno, Nigerian military spokesman Col. Mustapha Anka claimed that the town "was one of the strongholds of the Boko Haram terrorists, they regarded it as their spiritual headquarters."
Its capture was "very important," he said. "We are winning the war."
But this week appeared to be the first time that Alagarno has been touted as a significant center for Boko Haram.
"It might be a bit too far to call it lies — but it's certainly spin"
The city of Maiduguri is often referred to as Boko Haram's "spiritual home" because the group was formed there in 2002. Seven years later, clashes with security forces in the city saw the death of its leader Mohammed Yusuf and heralded the group's subsequent descent into violence.
Gwoza, a town nestled in mountains near the Cameroon border, has also been significant for Boko Haram, which designated it as the capital of its so-called caliphate after it pledged allegiance to ISIS.
And the Sambisa Forest, a former colonial game reserve, has been crucial in giving the militants somewhere to hide after committing hit-and-run attacks against villages.
But Alagarno has been mentioned little, if at all, in the group's history.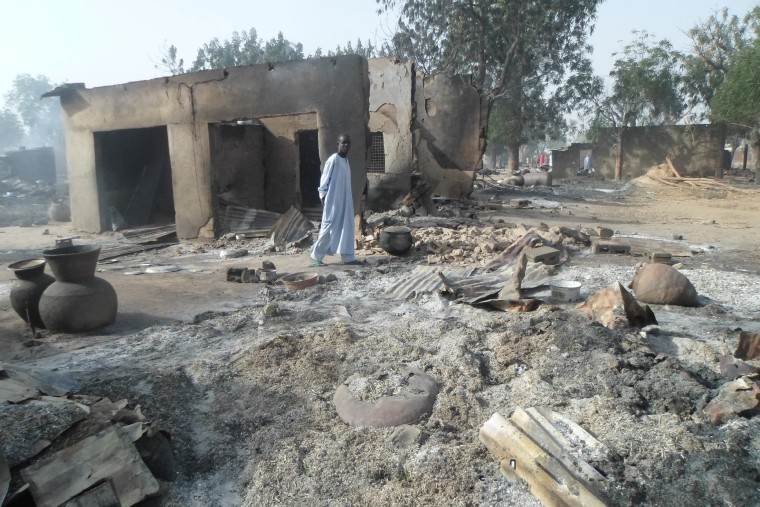 Zannah Mustapha, a Maiduguri-based lawyer and philanthropist, is a Boko Haram expert whose work has put him at the heart of the conflict.
"I haven't heard anything about this being the spiritual home of Boko Haram but I do know it has been a no-go area for the past five years," said Mustapha, who runs an orphanage for the children of militants and their victims.
Ryan Cummings, a South Africa-based analyst at crisis management consultancy Red24, agreed. "This was not one of the towns that Boko Haram renamed as part of its caliphate," he said.
Nigeria's military has undoubtedly made gains against Boko Haram, Cummings said, but this most recent claim was symptomatic of a "government that has reinforced even the smallest military action with communications on a daily basis, highlighting the efforts of the Nigerian military."
An example of this was Nigeria's assertion that it had all but defeated Boko Haram in December, "and yet today you still have areas being captured and civilians being found," he added.
"It might be a bit too far to call it lies — but it's certainly spin," Cummings said of the government's most recent claims.