Yesterday, former President George W. Bush delivered a four-word endorsement -- "I'm for Mitt Romney" -- as an elevator closed on him. Today, the Romney campaign said Bush's support was "welcome," though it was tough to tell.
The presumptive 2012 GOP nominee delivered a speech in Florida that referred to President Obama's "predecessor" five times, without actually saying the man's name. If Bush's support is "welcome," why can't Romney bring himself to say his name out loud?
It makes the larger questions -- How would Romney's agenda differ from Bush's? Does Romney consider the Bush presidency a success? -- that much more important.
Incidentally, my friend Kombiz Lavasany asked a good question this afternoon: "Did Romney send a release on the Christine O'Donnell endorsement and not the George W Bush endorsement?"
Oddly enough, yes. After the former Senate candidate in Delaware threw her support to Romney, the Republican campaign sent out a boastful press statement.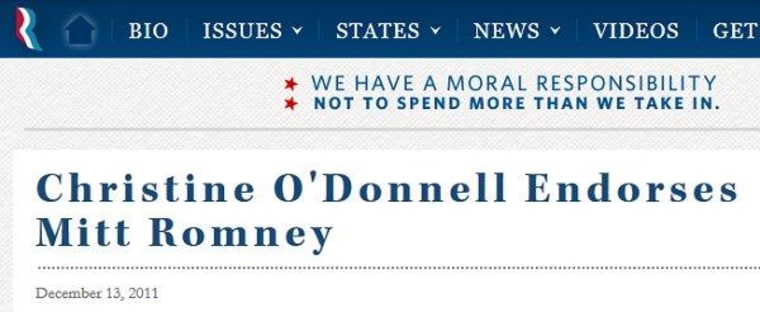 And after George W. Bush's declaration yesterday, well, this largely helps capture the response from Team Romney, which has not issued a press release on the subject.
Update: The Associated Press reported today, "Romney's aides won't speak for the record about the campaign's plans — if there are any -- for Bush."