By Kate Snow, Janet Klein and Dustin Stephens
Rock Center
For Barbara Latasiewicz, home was a hospital room.  The Poland native, who had cleaned homes in the Chicago area for 20 years, suffered a stroke while on the job in September 2009.  An ambulance took her to Adventist La Grange Memorial Hospital in Illinois.
"I was thinking that after a few days, that I'm just gonna get better," Latasiewicz told NBC's Kate Snow through a translator in an interview airing April 25 at 9pm/8 c on Rock Center with Brian Williams.
Latasiewicz suffered paralysis on one side of her body, but eventually became well enough to leave the hospital.  However, more than two years later, the 62-year-old was still in the hospital.
"She hasn't needed to be in this acute facility for a long time," said Richard Carroll, the hospital's chief medical officer.
When asked about Latasiewicz's more than two year stay at the hospital he oversees, Carroll said, "That's really a function of how our health care system is working right now, which is it's not working very well at all, particularly in cases like this."
Carroll said that Latasiewicz belonged in a skilled nursing facility where she would receive a more appropriate rehabilitation, but she had no way to pay. Latasiewicz had no insurance and was an undocumented resident with no access to government safety-net programs like Medicaid.  Without payment, no facility would take her.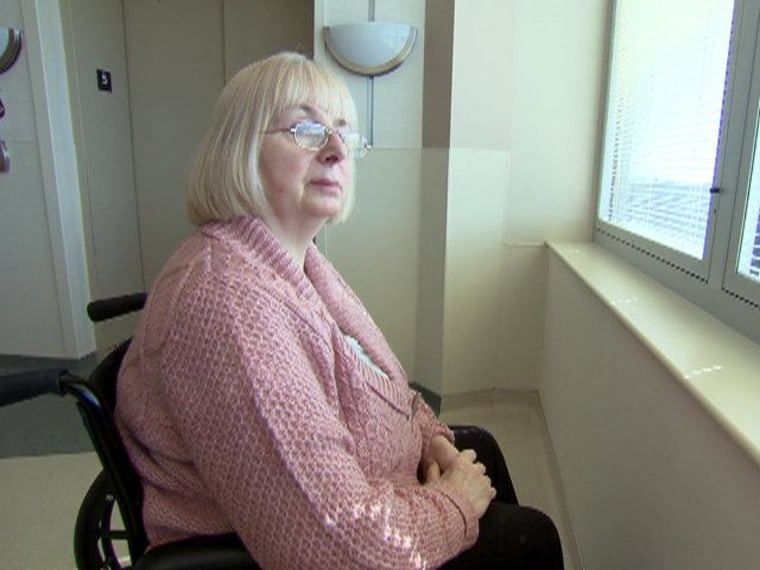 The end result? Latasiewicz stayed at La Grange.  Her care cost the hospital $1.4 million.  A skilled nursing facility would have been a fraction of the cost.
An NBC News investigation discovered that cases like Latasiewicz's are not unusual, but the result of current health care policies and guidelines.  They are known as "permanent patients" and are hidden in plain sight in hospital rooms across the country.  That's because under federal law, hospitals must treat any patient who needs emergency medical attention even if they have no way to pay.  Nursing and rehab facilities are not required by law to do so.  At the same time, hospitals cannot discharge a patient without a plan in place for his or her ongoing care.  The result is patients stuck in the hospital in need of long-term care but with nowhere to go, large medical bills, and no way to pay – a cost that is usually covered at the hospital's expense.
"It would be cheaper to take these patients and send them to the Ritz Carlton," said Harvard University School of Public Health Professor Ashish Jha.  "They could get room service all day, and that would be cheaper."
Jha estimates there are tens of thousands of these patients stuck in the hospital with no clear place to go.  Some stay an extra week, some months, and some like Latasiewicz even years.  NBC News spoke with officials at dozens of hospitals across the country who confirmed housing patients who didn't need to be there for extended periods.
Many patients are stuck because they have no money or insurance to pay for long-term care.  Other patients may have insurance, but their medical needs are too complex for most skilled nursing facilities to accept.  Then there are those in limbo at the hospital waiting sometimes for months to qualify for Medicaid.  Once they're approved, Medicaid will cover the nursing or rehab facility they need.
A spokesperson for the American Health Care Association which represents skilled nursing facilities says that the industry works with hospitals to find facilities for such hard-to-place patients.
According to data from the National Inpatient Sample database at the Agency for Healthcare Research and Quality, the problem of permanent patients appears to be on the rise.  From 2005 to 2009, the last years for which data was available, uninsured hospital patients with no access to Medicare or Medicaid in need of long term care increased 20 percent.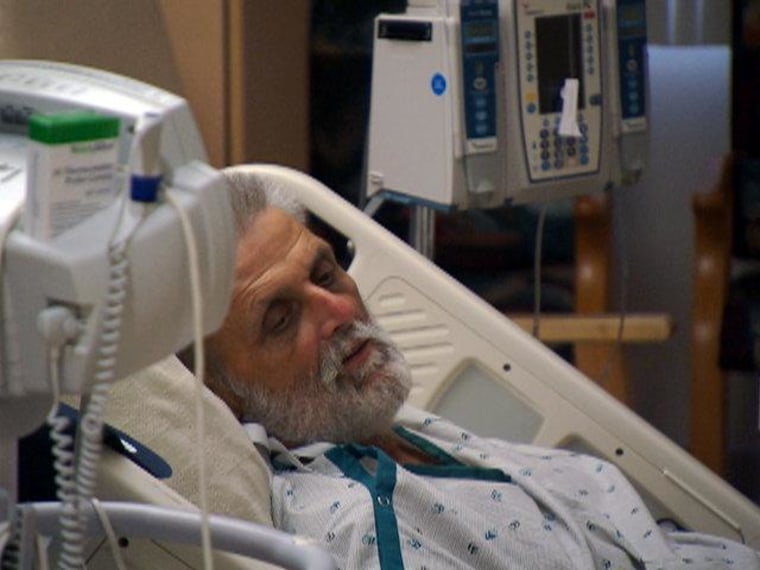 "Most of them are Americans," Jha said. "And if they get hit by a bus, they get sick, they're in this situation."
Garrick Amato, 59, arrived at Banner Heart Hospital in Mesa, Ariz., after suffering a heart attack.  A few days later, he was ready to leave the hospital for a rehab facility.  However, Amato, who said he worked part-time at a local discount store, had no health insurance and no way to pay for his rehab. 
"I guess no nursing home will take me cause I don't have insurance," Amato said. 
Furthermore, as a single adult without dependent children, he did not qualify for Medicaid in Arizona. Amato spent most of March and much of April at the hospital.  Banner Hospital eventually found charity care for him that placed him in a skilled nursing facility where he belonged.
Other patients linger in hospitals despite their best efforts to find charity care.  Fatima Khydarova, a professor from Uzbekistan, has been at Maimonides Medical Center in Brooklyn, N.Y., for more than two years.  Khydarova arrived there after suffering an incapacitating stroke while visiting her grandchildren in New York.  While Khydarova will never walk or talk again, doctors say she does not need to be in a hospital.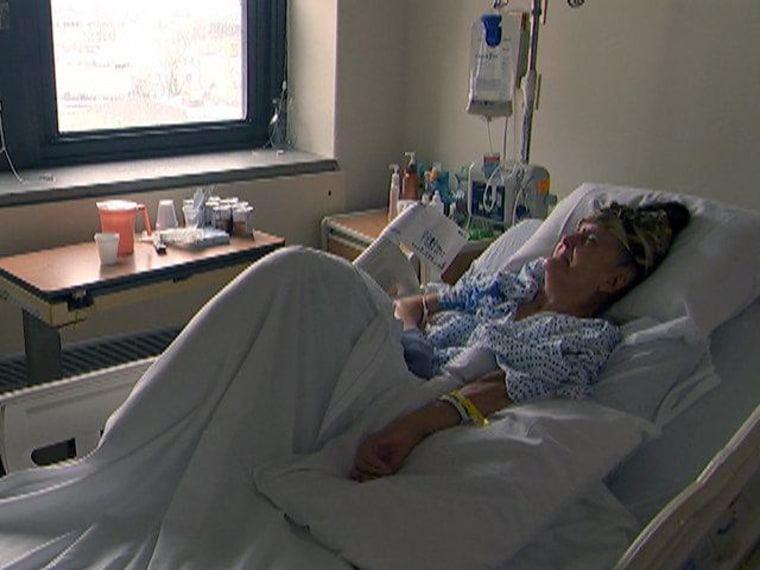 "In a perfect world she should be either at home with her family caring for her or in a nursing home," Maimonides CEO and President Pamela Brier said.
Khydarova's grandchildren said that they cannot take care of their grandmother at their mother's small apartment and at the same time make a living to support all of them.
"I'm working, I'm working." said granddaughter Nigina Abdullaeva who works at a doctor's office.
Dr. Jha of Harvard University says that the costs for treating permanent patients are passed on to other consumers through higher medical bills and insurance premiums.
"The bottom line is we're all paying for it," Jha said.
To mitigate the cost of these patients, some hospitals have paid out of their own funds to move them to skilled nursing facilities.  Once there, the hospital could pay for their care for the rest of their lives.
"Hospitals don't want to widely advertise that they will pay for your care elsewhere," Jha said. "But in select situations, they look, and they realize, instead of spending tens of thousands of dollars to keep the patient in the hospital, it's probably cheaper for them to send them somewhere else."
Back in Illinois, case workers at La Grange Hospital also struggled for years to find a more appropriate medical facility for Latasiewicz.  They eventually found one, but it was in her native Poland. 
Wiping tears away from her eyes, Latasiewicz told Kate Snow through a translator that she did not want to leave.  Latasiewicz lived in the United States for 20 years and has a son and grandchildren living nearby.  However, her son, Peter Latasiewicz, said he could not take his mother into the small apartment he shares with his children and another family.
"I wouldn't be able to provide as much help and support and care for her," Peter Latasiewicz said, "she's got a lot of medical conditions where she requires 24/7 care."
The hospital eventually went to court for permission to send Barbara to the medical facility in Poland. 
The hospital won and on March 1, Latasiewicz boarded a flight back to her native Poland.
In Brooklyn, Khydarova, the professor from Uzbekistan, remains at Maimonides and the hospital is still working hard to find a solution for her family
"She's going to stay in the hospital unless we can find a spot for her," CEO Brier said, "She could stay here potentially for the rest of her life."