On Friday night, at least 14 people were killed in Oklahoma in tornadoes and flooding. Another half dozen people are still missing.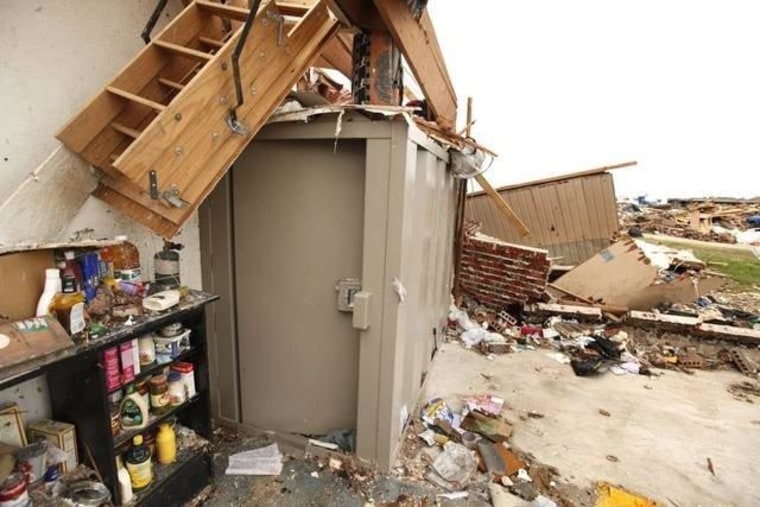 The night of the storm, the Oklahoman posted a report from the city of Moore, where 24 people were killed last month, including seven kids at an elementary school with no safe rooms for them to take shelter in during a storm.
The report noted that researchers into extreme weather had finished their survey of safe rooms in Moore, and the safe rooms had worked, even in that EF5 tornado:
[Larry]Tanner said researchers found 16 aboveground safe rooms or storm shelters in the damage path or near the damage path of the storm. All survived.
"They all performed great," Tanner said. "We continue to have great success stories both in Joplin and in Oklahoma City."
In some cases, all that was left after the tornado passed were the shelters. Tanner said aboveground shelters have had a hard time catching on in Oklahoma, where people have been told for decades that the safest place during a tornado is underground.
During Friday night's storm, students at the Canadian Valley Technology Center in El Reno, Oklahoma, took shelter in an underground classroom as a tornado destroyed their school. They all lived. From the New York Times:
Mr. Winters, the superintendent of the three-campus technology center, said he would not build another school without shelters, underground or aboveground, or safe rooms. "If it was a full school day, 500, 600 people in the building at that time, that hallway would have been used," he said. "We're going to build a new building. Why don't we build one that's got multiple safe rooms? Why don't we build one that we can safely put 500 people in at one time? When you see the devastation and you see the end result, it clears up for you pretty quick."
If the need for a storm shelter gets clear after you survive a storm thanks to having one, the question of how to pay for it remains. Governor Mary Fallin says she wants to have "a very vigorous discussion as to what can we do within budgetary means," which depends at least partly on government having the will to spend more. 
One state lawmaker, Democratic Representative Joe Dorman, is pushing for a $500 million bond issue to build safe rooms at every school in the state. Dorman tells us the state -- the reddest in the nation -- is resistant both to government mandates for things like storm shelters and to bond issues for putting them in schools. Still, he's going to try. Dorman's argument is that if we can mandate that kids attend school, then we can mandate that they have somewhere safe to go in dangerous weather.
Meanwhile, a bipartisan group of lawmakers has started a nonprofit to raise money for safe rooms. One big donor argues that Oklahoma doesn't have a consensus on paying for safe rooms and can't wait to get one:
"People on both sides of the aisle have concerns about government interaction/intervention, one way or the other, whether it be too much or too little. But the fact of the matter is that we have to take the safety of our children into our own hands. Who else's hands would we have it be in? We cannot sit back and let these matters of life and death be handled administratively. We as a citizenry and a populace have to rise together and form a solution for the good of all. We are their parents, their guardians, the ones they look to for guidance and instruction. In times of need we cannot let them down. We owe more, but at least this much, to our children. That is why we have started this fund. 
"The children at Plaza Towers elementary did not have to perish.  Nothing we can do will bring them back or console their loved ones who remain, but we can try to stop this from ever happening again.  We cannot stop natural disasters, but we can endeavor to mitigate their effects at every step of the way.  We live where we live, and our weather will not change; but we must be proactive. We cannot wait for our government to fix this.  It is time we did what needs to be done, and do not suffer through yet another tragedy in another 14 years.  Now is the time to act.  A call to action must be made. Together we can make a difference.  We are a Country of the people, by the people, and for the people, and the people must come forward at this time.  No amount is too small, and certainly no amount is too large."