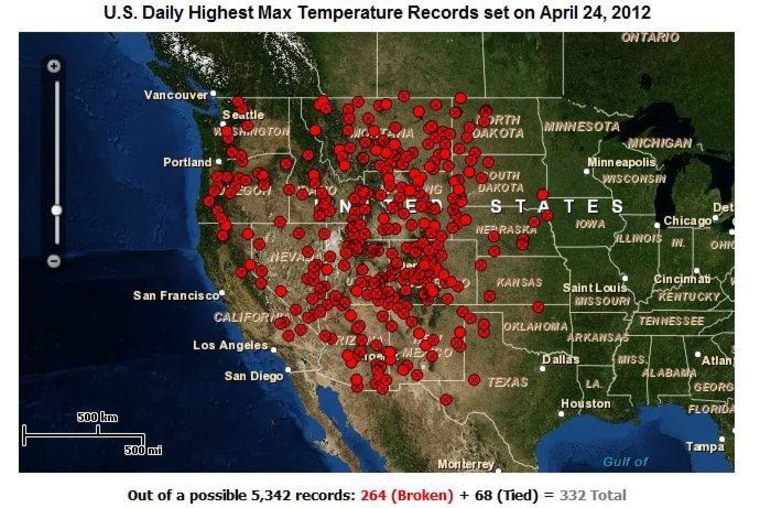 Updated at 5:40 p.m. ET: The heat wave that's been baking the Southwest has spread to the central U.S.
On Wednesday, West Texas got blasted by triple-digit heat, worsening the region's prolonged drought.
Midland felt some of the worst of the heat -- 103 degrees around 4 p.m. on Wednesday.
That's a record -- five degrees above the previous Midland record for an April 25 set in 1996, National Weather Service forecaster Jack Ciccone of the Midland office told msnbc.com.
"It is unusual, but it isn't the earliest" triple digit start to April, he added, noting that record was set on April 21, 1989, with 101 degrees F.
On Tuesday highs reached well into the 80s from Texas all the way up to the border with Canada. 
Of the 264 daily high records set on Tuesday, the vast majority were in the Southwest and central U.S., federal data show.
Scottsbluff, Neb., saw 93 degrees -- a record high there for any day in April, weather.com said.
The forecast has prompted concerns about brush and wildfires. 
A cold front should bring rain over the weekend, Ciccone noted, but drought conditions won't see much improvement. "It's not something you can overcome in a few heavy rainstorms," he said. "It's going to take a long time to recover."
"Water's in scarce supply here," he added, noting that farmers and ranchers are being hit hardest. "The reservoirs and lakes are very low to record low levels in West Texas." 
In North Texas, a mild winter and warm spring has led snakes to become active about six weeks earlier than usual, NBCDFW.com reported.
Three snake bite victims already have been treated at Texas Health Harris Methodist Hospital in Fort Worth, the NBC affiliate noted. The hospital typically sees about nine cases for an entire year.
The Southwest, meanwhile, continued its heat wave. Several Arizona areas saw temperatures top 100 on Tuesday.
More content from msnbc.com and NBC News: