MAINZ, Germany — A German heavy metal band is looking for a lead singer to record its first original album. But there's one catch — you need to be a robot to get the job.
Compressorhead is a three-android, full-robot band that has performed live covers of Metallica, Motorhead and Black Sabbath — with real instruments — in cities from New York to Sydney, Australia, since 2013.
The group is now trying to raise more than $300,000 to help fund the development of a fourth robot — a "heavyweight" lead vocalist they hope will take their careers to the next level.
Despite having a guitarist named Fingers with 78 digits and a four-armed drummer called Stickboy, the robots have been designed to perform music like humans and their creators say they want "character" in their new lead singer's voice.
"We are building the lead vocalist to be the frontman of the band," the group's Kickstarter page says. "It's got to perform like no other machine, it's got to have the moves, the looks and it's got to keep the show pumping."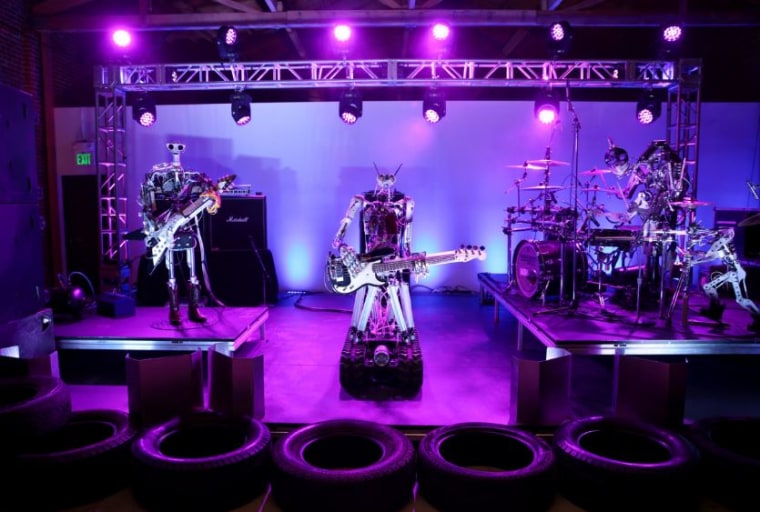 The three human artists and three technicians behind Compressorhead said the new band member will be human-like and able to interact with the audience.
"If there is a loud reaction in the audience, the singer will be able to react to that and he can also make comments during the show," Frank Barnes, the human behind the band's drummer Stickboy, told NBC News.
"We are presently building a robot that will probably weigh a quarter of a ton once it is finished," said the 39-year-old artist.
Robot musicians age even faster than their human counterparts: Stickboy, who was built out of 90 percent recycled parts from scrap yards, is on his "fourth-generation shoulder joints," Barnes said.
The band — which also includes a bass player named Bones — plays its hour-long gigs almost completely independently. Stickboy can calibrate himself during the performance and the Bones decides himself how he is going to play a song.
While the band has been covering heavy metal songs since 2013, its creators hope to produce their first original album of 14 tracks written by Canadian progressive punk rock musician John Wright.
The album, which will be available free for download, is scheduled to be released next summer and is due to be presented live for the first time at Europe's largest open air hard rock festival in Wacken, Germany, in August.