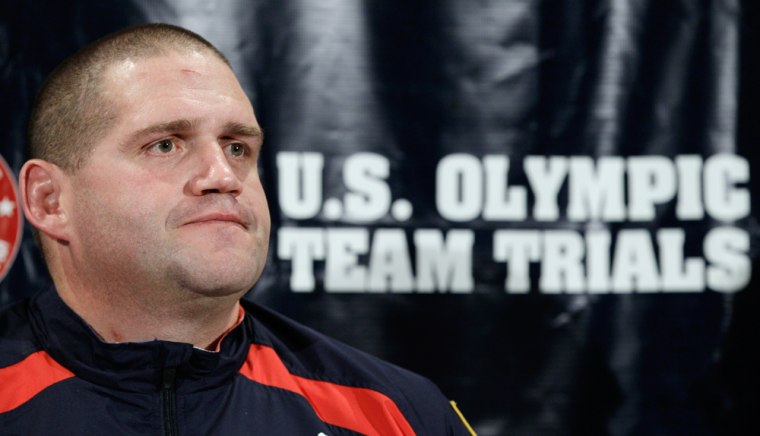 By Jay Kernis
Rock Center
UPDATED 4/24/12 1:40PM ET One month ago, Rock Center's Harry Smith told the Impossible Dream story of Greco-Roman wrestler Rulon Gardner, who won an Olympic gold medal in 2000 by defeating the Russian legend Alexander Karelin, and a bronze medal four years later.  
He retired at the end of his 2004 match and then ballooned to 474 pounds—and facing potentially serious health problems—signed on to be a contestant on NBC's The Biggest Loser. But he quit the reality series last year—and at age 40, decided he wanted one more shot at the Olympics to be held this summer in London. 
The U.S. Olympic Team Trials were held this past weekend in Iowa City, but Gardner ended up not competing for the one heavyweight position. Before he could face American opponents on the mat, he had to weigh less than 264.5 pounds. He could not make weight and didn't show up at the official Friday weigh-in.
In an e-mail to Rock Center, Gardner wrote, "I was within 5 lbs and it wasn't meant to be. I pushed hard this morning, a little too hard, but as in life, we never know until we try. My goal was health with (my wife) Kamie and I now have that."
At a news conference this past Saturday, Gardner further explained his decision. 
"I pushed myself for about a hard hour and I still had about six and a half hours before weigh-ins," Gardner said. "I started feeling pretty uncomfortable. I didn't feel good about it. I didn't feel good. I said, 'We've got to slow it down.' My body was to the point of saying it's time. I remember sitting there thinking, 'Is it worth it? Is it worth it?' I didn't come here to prove I'm still an Olympic gold medalist. I came here to prove I still have the heart of a champion."
In an e-mail to Rock Center, Greco-Roman head coach Steve Fraser said Friday morning was tough.
"Rulon called me a few hours before the weigh-in. He had been working out throughout the morning with one of my volunteer coaches helping him. Rulon apologized to me and said he had given it his best shot but got to a point (5 lbs over) where he felt he couldn't go any further. He was hurting and it was emotional. I told him I was proud of him and reassured him that we loved him. He has accomplished so much in Greco during his great career. I told him his good health is what is the most important thing now. And encouraged him to work to keep this weight off and be healthy. We need him around."
When Harry visited Gardner at the Olympic Training Center in Colorado Springs last month, his weight was very much on his mind, and everyone else's.
HARRY SMITH: What do you weigh now?
RULON GARDNER: That's a question I get asked-- um, every day.
Even his coaches wanted to know what number would pop-up when Gardner  agreed to allow our camera into the locker room. For reasons only Gardner knows, he would not turn on the scale or show us what he weighed.
SMITH: I think you turned it off!
GARDNER: (Laughs) You caught that?
When Harry spoke with Gardner, he was at least 30 pounds overweight. But he was working out morning and night and vowed he would make weight in time for the trials.
The heavyweight position was won this past weekend by U.S. Army Sgt.1st Class Dremiel Byers, who came in seventh at the 2008 Olympics. For many years, Gardner had competed against and trained with Byers, the only U.S. Greco-Roman wrestler to win gold, silver and bronze medals at the World Championships.
Gardner says he wants to stay involved with USA Wrestling, help other wrestlers prepare for the London Games, and keep working out to stay in shape and not regain the weight again.
Coach Steve Fraser told Harry that even if Gardner did not earn a place on the team, his presence in Colorado Springs made the other Greco-Roman athletes work harder. In his e-mail to us, he said, "Rulon accomplished a lot in my mind. For himself he got his life back on track and has better purpose and better health. He went 100% at trying to make this goal happen. Yes, he fell a bit short but gave all he had. He says he wants to help Byers prepare this summer to win his Olympic medal now. And I know he will. As for helping others? He set an example of great work ethic and total commitment. Something all wrestlers can learn from."
Fraser added, "Rulon Gardner is one special human being!"
Editor's Note: Harry Smith's report, 'The Heavyweight,' originally aired Mar. 21 on NBC's Rock Center with Brian Williams.