Police shot and seriously injured a suspect who attempted to flee after driving a car into a pedestrian area in the German city of Heidelberg Saturday, leaving one person dead and two others injured.
The incident took place shortly before 4 p.m. local time Saturday (10 a.m. ET), when police say the suspect drove a rental car into crowded area of Bismarkplatz square in the city.
The man, who police said was armed with a knife, got out of the car and attempted to flee, before he was confronted by officers near the scene. In the course of arresting the man, officers used their firearms, severely injuring the suspect.
Police said the arrested man was a 35-year-old German national, and that he was receiving treatment at local hospital.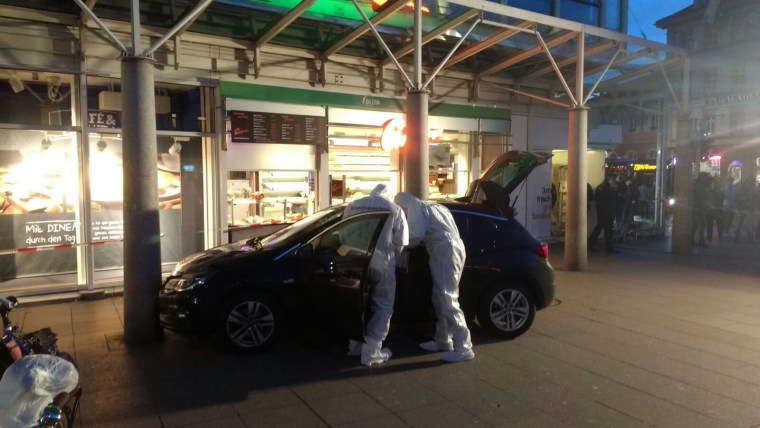 One of those injured in the incident, a 73-year-old German man whose identity has not yet been made public, died from his injuries at an area hospital. The two people injured were described as a 32-year-old woman from Austria, and a 29-year-old from Bosnia-Herzegovina.
The two female victims were described by police as having been lightly injured.
The incident raised fears of an incident similar to the December 2016 terrorist attack on a Berlin Christmas market, where an attacker driving a stolen truck killed 12 people and left almost 50 injured.
However, a police spokesperson told NBC News that there was no evidence connecting the incident to terrorism, and that the suspect's motivation was unclear.
Police also appeared to push back against social media rumors that the suspect was a migrant or refugee.
In a tweet from their official account Saturday, Mannheim police said that the suspect is a German with no migration background.
German Chancellor Angela Merkel's previous open-door policy for refugees attracted domestic criticism, in particular after terrorist attacks or criminal acts involving asylum seekers gained widespread media attention.