BEIRUT — Rockets launched from Lebanon reached deeper into Israeli territory Monday than any since the 2006 war, as the Hezbollah militant group's second-in-command threatened to escalate cross-border attacks if Israel continues its deadly assault on the Gaza Strip.
The threats by Naim Qassem, Hezbollah's deputy secretary-general, in an exclusive interview with NBC News, came as Iranian-backed militant groups across the Middle East launched an unprecedented array of attacks against American targets.
"Hezbollah participates for the sake of lowering the pressure on Gaza," said Qassem. He framed Israel as the aggressor, saying that these growing attacks were "a clear message that if you expand there will be serious consequences."
Taken together, Hezbollah's heightened rhetoric and the widening strikes by a group of Iran-backed proxies suggest that this "Axis of Resistance" is acting in harmony to ramp up pressure on the U.S. and Israel to check the latter's escalating assault on the Gaza Strip.
"Those in the Axis of Resistance have seen that the mastermind is America," Qassem said. "So they strike America under the principle of sending a message to stop. Just as Israel should stop."
He added: "How does America and the rest of the world have the right to stand on the side of Israel that kills civilians and children and destroys homes while we don't have the right to support our people and our loved ones in Palestine and the region?"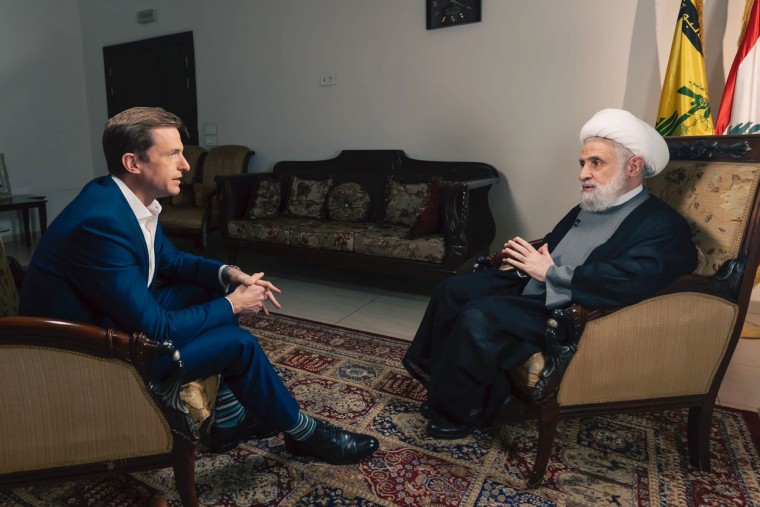 Despite the escalation, there is evident restraint on all sides — on the front outside Gaza, the fighting amounts to repeated harassment or tit-for-tat attacks rather than uncontrollable conflict.
But Hezbollah's moves are still a dangerous gambit that have pushed the entire Middle East closer to a regionwide war than at any point since this latest crisis began a month ago with the surprise Hamas attack.
"There clearly is coordination between these groups," said David Schenker, a fellow at the Washington Institute and the former head of Near Eastern Affairs at the U.S. State Department. "They've upped the ante. It's not just Israel that is facing a second front."
Iran-backed groups in Yemen announced Monday that they had "launched a batch of drones" at Israeli targets. Meanwhile, there were at least 10 more attacks against bases with Americans in Iraq and Syria over the weekend and Tuesday, according to three U.S. defense officials, bringing the total number to at least 38 since Oct. 17. Most of the attacks didn't reach U.S. bases and caused no injuries or damage.
The onslaught comes days after Hezbollah leader Hassan Nasrallah delivered a much-anticipated speech that stopped short of declaring all-out war on Israel while still pledging that his group — which is designated as a terrorist organization by the U.S. and Israel and is by far Iran's most powerful proxy — would retaliate in kind for Israel's attacks on Gaza.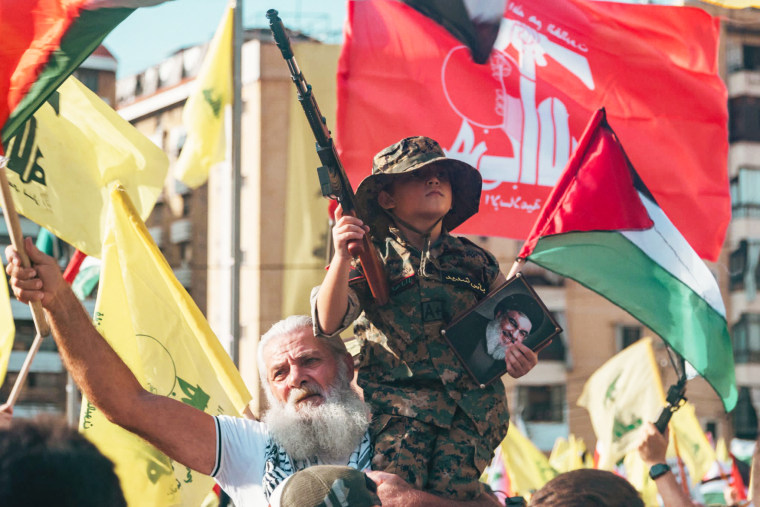 In his interview with NBC News, Qassem explained that Hezbollah's combat posture was primarily one of deterrence — that its increasingly powerful but still-restrained cross-border attacks were meant to drag Israeli forces from their actions in Gaza.
But like Nasrallah, he remained carefully noncommittal.
"What we do now is what we need to be doing, and when we need to do more than that we will," he said.
Israel has thousands of troops stationed in the north and has warned Hezbollah against what it says would be the "mistake" of launching all-out war. On Monday it greeted the rare U.S. move of announcing it had deployed a guided missile submarine to the region as a welcome display of deterrence.
Schenker, who also worked as the Pentagon's top policy aide on the Arab nations of the Levant, said the coordinated harassment of American military installations may be meant to relieve political pressure on Hezbollah by its supporters to fully enter the war and spare it from what could be disastrous Israeli retaliation.
"So they raise the cost for Israel, they put more pressure on Israel and they test our resolve to support Israel," he said. "There has to be some movement somewhere that raises the credibility of the Iranian threat. I think that everyone knows that Iran doesn't want to waste the Hezbollah asset to protect Palestinians."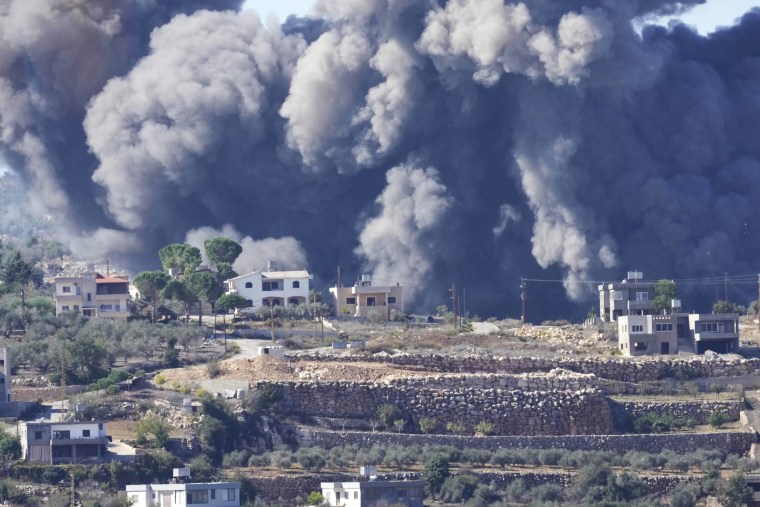 But Hezbollah may still act in a way that could drag Lebanon into war. In his speech Friday, Nasrallah declared that the group would kill an Israeli civilian for each Lebanese civilian that Israel kills.
On Sunday night, Israeli bombs struck a vehicle in southern Lebanon, killing four civilians including three children.
When asked if the deaths meant Hezbollah would begin deliberately targeting Israeli civilians, Qassem offered an enigmatic answer.
"What we will do you will see in the press, God willing," he said with a slight smirk. "You can start counting and you will see whether or not our calculations are correct or not."
Militant groups seemingly answered with rockets fired toward Haifa — the first since 2006 — and an attack on the northern Israeli city of Kiryat Shmona, which had already been evacuated several weeks prior.
This eye-for-an-eye mentality threatens to drastically expand a conflict that has so far wrought massive destruction but remained largely contained.
"If [Israel and America] continue in their aggression in this way and escalate this aggression and leave a negative impact that is larger than what is currently happening now," Qassem warned, "it will increase the situation and will lead to a complete confrontation."