ROME — At least 23 people were killed when a highway bridge collapsed during a violent storm in Italy's northern city of Genoa on Tuesday.
Part of the Morandi Bridge fell during torrential rainfall around 11:30 a.m. local time (5:30 a.m. ET). Around 200 firefighters were sent to the scene, authorities said.
The section of the A10 toll highway that collapsed was elevated over a river and a portion of the city.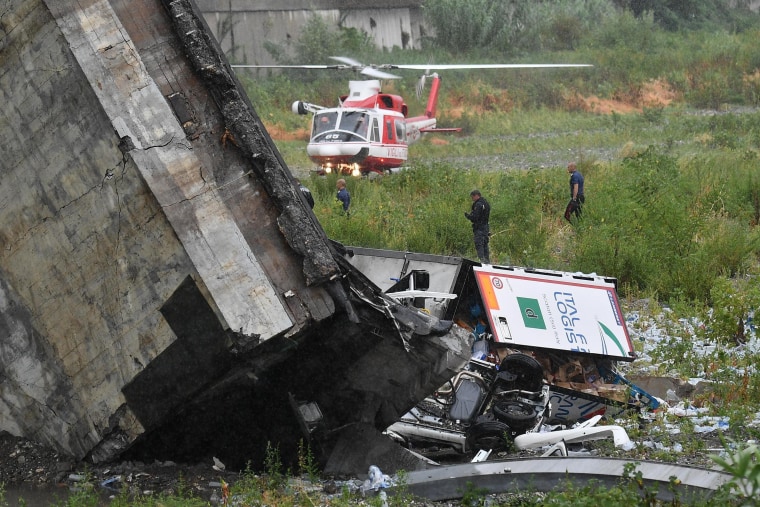 Earlier, the regional government said 35 people had died, quoting the fire brigade. Hours later, the Office of the Interior Ministry said 23 people had died and 15 were injured. Authorities said 19 of the deceased had been identified.
Transport Minister Danilo Toninelli said in a tweet that he was "following with great apprehension what seems like an immense tragedy."
Genoa resident Davide di Giorgio was shooting a video of the stormy weather and captured the moment on camera.
"I was actually filming the rain so that I could send the video to my parents," di Giorgio told NBC News. "Suddenly the bridge collapsed in front of me, I couldn't believe it."
He added: "That's one of the most important bridges in the city. Genoa is now cut in half."
Another witness told Sky Italia television he saw vehicles on the bridge when it collapsed in what he described as an "apocalyptic scene."
Emergency official Amalia Tedeschi told RAI TV that sniffer dogs were working in the rubble. In addition, heavy equipment was being moved in so they could lift pieces of the bridge.
Tedeschi said the part of the bridge that collapsed was about 80 yards long.
About 50 people were displaced from homes located below the bridge, which was built in the 1960s.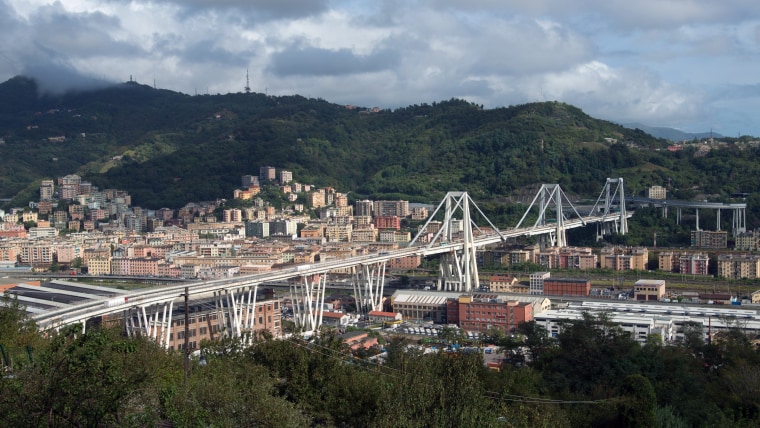 The highway operator said work to shore up the foundation of the bridge was being carried out at the time of the collapse, adding that the bridge was constantly monitored.
The highway is a major artery to the Italian Riviera and to France's southern coast.
On Tuesday, far-right leaning Deputy Premier Matteo Salvini said via Twitter, "The more I think about the deaths of Genoa, the more I get angry. Those responsible for this disaster, with names and surnames, will have to pay, pay everything, pay dearly."
Claudio Lavanga reported from Rome, and Yuliya Talmazan from London.