HIROSHIMA, Japan — Seventy years after an American atomic bomb destroyed this city and brought World War II to an end, thousands of people gathered at a monument to the victims on Thursday (7 p.m. ET Wednesday) to pray that such weapons are never used again.
"As long as there are nuclear weapons, anyone can become a hibakusha," Hiroshima Mayor Kazumi Matsui said, using a Japanese term for nuclear bomb victim. "People of the world, please listen to the voices of the victims and face this issue of nuclear proliferation as your own."
People from an estimated 100 countries, including U.S. Ambassador Caroline Kennedy, attended the ceremony, which marked the moment on Aug. 6, 1945 that a bomb called "Little Boy" instantly killed at least 60,000 people in Hiroshima. Three days later, a bomb dubbed "Fat Man" killed 40,000 more in Nagasaki.
The bombings helped stop the war but ruined two cities and left generations of Japanese suffering the effects of radiation poisoning. Cancer and other related illnesses claimed tens of thousands of lives.
Matsui added 5,359 people to the official registry of victims' names on Thursday, bringing the total to 297,684.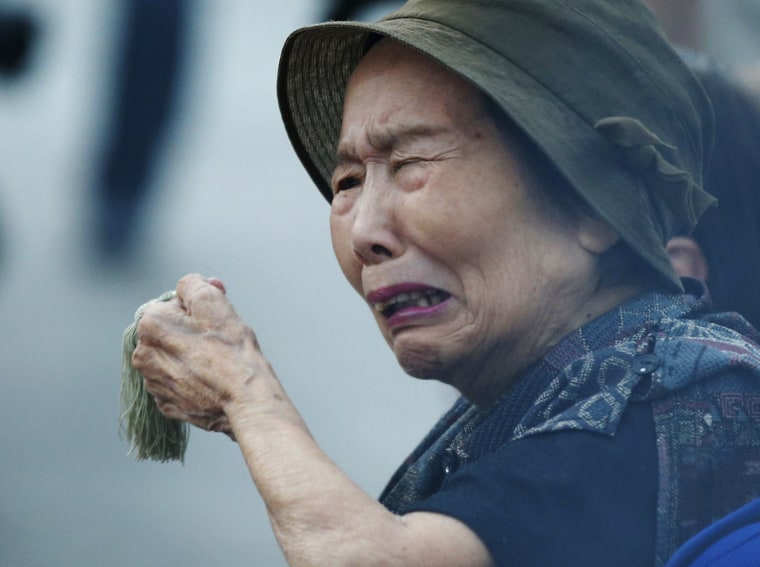 Satoko Iwamoto, 82, a survivor of the bombing, arrived at Hiroshima Peace Memorial Park at 6:30 a.m. to offer prayers, as she does every year.
"I lost many friends by the bomb and today I prayed that their souls rest in peace and that we never participate in another war," she said.
Others burned incense and left flowers.
This year marked the first time that the average age of bomb survivors surpassed 80, according to public broadcaster NHK.
The ceremony began with a group of people dressed in black walking up to a monument at the center of the park's square. They offered water as a symbolic effort to cool the souls of the victims who were burned alive.
Related: 99-Year-Old U.S. Vet: Nuclear Bomb 'Should Never Be Used Again'
A student band played a somber tune as dignitaries, led by Japanese Prime Minister Shinzo Abe, stepped to the monument and offered flowers.
Abe has come under fire for pushing a set of bills that would expand the role of Japanese self-defense forces to allow it to come to the aid of an ally under attack — a shift from the country's postwar policy of non-aggression.
As the prime minister spoke, hecklers attempted to interrupt him, shouting, "No to war bill!"