VATICAN CITY — The Israeli and Palestinian presidents joined in an unprecedented prayer meeting with Pope Francis Sunday, a gesture the pontiff hopes will "re-create a desire, a possibility" of kick-starting the stalled Middle East peace process.
Israeli President Shimon Peres and Palestinian President Mahmoud Abbas accepted a surprise public invitation from Francis to come to "his home" to pray together during his recent visit to the region.
"It is my hope that this meeting will mark the beginning of a new journey where we seek the things that unite, so as to overcome the things that divide," Francis said Sunday. He thanked the presidents for accepting his invitation, and said that people of varied cultures and religions had been praying for a meeting of this nature.
The Vatican is keen to play down suggestions that Sunday's event is political, but it is nonetheless a symbolic gesture that has the power to stir public opinion and put pressure on the Israeli and Palestinian authorities to find a way out of the stalemate.
Francis met with the two leaders privately after welcoming each of them with an embrace.
"No one has the presumption to believe that, after this event, peace will break out in the Holy Land," said Fr. Pierbattista Pizzaballa, the Vatican's Custodian of the Holy Land. "The intent is "to make a strong gesture to reopen this road where everyone again feels the need for this peace and to have some impact on public opinion."
The "invocation for peace" began in the Vatican gardens at 7 p.m. (1 p.m. ET) and featured Jewish, Christian and Muslim prayers, interspersed with short musical passages.
The venue was chosen because of the absence of the religious symbols that adorn other parts of the Vatican.
The three leaders delivered similar messages — each including a passage on creation, a request for forgiveness and a cry for peace.
"Two peoples — Israelis and Palestinians — still are aching for peace," Peres said. "We must put an end to the cries, to the violence, to the conflict. We all need peace. Peace between equals."
The Israeli president also expressed his gratitude to Francis for his "wisdom and modesty" in initiating the meeting.
Abbas prayed, "I beseech you, oh Lord, to make prosperous and promising the future of our people, and freedom in our sovereign and independent state. Grant us, oh Lord, our region and its people security, safety and stability. Save our blessed city Jerusalem."
At the end of the ceremony, Francis, Peres and Abbas planted an olive tree — a symbol of peace.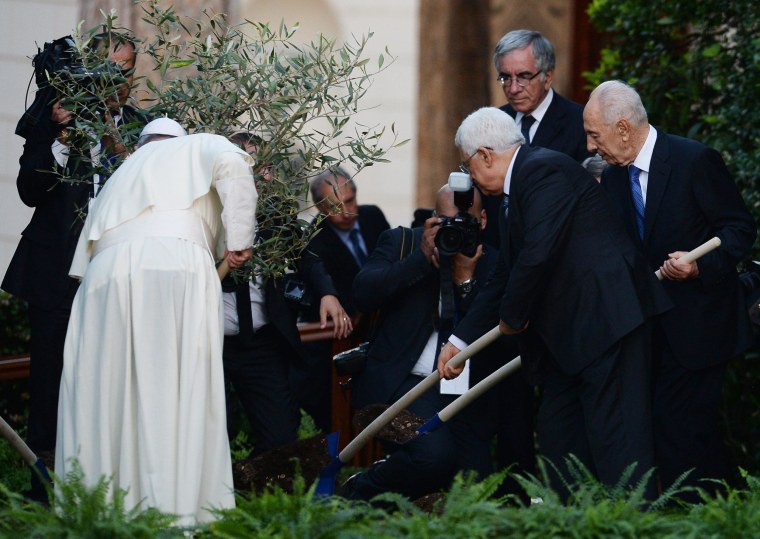 Israeli Prime Minister Benjamin Netanyahu, the key Israeli decision-maker, did not attend and has refused to deal with the Palestinian unity government — which Abbas swore in last Monday — because it is backed by Hamas Islamists.
Peres is due to leave office next month. But the fact that Francis' bold move has managed to bring the two presidents together shows his desire to engage political leaders on global issues, offering inter-religious dialogue as a building block.
"Peacemaking calls for courage, much more than warfare," the pontiff said in the garden. "It calls for the courage to say yes to encounter and no to conflict; yes to dialogue and no to violence; yes to negotiations and no to hostilities."
The meeting is taking place more than a month after U.S.-led peace talks collapsed amid bitter mutual recrimination.
The pope, in his weekly Sunday address in St. Peter's Square, said he hoped faithful of all religions "will unite themselves spiritually to our plea."
It will also mark the first time that Jewish, Christian and Islamic prayers will be held in the tiny city-state that is the headquarters of the 1.2 billion-member Roman Catholic Church.
"Now, Lord, come to our aid. Grant us peace, teach us peace. Guide our steps in the way of peace," Francis prayed. "Open our eyes and our hearts, and give us the courage to say: 'Never again war. With war, everything is lost.'"
Francis closed his prayer inclusively: "Shalom, Peace, Salaam, Amen."
NBC News' Alastair Jamieson and Elisha Fieldstadt contributed to this report. Reuters also contributed.