BETHLEHEM, West Bank — Jesus was arguably the matchmaker for the Rev. Munther Isaac and his wife, Rudaina: The two met when Munther, a theology professor, spoke at a Christian conference Rudaina had organized while attending college.
And it is conviction that keeps the Palestinian couple in the town in the occupied West Bank where Christians believe Jesus was born.
"It is my husband's belief that it is God's will for us to be in this country," Rudaina Isaac, 31, an architect, said as her husband conducted Sunday service at the Evangelical Lutheran Christmas Church in Bethlehem.
But faith may not be enough to keep the family rooted in the Holy Land, where Munther heads Christ at the Checkpoint, a biannual event critical of Israeli policies.
"I don't know how they will take this mission," Rudaina says, referring to sons Karam and Zaid, her wide smile fading and her voice breaking. "Most of the Christians here only think of emigrating."
Rudaina believes that American evangelicals who form a vital base of support for hard-line Israeli policies — and helped propel President Donald Trump to power — have made the local Palestinian Christian community's suffering more acute.
"If we are sisters and brothers in Christ — they should understand," she says. "They want Jews to control this land, but Christ came for all the nations."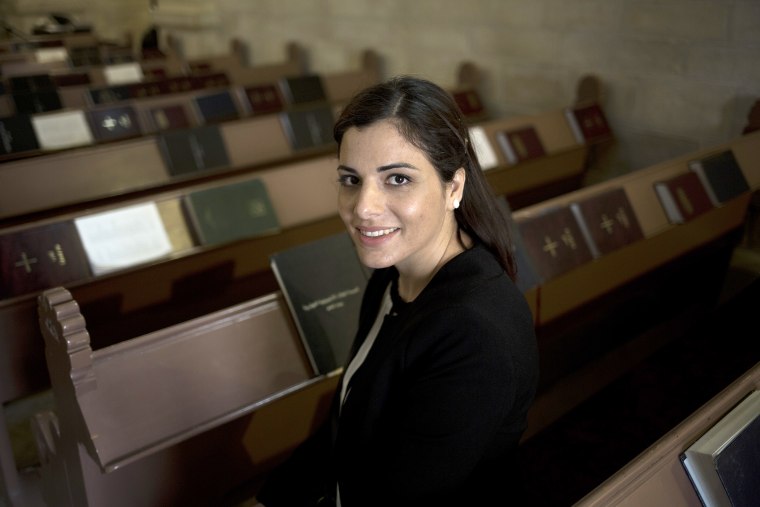 Many evangelical so-called Christian Zionists believe that by "redeeming" or reclaiming land, Israeli Jews are bringing the world a step closer to the second coming of Christ. Evangelicals — a mainly socially conservative group who believe in the importance of being "born again" and the centrality of the Bible — make up about a quarter of the U.S. population. Most evangelical leaders reliably support the policies of Israel's government.
Religious anxiety is intrinsic to Israel and the Palestinian territories, with their tapestry of competing faiths, sects, ethnicities and land claims. But Christian communities in the birthplace of Jesus are shrinking.
In and around Bethlehem, Christians have gone from around 80 percent of the population just after the establishment of the state of Israel in 1950, to around 12 percent today.
Jewish settlements have eaten up Arab land — some of it originally owned by Christians — in areas that Palestinians hope to be a future state.
In Israel itself, Christians have gone from some 21 percent of the Arab population to around 8 percent today. Overall, they now number just 2 percent of the Israeli population.
"This is a quiet ethnic cleansing," says the Rev. Drew Christiansen, a Roman Catholic priest and a professor of ethics and global human development at Georgetown and former adviser to the U.S. bishops on Middle East policy. "It's not large-scale massacres or large-scale deportations, but it is bit by bit over many years with a variety of policies which Christians are not necessarily attacked as Christians but they are marked by being Palestinians."
"These so-called Christians are causing us more damage than help — they understand the Middle East as I understand Micronesia."
Christians in Israel are undeniably better off than in many other parts of the Middle East. Civil war has torn apart Syria, where Christians make up around 10 percent of the population, and Coptic churches face regular attacks from Islamist extremists in Egypt.
Still, the Holy Land's native Christian communities are being depopulated, even as thousands of pilgrims from abroad flock to Jerusalem, Bethlehem and other biblical sites.
"Christians leave because their brothers [who have emigrated] have made it so much better than in this tormented land," said Yisca Harani, an expert on Christianity and pilgrimage who points out that the trend began decades before the establishment of the state if Israel. "Statistically, they saw the advantage of moving to the West."
At stake are ancient unique institutions and communities, said the Rev. Ramzi Sidawi, who is a theology professor and a Roman Catholic Church official.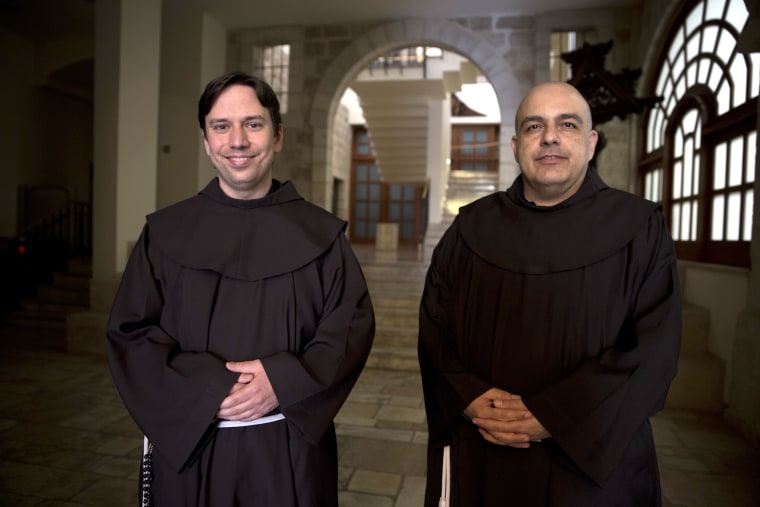 "Here we have our roots, we have our faith that started exactly in this place," Sidawi, a Jerusalem native, said in his high-ceilinged offices in the Old City. "And our mission is to maintain our roots alive in order to keep the whole tree alive."
Evangelical Christians can make life difficult for Christians living in Israel and the West Bank, Sidawi said.
"Sometimes when they make some declarations pro-the-state-of-Israel, it becomes difficult for the Christians among the Palestinians," he said, adding that such comments make some Muslims assume that "all Christians are pro-Israel."
Residents and church leaders describe the intense pressure on the tiny Christian communities in Israel where they are caught between much-larger Muslim and Jewish populations. Along with other Palestinians in the West Bank, Christians face land seizures, arbitrary detentions and collective punishment that are part and parcel of the Israeli occupation, residents and rights groups say.
In January, the Greek Orthodox Patriarch of Jerusalem, Theophilos III, warned that "radical settler groups" threatened Christians in the Holy Land. Anna Koulouris, a spokesperson for the patriarch, told NBC News that within the past two years there had been "a change in the air" regarding the treatment of Christians in Jerusalem.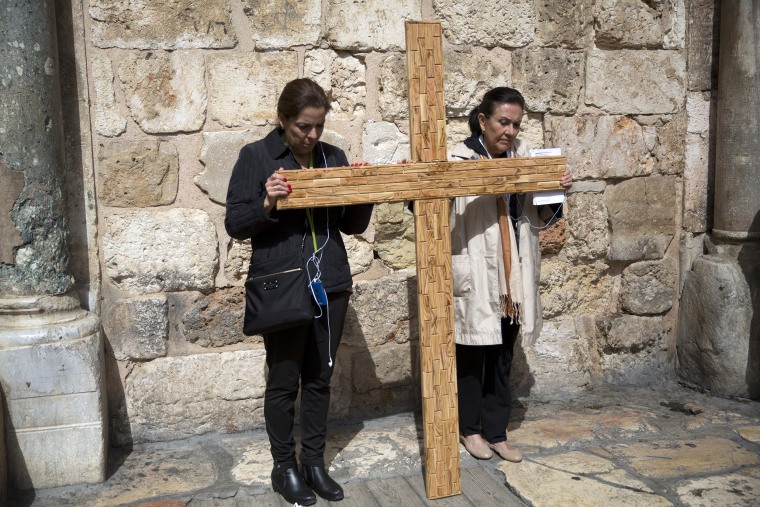 American evangelicals surged onto the political scene in 1980 by helping to elect President Ronald Reagan. In 2016, around 80 percent of white evangelicals voted for Trump.
As evangelicals grew more prominent domestically, their ties to the Israeli political establishment strengthened.
The International Fellowship of Christians and Jews, Israel's largest charity, is funded largely by American evangelicals. Since being founded in 1983, it has raised a total of $1.5 billion with the help of evangelical leaders including the Rev. Pat Robertson, the prominent televangelist.
The Rev. Robert Jeffress, the influential pastor of the 13,000-member First Baptist church in Dallas and an informal adviser to Trump, explains evangelicals' stalwart support of Israel this way: "The Bible says this land belongs to the Jewish people — period."
He added, "God has pronounced judgment after judgment in the Old Testament to those who would 'divide the land,' endquote, and hand it over to non-Jews."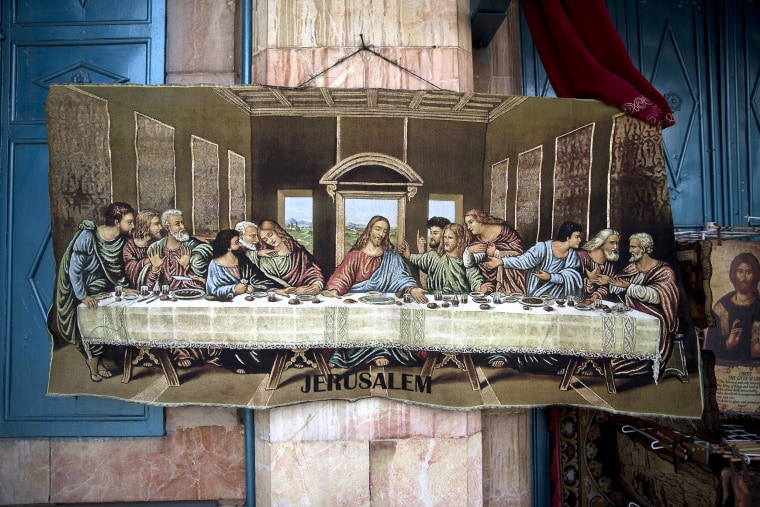 Jeffress added that it also makes geopolitical sense to wholeheartedly support Israel — "our only reliable ally in the Middle East."
He dismisses the notion that evangelical support for Israel stems largely from a desire to trigger the second coming of Christ and the "end times." However, other evangelicals are open about their belief in this.
Spiritually speaking, Jeffress says, Americans need to be "sympathetic to the plight of our fellow brothers and sisters in Christ who are Palestinian."
"If they do not want to continue to live under that arrangement," Jeffress said, "perhaps some need to go someplace else."
Munther Isaac, the pastor in Bethlehem, has heard this sort of talk before.
"We are secondary to Christians in America," he says. "These Christians do not think about or care about us."
While acknowledging that a few evangelicals appeared to be questioning long-held beliefs, "the overall picture is not very encouraging," Munther said.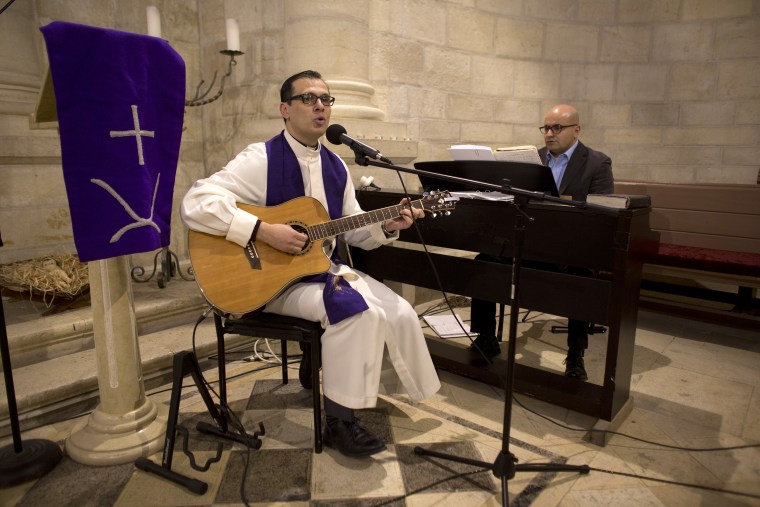 "I find it shocking we are trying to solve political disputes based on text written 3,000 years ago," Isaac said as he sat in his family's neat home in the Christian West Bank town of Beit Sahur.
The Isaacs describe the daily stress of life in the West Bank — the roadblocks, checkpoints, difficulties traveling and an overall feeling of being trapped.
Increasingly, the evangelical agenda is linked with the American one at the highest level in Israel. An indication of this came in January when Vice President Mike Pence visited Israel after Trump announced his decision to move the U.S. embassy to Jerusalem, a move condemned by Palestinians who claim rights to the eastern section of the city captured by Israel in 1967.
Pence, an evangelical himself, spoke in Israel's Parliament, the Knesset.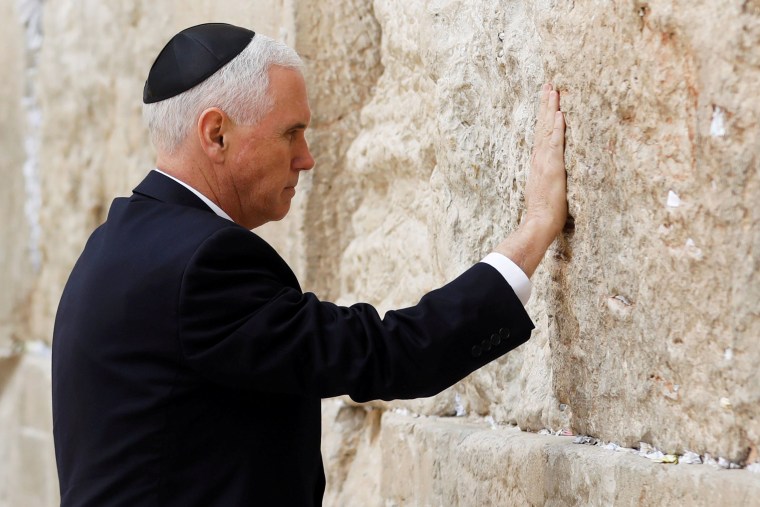 While Pence was warmly received by Israeli leaders, the heads of the established Christian churches refused to meet with him during his trip, revealing the chasm between American evangelicals and Christians in the Holy Land.
The decision to hew so closely to Israel's hard-line government comes out of a fundamental misunderstanding of the dynamics that drive the region, according to Wadie Abunassar, a lay official with the Roman Catholic Church in Israel.
A "dominant trend on the radical right" in Israel is threatening the Holy Land's "fragile" Christian community, says Abunassar, an Israeli citizen from the northern city of Haifa.
Abunassar, who says he finds common cause with Palestinian Christians living in the Israel occupied territories, feels evangelicals like Pence who do not question hard-line Israeli policies are ignorant — at best.
"These so-called Christians are causing us more damage than help — they understand the Middle East as I understand Micronesia," he said.
Abunassar is not afraid to openly address something many Christians in the region avoid: Islam.
"The problem with these new evangelicals is that they don't understand that in the Middle East there is a Muslim ocean," he said, "and if Israel wants to survive in this Muslim ocean it has to be wise."