HONG KONG — Sixteen pro-democracy figures are on trial in Hong Kong, in the largest prosecution to date under a national security law that critics say has all but eliminated dissent in the Chinese territory.
They are part of a larger group of 47 politicians and activists charged with conspiracy to commit subversion over their roles in an unofficial primary election shortly after the law came into force in 2020. Thirty-one have pleaded guilty, leaving the remaining 16 to fight the charges in a trial that began Monday.
In a break with longstanding Hong Kong legal practice, 34 of the 47 have been held without bail for the past two years as the trial was repeatedly delayed.
Critics say the closely watched trial is symbolic of the Chinese government's effort to stamp out political opposition since the 2019 pro-democracy protests in Hong Kong, a former British colony that was promised a high degree of autonomy when it returned to Chinese rule.
"The trial embodies a dramatic decline of freedoms in Hong Kong and is quite shocking," said Maya Wang, associate director in the Asia division at Human Rights Watch, with the national security law carrying sentences up to life imprisonment.
Here's what to know:
Who are the people on trial?
All 47 people were arrested in pre-dawn raids in January 2021. They range in age from their 20s to their 60s, and include politicians, activists and academics. They represent a broad cross-section of the pro-democracy movement, Wang said, from "young rising political stars all the way to people who have been around for a very long time and persisted in promoting democracy in Hong Kong."
The defendants include some of the most prominent names in Hong Kong's pro-democracy movement, including protest leader Joshua Wong, law professor Benny Tai and veteran activist Leung Kwok-hung, known as "Long Hair."
Many are former members of the Legislative Council, Hong Kong's partially elected legislature, where pro-democracy lawmakers resigned en masse in November 2020 after four of their colleagues were suspended. Others were elected members of local district councils, where pro-democracy figures have also been rooted out.
In addition to the national security trial, many of the defendants have been charged in multiple other cases stemming from the 2019 protests or banned memorials for victims of the 1989 Tiananmen Square crackdown, with some already serving prison sentences.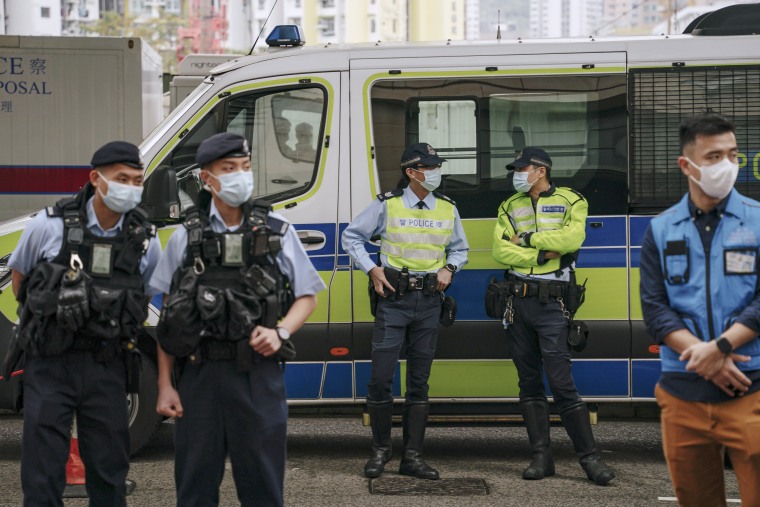 What is the trial about?
The defendants were arrested in connection with an informal primary election held in July 2020 in which more than 600,000 voters selected pro-democracy candidates for a Legislative Council election that was then scheduled for September. Officials later postponed that election, citing the coronavirus pandemic, then held it in December 2021 after election laws were overhauled to strictly limit who can run for office.
Many of the candidates in the primary election had vowed to repeatedly veto the government's proposed budget in an effort to force the resignation of Carrie Lam, who was then the city's top leader. While the candidates described the plan as normal opposition politics, authorities said it amounted to a "vicious plot" to bring down the government.
They also said it could be a violation of the national security law that had just been imposed by Beijing in response to the protests, which sometimes turned violent. The law, which officials say was necessary to restore stability, criminalizes subversion, secession, terrorism and collusion with foreign forces.
It has also reshaped Hong Kong's common law system, allowing for trials without juries that are overseen by handpicked judges. Defendants are often denied bail over concerns they could commit further national security offenses, a tactic that critics say is meant to make them more cooperative with prosecutors.
Officials deny that Hong Kong's judicial independence is under threat, pointing to protections in the territory's Bill of Rights and mini-constitution.
"All defendants charged with a criminal offense have the right to and will undergo a fair trial by the judiciary," the Hong Kong government said in a statement on Wednesday. "The courts decide cases strictly in accordance with the evidence and all applicable laws." 
What is the trial's significance?
Hong Kong's political opposition has already been decimated by the national security law and other government moves, with most pro-democracy figures jailed, resigned from politics or living in self-imposed exile.
The trial of the "Hong Kong 47" deals another blow to morale and could leave the movement further divided: Three of the primary's organizers are expected to testify against others.
Those who pleaded guilty most likely did so because they hope to receive shorter sentences, Wang said. They will be sentenced after the trial, which is expected to last several months and draw international attention.
"I am grateful that I can still feel that I am not alone in facing this year's sentencing," Wong, 26, who is pleading guilty, said in a letter posted on Facebook in late January thanking those who had written to him in prison.
Wang said it would also be a "precedent-setting" trial for people like media tycoon Jimmy Lai, who is not one of the 47 defendants in this case but faces other national security charges.
It indicates, she said, "just how harshly the Chinese government is willing to go to punish pro-democracy activism."