Hong Kong International Airport on Monday suspended check-ins for all flights as protesters again descended on the global hub.
The disruption came as international rights group Amnesty International said police in the former British colony had used excessive force to try and quell the weekslong protests. In Beijing, Chinese officials ratcheted up the rhetoric, saying that Hong Kong had reached a "critical juncture."
The protesters have been demanding the resignation of the territory's leader, Carrie Lam, democratic elections for her successor, the release of those arrested in earlier protests and an investigation into police use of force.
Thousands of activists crowded into the arrivals hall, shouting, "No rioters, only tyranny!"
Airport officials told NBC News in an emailed statement that their operations "have been seriously disrupted" as a result of the protest.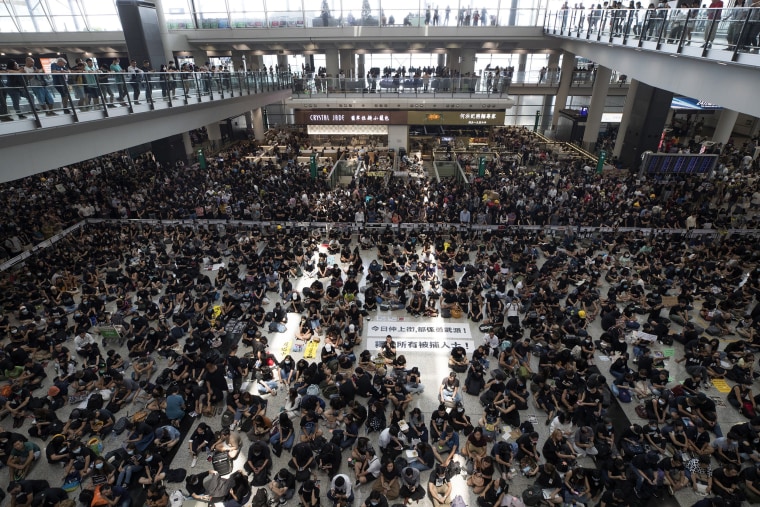 Passenger flight operations have been fully suspended since around 3:30 p.m. local time (3:30 a.m. ET).
The airport said it was working with airlines on rescheduling Tuesday morning flights, with flights expected to be affected.
Hong Kong's airport, the eighth busiest in the world, handled almost 75 million passengers last year.
This follows a weekend of violence as Hong Kong authorities toughened their approach and employed heavy-handed tactics against protesters as rallies at the airport and on the streets continued into their 10th week with no sign of either side backing down.
The protesters threw up barricades across the city Saturday and Sunday.
Police responded with volleys of tear gas shot into crowded underground train stations for the first time and fired bean-bag rounds at close range. Scores of protesters were arrested, sometimes after being beaten with batons and bloodied by police.
Police have also reported injuries, including eye irritation from laser pointers, burns from Molotov cocktails, and bruises and cuts.
On Monday, Chinese officials accused "radical" demonstrators of repeatedly attacking officers with "supremely dangerous tools."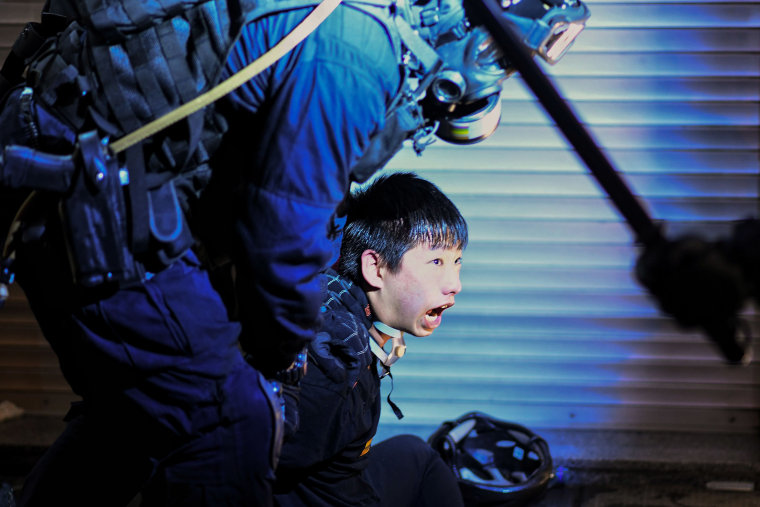 Hong Kong and Macau Affairs Office spokesman Yang Guang in Beijing warned that the escalating violence by protesters was starting to show "signs of terrorism," and called it a serious threat to the safety and economic prosperity of Hong Kong.
"This type of violent criminal activity must be resolutely combated according to the law, with no hesitation or mercy," he said at a briefing.
At a press conference in Hong Kong, police fended off criticism about widely shared videos from Sunday night's clashes, including graphic images of a woman who was shot in the eye and of an arrest in which officers dressed like protesters pinned a bleeding demonstrator to the ground.
"[The] police have once again demonstrated how not to police a protest," Man-Kei Tam, the director of Amnesty International Hong Kong told NBC News in response to police actions this weekend.
"Any heavy-handed policing approach will only increase tension and provoke hostility, leading to the overall escalation of the situation," he said.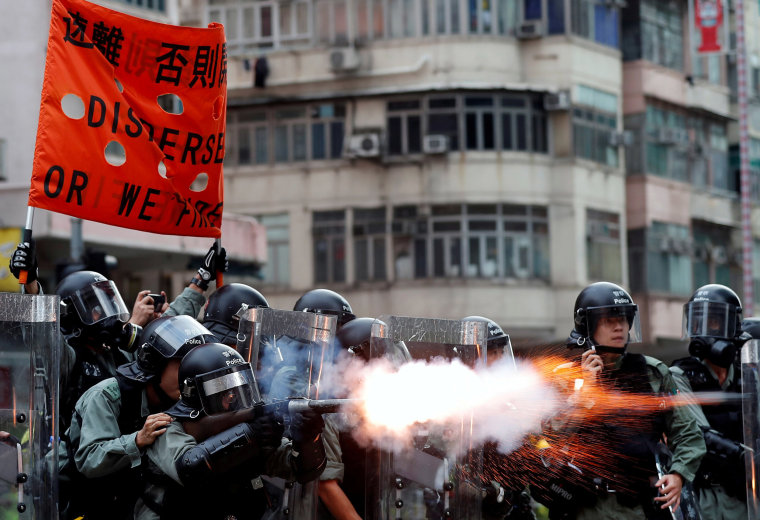 Also Monday, Hong Kong police demonstrated water canons and specially equipped armored cars. Police have never used the devices since two were bought in the wake of pro-democracy protests in 2014, but Monday's demonstration used one to blast at dummy targets at a training facility.
Chan Kin Kwok, Hong Kong police senior superintendent and the deputy commander of the Police Tactical Unit, said the water cannons will only be used in the case of a large-scale public unrest.
"We absolutely have clear guidelines for their use," he said.
Earlier this week, Amnesty International said police needed to exercise extreme caution in any deployment of water cannons in upcoming protests, warning that "the use of the powerful weapons in the city's densely populated streets could cause serious injuries and further inflame tensions."
Authorities have called the demonstrations illegal and dangerous, while highlighting their impact on the already faltering economy and residents' daily lives.
The former British colony was returned to China in 1997 under the principle of "one country, two systems," which promises the city certain democratic rights not afforded to people on the mainland.
But in recent years, some have accused the Communist Party-ruled central government of steadily chipping away at their freedoms.
The most recent protests began in opposition to a bill allowing extradition to mainland China, but have morphed into a generalized show of unhappiness at police brutality, dissatisfaction with local governance and Beijing's tightening control of the island.