HONG KONG — A Hong Kong bookseller gave an explosive account of being seized at a border by Chinese authorities, then blindfolded and spirited away to be confined in a room for five months of interrogation and surveillance. His detailed testimony directly contradicted official accounts of what happened to the five booksellers whose disappearances sparked international concern.
Lam Wing-Kee's revelations to the media Thursday — made in defiance of Chinese authorities — were the first detailed account of what happened to the men, who worked for a publisher of gossipy books on China's Communist leadership that are banned on the mainland. His testimony is sure to further fuel fears Beijing is tightening its grip on Hong Kong and undermining its considerable autonomy.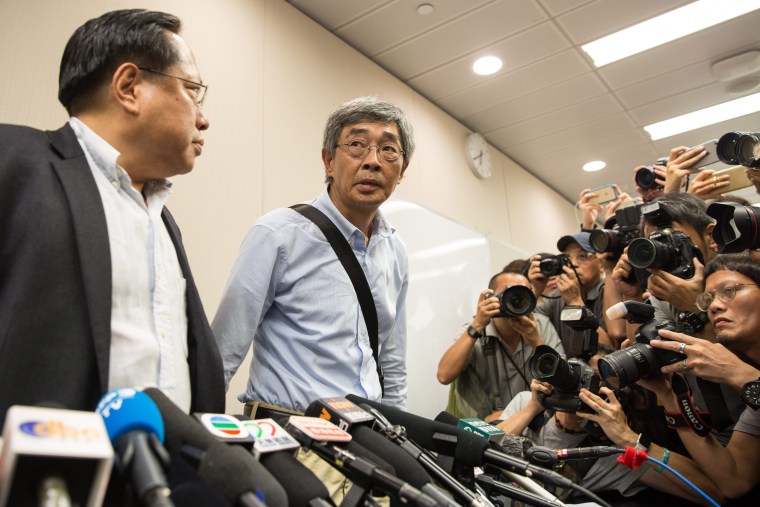 Lam told a packed news conference in Hong Kong that the disappearances were a "blatant violation of the one country, two systems" policy that governs Beijing's relationship with Hong Kong, under which the former British colony retains civil liberties such as freedom of speech unseen in mainland China.
"If I myself, being the least vulnerable among the five booksellers, remained silent, Hong Kong would become hopeless," said Lam, who unlike some of the others does not have family members on the mainland.
"It took me much courage and two sleepless nights to consider, but I decided to share the whole story with you, and tell the whole world that this incident is not only about myself or the bookstore, it's about the core values that Hong Kong people need to safeguard," he said.
Lam, who returned to Hong Kong on Tuesday, went missing eight months ago after crossing into the mainland and then resurfaced earlier this year on a Chinese television channel with some of the others to confess to some crimes, an appearance that he said was forced to make.
He was one of the minor characters in the saga of the missing booksellers, which gained worldwide attention because two other men involved had foreign citizenship and were suspected of being abducted by Chinese security agents working outside mainland China.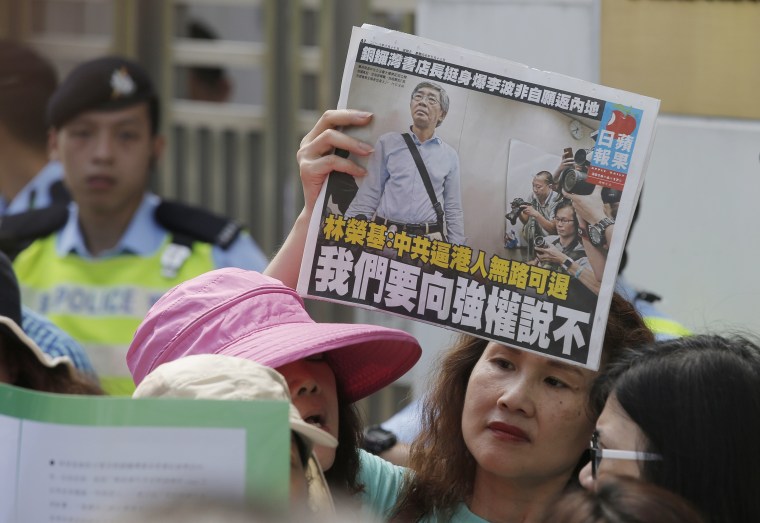 Amnesty International's Hong Kong director, Mabel Au, said, "Lam Wing-kee has blown apart the Chinese authorities' story. He has exposed what many have suspected all along: that this was a concerted operation by the Chinese authorities to go after the booksellers."
Lam said he was seized on Oct. 24 by a "central special investigation team" after crossing from Hong Kong into the neighboring city of Shenzhen in mainland China. He was taken to a police station and held in a cell overnight. The next morning, he said he was blindfolded for a 13-hour train ride to the city of Ningbo, near Shanghai.
Police in the border city of Shenzhen did not immediately respond to a faxed request for comment on Lam's testimony.
Lam said for five months, he was kept under 24-hour surveillance by rotating two-man teams in a 200-300 square foot room. He said he was interrogated about the identities of the publishing company's authors, but he couldn't tell them because he didn't know.
Publisher Gui Minhai, a Swedish national, went missing from his holiday home in Thailand about the same time as Lam, while chief editor and British passport holder Lee Bo disappeared from Hong Kong in December.
Lam is one of the last to return to Hong Kong. Lee, Cheung Chi-ping and Lui Por returned earlier. All four asked police to cancel missing person cases for them. Lam said he was told to do so by the people holding him. Gui remains detained in mainland China. In a tearful televised appearance earlier this year, Gui said he returned to China because he felt guilty about a decade-old fatal hit and run accident.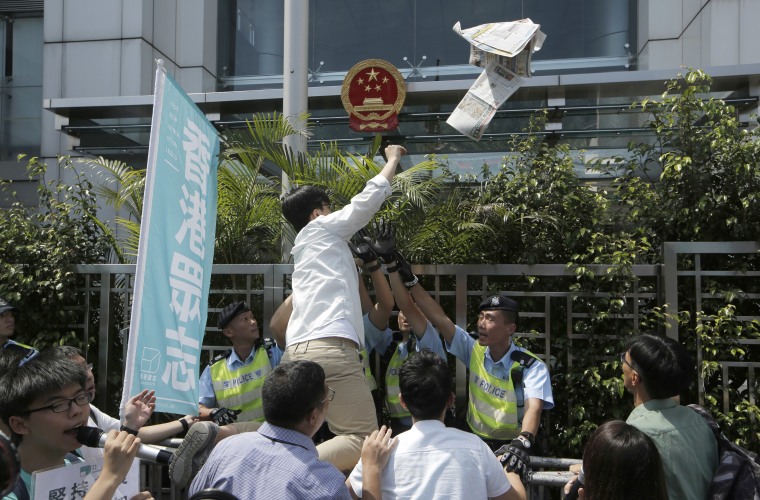 He was made to sign a document agreeing not to contact his family or hire a lawyer. He was also forced to sign a confession that he broke the law by mailing his company's books to people on the mainland. It was used as the script for his television appearance, he said.
He said his interrogators also demanded he hand over his list of clients as a condition of his release. They let him return to Hong Kong only if he agreed to return with a hard drive containing the list. He planned to go back Thursday with it but changed his mind and decided to speak out instead.
During his time in detention, Lam never came into contact with the others. But on Thursday morning he said he spoke to Lee, who told him he had handed over names of at least 500 customers, most of them in mainland China. Lee also told him he was kidnapped, contradicting earlier statements he gave to police and his wife that he went to the mainland on his own.
In a statement, the Hong Kong government said police were investigating.
"Law enforcement agencies of the mainland and overseas do not have the authority to enforce laws in Hong Kong," it said. If officers from other jurisdictions "take law enforcement actions in Hong Kong, this will contravene Hong Kong laws and is unacceptable."