Hong Kong was hit with more demonstrations and strikes on Wednesday over plans for a law that would allow extraditions to mainland China.
The protests, which came three days after as many as 1 million people took to the streets against the bill, led authorities to indefinitely delay a scheduled legislative debate on the measure.
Hong Kong is a former British colony that was returned to Chinese rule in 1997. It has since been governed as a semiautonomous region under the principle of "one country, two systems." In theory, this should allow Hong Kong to retain its own economic and administrative system, free from Beijing's interference until 2047.
Backers say the proposed extradition law is needed to stop Hong Kong from becoming a haven for fugitives. But some critics feel it is the latest step in China seeking to erode Hong Kong's freedoms.
What is the new law?
Hong Kong does not currently have an agreement to extradite suspected criminals to China. The Fugitive Offenders and Mutual Legal Assistance in Criminal Matters Legislation (Amendment) Bill 2019 would change that.
The bill was prompted after a man in Hong Kong was accused of murdering his girlfriend in Taiwan but could not be extradited because there was no legal framework in place.
"It is a very important objective and the city's commitment to the global community to ensure that Hong Kong does not become a haven for fugitives," a statement from the Hong Kong government said Monday.
Beijing supports the new legislation but Carrie Lam, Hong Kong's chief executive, who is appointed by committee and approved by China, says she has received no instruction from the government in Beijing.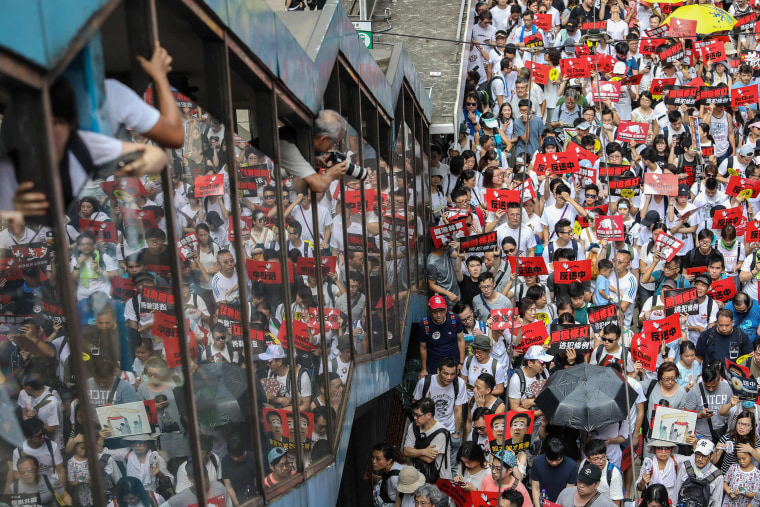 "We are still doing it out of our clear conscience and our commitment to Hong Kong. We want Hong Kong to fare well," she said.
Lam has attempted to calm any fears by introducing what she says are several safeguards in the bill.
These include the government having final say on any extradition request, even if it's approved by the courts, as well as guaranteeing certain human rights protections mirroring standards set by the United Nations.
"We will only surrender a fugitive requested by a requesting party when these guarantees are being fully met," the chief executive said.
Why are some people opposed to it?
Some critics see the law as the latest example of Hong Kong, a relatively untrammeled financial hub, being drawn under the influence of an increasingly authoritarian China.
They believe it will increase the risk of Hong Kongers who are critical of the mainland being sucked into a system that cracks down on dissent with impunity.
Since President Xi Jinping came to power in 2013, China has engaged in "increasing repression" of its people, including systematic abuses against minorities, arbitrary detentions of human rights defenders, and the development of the world's largest mass surveillance program, Human Rights Watch said.
In 2014, the so-called Umbrella Revolution saw months of protests by people demanding universal suffrage, and a year later tensions intensified after several booksellers who had been critical of Beijing vanished and resurfaced in custody on the mainland.
"The proposed changes to the extradition laws will put anyone in Hong Kong doing work related to the mainland at risk," Sophie Richardson, China director at Human Rights Watch, said in a statement. "No one will be safe, including activists, human rights lawyers, journalists, and social workers."
Tim Summers, a senior consulting fellow at the London think tank Chatham House, believes the degree to which the new law will be a sign of Beijing's meddling is debatable.
But he says the protests are a sign of how emotive the issue has become for many in this city. There are also more legitimate concerns, he adds, about how the bill is being rushed through the legislature.
"There is an emotional sense that this is a fundamental threat to Hong Kong's way of life," said Summers, who's based in the city. "When you have hundreds of thousands of people in the streets, that's a pretty good statement of how Hong Kong politics feels very different to anywhere else in China."
What's happening with the protests?
On Sunday, as many as 1 million people took to the streets to protest the new law. If this estimate by organizers is correct, it would represent one-seventh of the city's population.
It was the biggest demonstration at least since Chinese rule resumed 22 years ago.
It was largely peaceful but there was a minority involved in "running battles" with police outside the city's legislative and administrative headquarters, according to the South China Morning Post newspaper.
Video showed demonstrators dismantling metal fences, and officers responding with pepper spray. Several police and demonstrators were injured.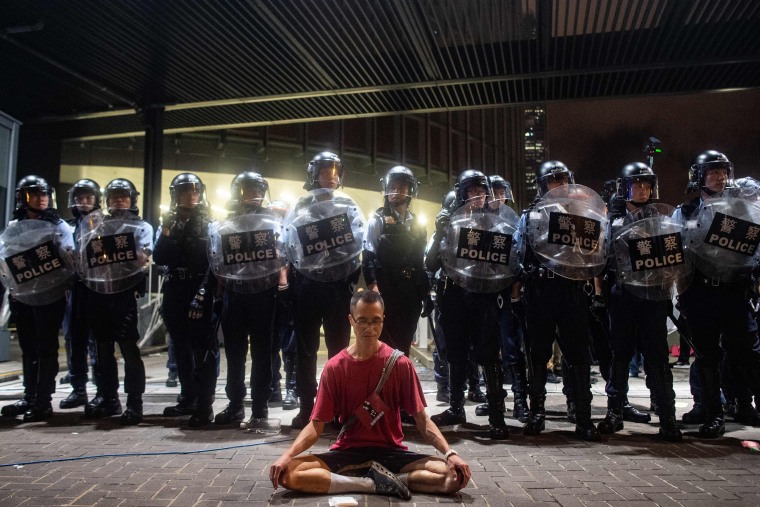 Because Hong Kong residents cannot elect their leader — Lam was appointed by 1,200 representatives and approved by Beijing — many see protests as the main way of making their voices heard.
Despite the widespread display of unease, however, there appears to be little sign of the bill being changed or postponed. It will debated by lawmakers Wednesday and likely passed at some point during the summer.
In response, an online petition has called for 50,000 people to surround the legislature building at 10 p.m. Tuesday and remain there until Wednesday.
Thousands of businesses and teachers look set to strike Wednesday and perhaps even for the rest of the week.
The Catholic Diocese of Hong Kong also called on the government not to pass the bill "hurriedly" and urged all Christians to pray for the former colony.