HONG KONG — Hong Kong's Chief Executive Carrie Lam on Saturday announced the government would suspend debate on a controversial extradition bill that had prompted massive protests in the former British colony.
"We decided that it was important to return society to peace," Lam told reporters, referring to the huge demonstrations.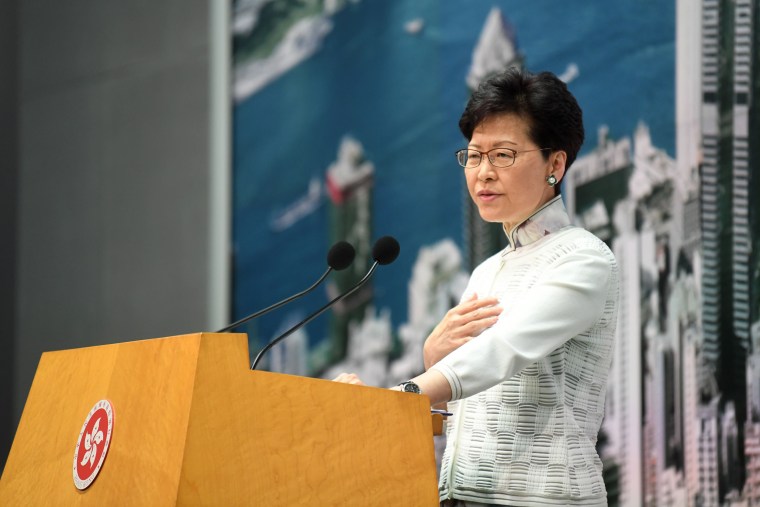 The announcement represented a major victory for protesters in the semi-autonomous Chinese territory. But organizers have said they would not back down until the bill was withdrawn altogether, and on Saturday renewed calls for a planned march on Sunday.
"Suspension is not withdrawal," the group Civil Human Right Front posted on Facebook, while criticizing Lam's leadership and the police's strong-armed response to previous demonstrations. Students were also seen passing flyers out in the streets of Hong Kong to promote the next round of protests.
Download the NBC News app for breaking news and politics
The climb down followed formal warnings from U.S. and European officials, with international business and human rights groups saying the changes would hurt the rule of law in Hong Kong, which was handed back to Chinese rule in 1997 amid guarantees of autonomy.
Hong Kong enjoys greater freedoms than mainland China under a "one country, two systems" framework. Residents can freely surf the internet and participate in public protests, unlike in the mainland.
The measure was not definitively canceled, however, and Lam did not say when debate would resume.
"The council will halt its work in relation to the bill until our work in communication, explanation and listening to opinions is completed," she said, adding that the government also had other priorities, including an expected economic downturn.
The controversial bill had been introduced in response to a murder case in Taiwan where the suspect fled back to Hong Kong, revealing what Lam described as a "loophole in our regime with respect to mutual legal assistance on criminal matters."
Lawmakers said it was designed to simplify case-by-case arrangements to allow extradition of wanted suspects to jurisdictions including mainland China, Macau and Taiwan.
But opponents said the bill would severely compromise their freedoms and erode Hong Kong's legal independence, with fears over the fairness and transparency of the Chinese court system and worries over Chinese security forces contriving charges.
Lam has maintained the legislation was needed and would have safeguards to ensure human rights were protected.
Organizers say over a million people marched through the streets of Hong Kong last Sunday, amid a series of protests that turned violent and saw both police and demonstrators injured.
"Clearly, this is no longer a peaceful assembly but a blatant, organized riot, and in no way an act of loving Hong Kong," Lam said earlier in the week.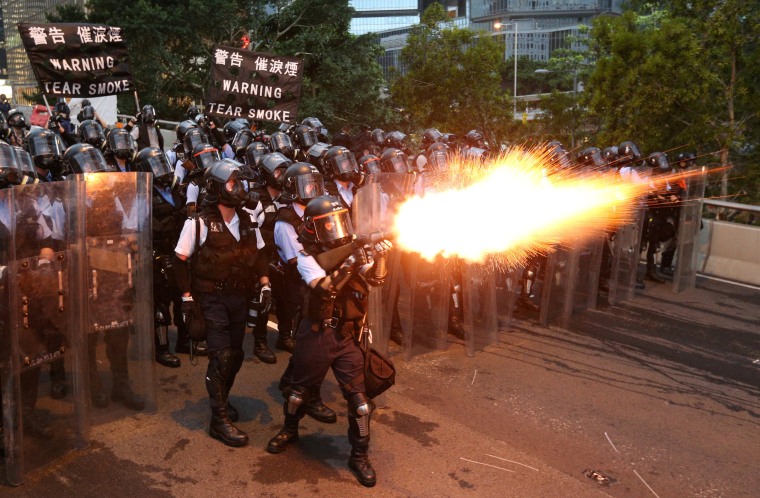 International human rights groups have criticized the handling of the demonstrations. Amnesty International demanded that police stop using "excessive force" — including tear gas, pepper spray and rubber bullets — against protesters.
Lam, meanwhile, condemned the protests, but said the bill was no longer necessary.
"The original urgency to pass this bill in the current legislative year is perhaps no longer there," she said.
Lam also did not respond to reporters' questions about whether she planned to resign as demonstrators have demanded. Instead, she said she had been acting in Hong Kong's best interests.
Laurel Chor reported from Hong Kong, Linda Givetash from London.