HONG KONG — Clashes between demonstrators and police rang out in the streets of a residential area of Hong Kong on Wednesday a day after protests at the city's airport turned violent.
Protesters appeared to use laser pointers at a police station in the neighborhood of Sham Shui Po in Kowloon around 9 p.m. local time (9 a.m. ET), prompting officers in riot gear to fire tear gas, dispersing the group.
The clashes followed apologies issued by the protesters earlier in the day to travelers who missed their flights when thousands of demonstrators stormed the city's international airport on Tuesday, resulting in violent encounters with police.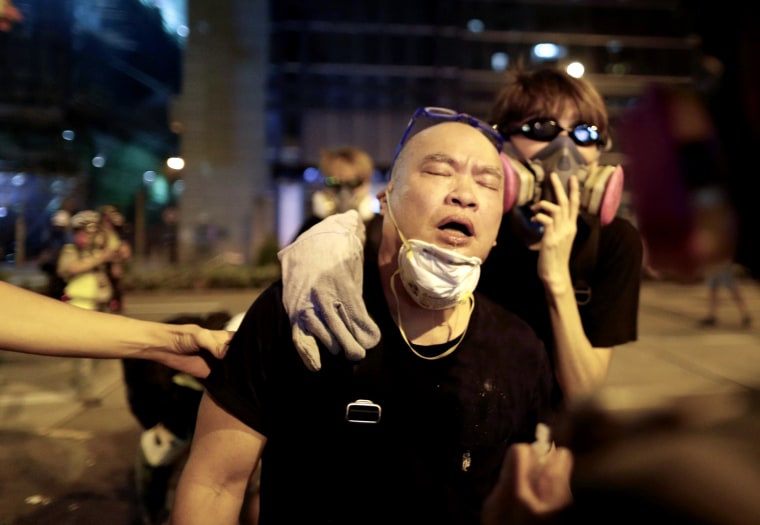 Airlines were trying to clear a backlog of more than 200 flights as normal services resumed.
"It is not our intention to cause delays to your travels and we do not want to cause inconvenience to you," a group of protesters said in a statement released on a Telegram channel. "We ask for your understanding and forgiveness as young people in Hong Kong continue to fight for freedom and democracy."
They also said they were sorry that some demonstrators became "easily agitated and overreacted."
Throughout demonstrations that filled the departure halls of the airport, a few dozen protesters could be seen holding signs with messages of apologies to travelers and even approached tourists to apologize personally.
"Sorry! We don't have other choice" and "Sorry for inconvenience, HK is sick" some of the signs read.
Prominent democracy activist Joshua Wong was among those who shared images of protesters bowing in a gesture of repentance to the travelers.
On Tuesday, protesters clashed with police who were in riot gear and armed with pepper spray at one of the world's busiest airports.
Video showed officers trying to clear out the crowd as the protesters chanted. Not long after the altercation began, most of the protesters had left the airport and the police had pulled back.
Several demonstrators were arrested during the confrontation. The Hong Kong Police Force said in a tweet that at least one person was injured and required immediate medical attention but that protesters were blocking ambulance access.
Two people were separately held captive by protesters Tuesday, on allegations that they were spies.
On Wednesday, the airport authority said it would restrict entry to terminal buildings to people with valid flight tickets within 24 hours only. The authority also got an interim injunction from the courts to restrain protesters who obstruct or interfere with activity and travel.
"The inconvenience is nothing," Hong Kong resident Tim Sze, 35, told NBC News about having his flight rescheduled. "I think they are really brave. ... Our government has much injustice, so they have to come out."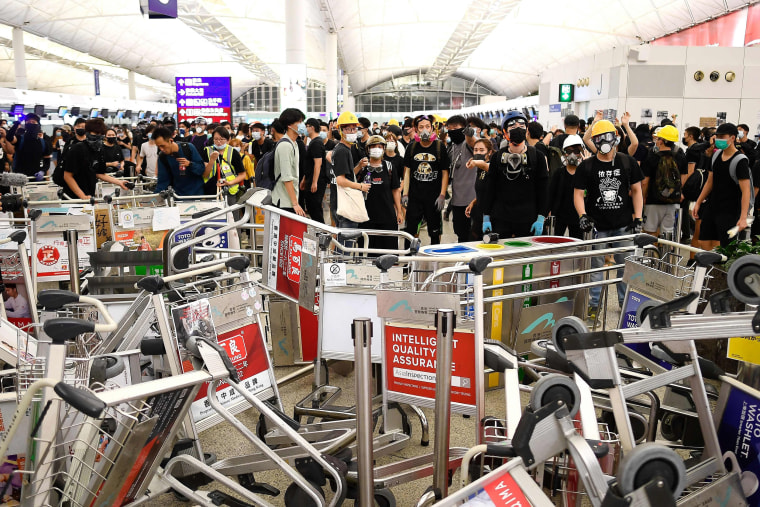 Hong Kong's protest movement began in June as a peaceful retaliation to a controversial extradition bill, but has morphed into increasingly violent protests calling for greater democratic freedoms in the semiautonomous Chinese territory and the resignation of its chief executive, Carrie Lam.
The former British colony became a special administrative region of China in 1997. Unlike those living in mainland China, the territory's 7 million residents can freely surf the internet and participate in public protests.
But there is widespread fear that their rights are being eroded under Beijing's rule, prompting millions of people to participate in a series of marches and demonstrations.
Amid the rising tensions, satellite photos collected on Monday by Maxar's WorldView show what appear to be 500 or more armored personnel carriers and other vehicles belonging to China's paramilitary People's Armed Police parked in a sports complex in the city of Shenzhen, according to the Associated Press.
Chinese state media have said the exercises were not directly related to the unrest in Hong Kong, although the central government in Beijing has said the protests were beginning to show the "sprouts of terrorism."
Protesters have also been angered over what they say is excessive use of force by police and are calling for an investigation.
In their Telegram message Wednesday, demonstrators said that in the two months, "we have moved from fighting for our core values to having to fend for our lives," citing an incident in which a first aid volunteer was injured by bean bags shot by police.
Tuesday was the first time police had moved in on the protesters to clear the terminal. In the latest showdown, protesters also used force in taking captive two men from mainland China. The first man is a reporter for the Global Times, a state-run Chinese newspaper, and the identity of the other man remains unclear.
Paul Goldman reported from Hong Kong, and Linda Givetash from London.