HONG KONG — Hong Kong police shot a protester at close range Tuesday, marking a new level of violence after weeks of demonstrations in the semiautonomous region, and overshadowing the Communist Party of China's triumphal 70th anniversary celebrations in Beijing.
Tens of thousands of black-clad protesters took to the streets to call for the Communist Party to "return power to the people." Areas of Hong Kong turned into a battleground as security forces fired tear gas and water cannon at the crowds of protesters hurling bricks and Molotov cocktails from behind umbrellas.
In a video verified by The Associated Press, an officer can be seen shooting the protester, who was wearing a helmet and had been wielding a baton at the officer armed with a handgun. NBC News has not independently authenticated the video, but police did confirm that they had fired live ammunition.
This would be the first time a protester has been shot by a live round in the demonstrations that have spanned 17 weeks.
In a statement later posted on Facebook, a police spokeswoman said an 18-year-old man was shot in the shoulder and had been transported to a hospital in a conscious state.
"To save his own life and his colleagues' lives, he fired a live shot at the assailant," she said in the translated subtitles of the video statement, referring to the police officer. "It is really heartbreaking."
Police Commissioner Stephen Lo said in a news conference close to midnight that 180 protesters had been arrested on Tuesday, according to the AP. Reuters reported that Lo said the firing of live rounds, which were discharged in three places, was lawful and fair.
"Police lives were under serious threat, that's why they fired live rounds," he told reporters, according to Reuters, adding that the wounded man was conscious when taken to hospital.
The U.K.'s Foreign Secretary Dominic Raab condemned the use of live ammunition by Hong Kong police, calling it a "disproportionate" response to the protests that "only risks inflaming the situation."
Human rights group Amnesty International also called for a deescalation of the violence along with an independent investigation into the shooting.
Pro-democracy protesters of all ages defied a police ban by marching and chanting anti-China slogans — some carrying Chinese flags defaced with a black cross in a show of resistance to Communist Party rule. Smoke billowed from fires set around the city, including at a Bank of China branch. The territory's legislative offices were evacuated amid the chaos.
"This is our right, our freedom to assemble and protest, to express what we believe," Jacob Tse, 26, a financial analyst, told NBC News. "I'm afraid of being arrested but this is one consequence I know I might need to face and I am willing to bear."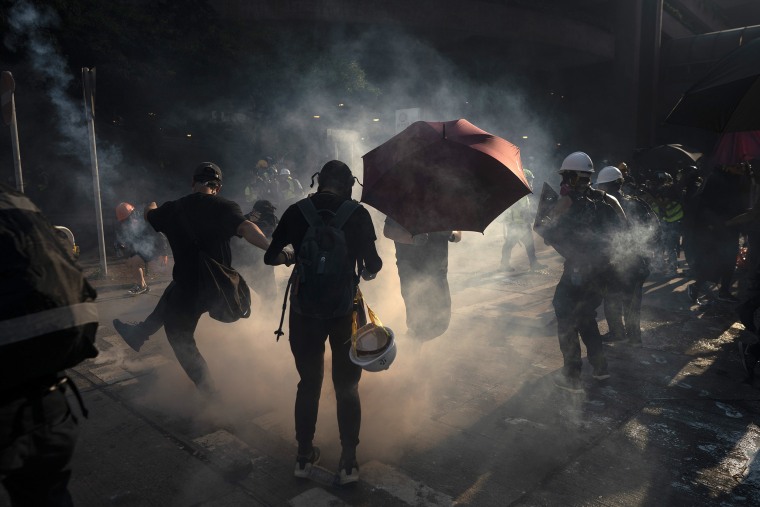 The police force tweeted images of burned and bleeding officers who they say were hit by "corrosive fluid" as a defiant march turned violent.
Nightfall didn't calm the hostilities as police tried to squeeze unruly crowds from all sides along wide thoroughfares, rounding up and arresting protesters.
'One country, two systems' in spotlight
Meanwhile in Beijing, the government staged its most important event of the year aimed at projecting China's assurance in the face of mounting challenges, including the Hong Kong protests and a damaging trade war with the United States.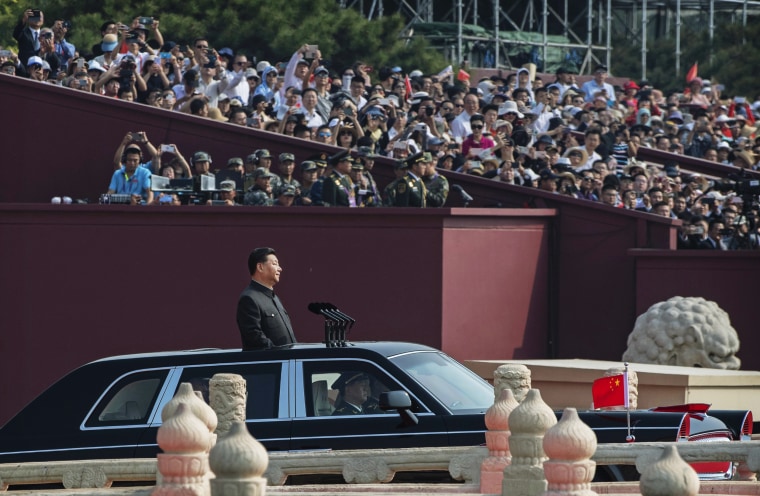 President Xi Jinping, dressed in a slate gray "Mao" suit and accompanied by his predecessors Hu Jintao and Jiang Zemin, oversaw the display of military hardware and marching troops in Tiananmen Square, where pro-democracy protests led to a massacre 30 years ago.
Xi told the handpicked crowd that the military should safeguard China's sovereignty and uphold world peace.
"No force can ever shake the status of China, or stop the Chinese people and nation from marching forward," Xi said in comments carried live on state television from the Gate of Heavenly Peace, where Mao Zedong proclaimed the founding of the People's Republic of China on this day in 1949.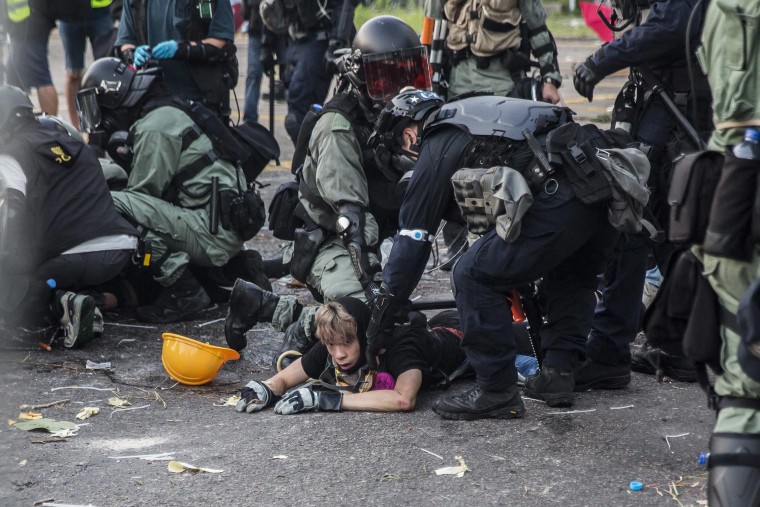 Protests leading up to China's National Day resulted in 11 arrests Saturday and another 146 arrest Sunday — almost half of whom were students — police said.
The demonstrations were first sparked in June over a now-withdrawn extradition bill but have since expanded to include calls for greater democratic freedoms amid fears that rights are being eroded by Beijing's growing control.
Hong Kong's takeover in 1997 from Britain was presented as a symbol of the legitimacy of the Communist Party by uniting the country, Christopher Hughes, professor of international relations at the London School of Economics said. But as anti-Beijing sentiment rises in the territory, that legitimacy is being chipped away.
"The big message is that it's the Communist Party that saved China, the Communist Party that holds China together and that's why (they) have the monopoly on power," Hughes told NBC News. "That has painted them into a corner now that things have gone badly."
The tensions call into question the efficacy of the "one country, two systems" model of governance over the territory, he said. The model, in theory, allows Hong Kong to retain its own economic and administrative system, free from Beijing's interference, until 2047.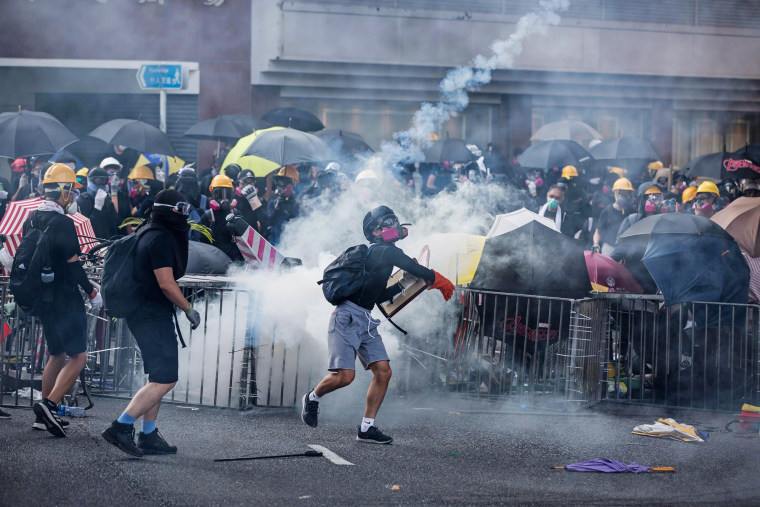 But a growing number of young people appear to be rejecting the model, Hughes said, especially with the uncertainty of what happens to the territory after 2047. "If you're a young person in Hong Kong, you want to know what your future holds for you."
But not all experts say the civil unrest is a sign of the system failing. Steve Tsang, director of the China Institute at the SOAS University in London, said the fact that protests are even allowed to occur is an example of how Hong Kong operates differently from other Chinese cities.
"Shanghai would never have tolerated three months of protests. It would simply never have happened," he said.
A political solution involving consultation and negotiation is the best way to resolve the situation, experts said, but Tsang doesn't think it's likely.
"Xi Jinping is like a hammer. If you are a hammer, everything is a nail," Tsang said. "He doesn't negotiate with people whom he sees as challenging his authority."
Janis Mackey Frayer and Veta Chan reported from Hong Kong, Eric Baculinao reported from Beijing and Linda Givetash reported from London.