HONG KONG — Hong Kong's embattled leader vowed to stay put Tuesday days after clashes sweeping the former British colony escalated.
Speaking to reporters, Carrie Lam dismissed any suggestion of resigning, and said a responsible chief executive should continue "to hold the fort and do her utmost to restore law and order in Hong Kong."
On Sunday, Hong Kong police fired water cannons and volleys of tear gas in running battles with protesters who threw bricks and Molotov cocktails at security officers.
Mass pro-democracy protests have rocked the semiautonomous Chinese city since June, leaving Hong Kong grappling with its biggest political crisis since the handover to Beijing in 1997.
Protesters are demanding complete withdrawal of an extradition bill that would have allowed Hong Kongers to be sent to mainland China for trial, an independent inquiry into what they believe is excessive use of force by police to quell the demonstrations and democratic elections.
Hong Kong's Beijing-backed leader disputed complaints that her government is ignoring the protesters' demands.
"It is not a question of not responding," Lam said Tuesday. "It is a question of not accepting those demands."
Lam said she would not give up on building a platform for dialogue, although the time was not right to set up an independent inquiry into the crisis.
"We should prepare for reconciliation in society by communicating with different people ... We want to put an end to the chaotic situation in Hong Kong," Lam said, adding that she did not believe her government had lost control.
The government said Monday the latest bout of violence was pushing Hong Kong to the brink of great danger after weekend clashes that included the first gunshot being fired.
In a statement, Hong Kong police defended their actions over the weekend and said six of their officers drew out their guns during Sunday night protests after "being surrounded" and "facing threats to life."
"In order to protect the safety of other officers and himself, one of the police officers fired a warning shot to the sky without any other choices," the police statement said.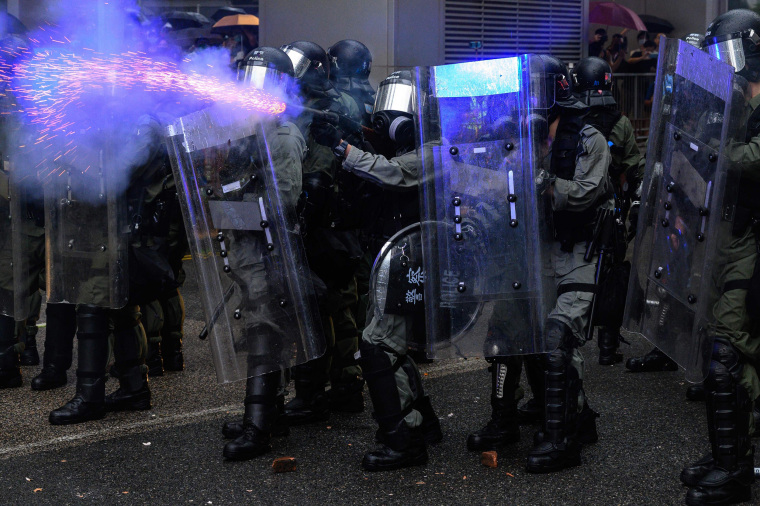 Police said 36 protesters, including a 12-year-old boy, were arrested Sunday.
Police revealed Tuesday that they have arrested 15 individuals under the age of 16 in connection with the protests so far.
More demonstrations are planned over the coming days and weeks, posing a direct challenge to authorities in Beijing, who are eager to quell the unrest ahead of the 70th anniversary of the founding of the People's Republic of China in October.
On Tuesday, Xinhua News Agency reported that China's Public Security Minister visited Guangdong, the province bordering Hong Kong, emphasizing the importance of maintaining peace and stability for the landmark anniversary.
China has previously said the escalating violence by protesters was starting to show "signs of terrorism."
The unrest escalated in mid-June over a now-suspended extradition bill, but the demonstrations have evolved over 12 straight weeks into a broad demand for greater democracy under the "one country, two systems" policy following the handover to China.
Janis Mackey Frayer reported from Hong Kong, and Yuliya Talmazan from London